Ivanka Trump's Trip To The Olympics In South Korea Apparently Started Drama At Home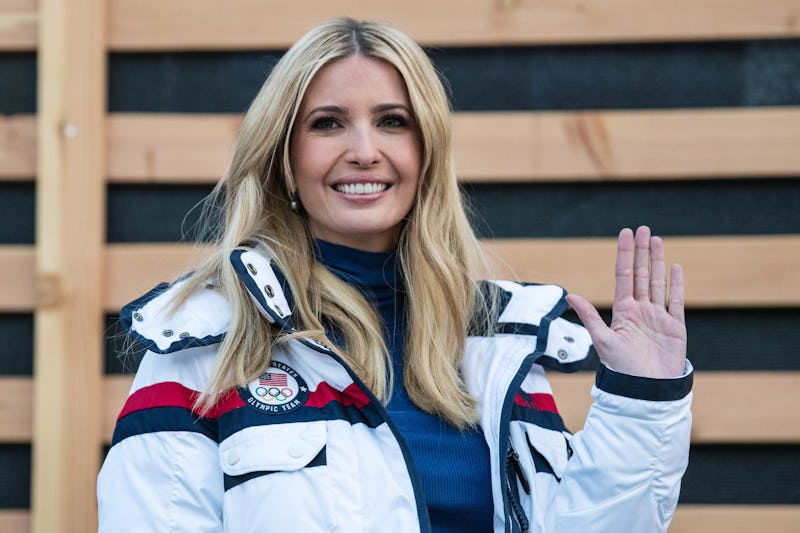 Carl Court/Getty Images News/Getty Images
Although photos of the first daughter in PyeongChang, South Korea showed her smiling as she cheered on American athletes' accomplishments, it appears not everyone was happy about her trip. Ivanka Trump's Olympics trip reportedly pissed off other aides at the White House, largely because it wasn't just a public appearance. U.S. tensions with North Korea made her visit much more political than the average sports outing.
Since officially taking an office in the White House, Ivanka Trump has been an integral part of the administration, often filling in for her father or step-mother when needed. Considering that Vice President Mike Pence attended the 2018 Winter Olympics opening ceremony, Ivanka Trump representing the administration at the closing ceremony speaks to her high position. CNN reports that her visit to South Korea "did not sit well" with senior White House officials, however, including White House chief of staff John Kelly. "This isn't like going to Italy. The stakes are far higher and more complex," an anonymous person close to the president told CNN.
While in Korea, Trump was the leader of the U.S. delegation. As such, she briefed South Korean President Moon Jae-in on U.S. economic sanctions against North Korea. That's a task not usually given to a presidential adviser.
Before dining with the South Korean president and first lady, CNN reports Trump gave a speech saying she was thrilled to celebrate the Winter Olympics and "reaffirm our bonds of friendship and partnership." Trump added that her trip was meant to reaffirm America's "commitment to our maximum pressure campaign to ensure that the Korean Peninsula is denuclearized."
Treasury Secretary Steven Mnuchin confirmed that Trump informed the South Korean president of the new sanctions when speaking to reporters at the White House. "Ivanka Trump has been briefed on this. She's been part of the team," Mnuchin said on Friday. "She had dinner with President Moon. They had a private discussion in advance about this occurring."
Aside from Trump breaking rank by taking on diplomatic duties, there's also the issue of her security clearance — or, more specifically, her lack thereof. She currently has interim top security clearance, meaning she hasn't been officially cleared to handle confidential government information.
When asked about Trump's security clearance on Friday, Mnuchin said: "She has the appropriate access to brief President Moon."
The presidential adviser's clearance was brought into the spotlight earlier this month when Kelly reportedly advocated for revoking interim security clearances. The move came after another White House aide with temporary clearance, Rob Porter, resigned amid domestic violence allegations. "The American people deserve a White House staff that meets the highest standards and that has been carefully vetted — especially those who work closely with the President or handle sensitive national security information," a White House memo from Kelly read. "We should — and in the future, must — do better."
Who Trump sat next to at the Olympic Games raised some questions, as well. She watched the 2018 closing ceremony from a VIP box with South Korea's president. A few feet behind them was North Korea delegate Kim Yong Chol. Though the vice president refused to stand for the North Korean delegation during the opening ceremony a few weeks prior, Trump stood and clapped as North Korean athletes entered the closing ceremony.
Trump's heightened role as presidential adviser has put her in contact with multiple world leaders on trips to Germany and India, but her diplomacy in South Korea apparently wasn't well received by some White House aides. In some ways, she was filling a hole formed by the fact that America still lacks an ambassador in Seoul. In other ways, she was representing her father the same way she's done for months.