This Security Clearance Crackdown Could Be Real Bad For Jared Kushner & Ivanka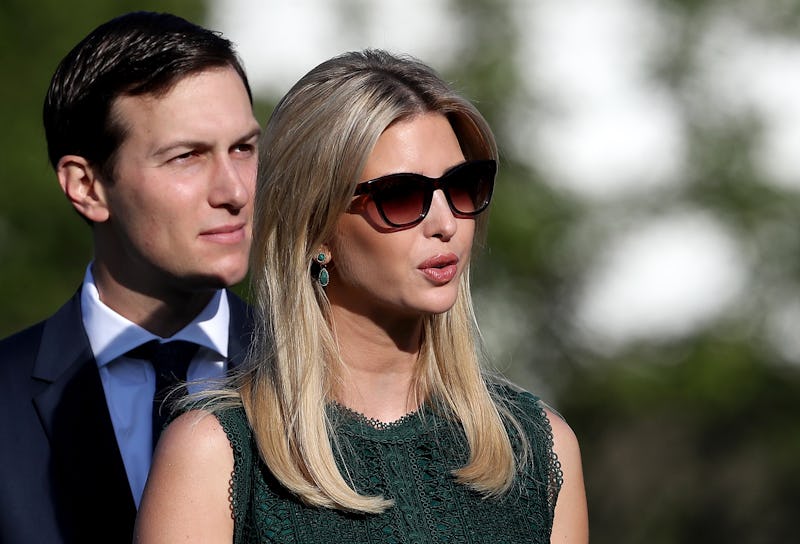 Win McNamee/Getty Images News/Getty Images
On Friday, President Donald Trump's chief of staff, John Kelly, announced that the White House security clearance process will be changing. According to Vox, one of Kelly's changes includes revoking interim Top Secret or SCI-level (Sensitive Compartmented Information) clearances for employees whose background investigations have been pending since before June 2017. This change could potentially have big implications for Trump's son-in-law, Jared Kushner, and daughter, Ivanka Trump, who both reportedly currently hold interim Top Secret and SCI clearances.
According to The New York Times, Kelly released the memo to White House staff on Friday afternoon. The memo was addressed to White House counsel Don McGahn, National Security Adviser H.R. McMaster, and Deputy Chief of Staff for Operations Joseph Hagin. It opened by acknowledging the media attention that the clearance process had received in recent days.
This attention seemed to result after it emerged that former White House staff secretary Rob Porter was granted an interim security clearance, even though Kelly reportedly knew about domestic abuse allegations against Porter that meant he would likely be denied a full clearance (the White House has not commented on when Kelly knew about the allegations). Porter released a statement denying the allegations:
These outrageous allegations are simply false. ... I have been transparent and truthful about these vile claims, but I will not further engage publicly with a coordinated smear campaign.
Kelly's memo from Friday began by firmly emphasizing that the clearance process needs to be improved, saying:
The events of the last ten days have focused immense attention on a clearance process that has been in place for multiple administrations. The American people deserve a White House staff that meets the highest standards and that has been carefully vetted — especially those who work closely with the President or handle sensitive national security information. We should — and in the future, must — do better.
Revoking employees' interim clearances is one of several suggestions made by Kelly to improve the clearance process. Around 100 White House employees do not have long-term clearances, including Kushner and Ivanka Trump. Per Kelly's memo, any employee who has had their background investigation pending since before June 1 will have their clearance revoked next Friday.
The exact implications of this for Kushner and Ivanka Trump are not yet clear. According to The New York Times, they certainly do stand a chance of having their clearances revoked next week, which could mean the couple would not be able to participate in certain meetings and/or access documents containing secret information.
However, as the Times pointed out, it is uncertain whether Kushner (or Ivanka's) background investigations began before or after June 1. If the investigations began after that date, they could retain their interim clearances, even with the new policy in place. Moreover, the Times also noted that if the interim clearance was revoked, it is possible that President Trump could overrule Kelly and still grant his son-in-law or daughter access to secret information.
The Times also reported that, on Friday, Kushner's lawyer, Abbe Lowell, did not address whether Kushner would still have a security clearance at the end of next week, but instead noted that "the new policy announced by Mr. Kelly will not affect Mr. Kushner's ability to continue to do the very important work he has been assigned by the president." Neither Ivanka nor any representatives for her have commented on Kelly's memo and the new clearance policies.
Many in Washington and beyond will likely be closely watching as Kelly's new clearance policies fully unfold this week. Time will certainly tell what implications, if any, these policies have for Kushner and Ivanka — and whether they will be able to carry out their duties as advisors in the same way as they were prior to the memo's release.