Ivanka Finally Spoke Up About The Sam Bee Insult & It Says A Lot About The First Daughter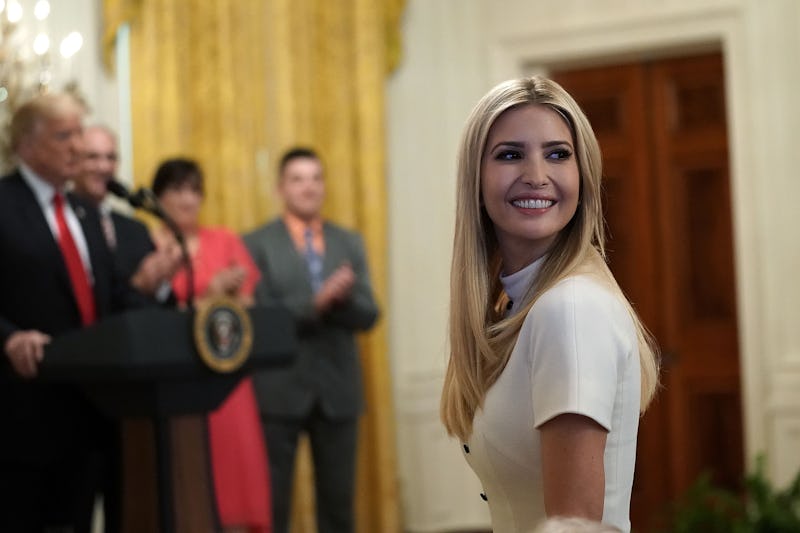 Alex Wong/Getty Images News/Getty Images
In May, Samantha Bee called Ivanka Trump a "feckless c*nt" during a segment on her show, and criticized her for refusing to condemn the family separation policy that her father implemented earlier in the month. On Friday, the first daughter finally addressed the incident, and Ivanka's response to the Samantha Bee comment reveals how she handles criticism: In essence, she ignores it.
"I have chosen, and I made a conscientious decision a long time ago, that I was not going to get into the fray, and that means that I'll absorb the body blows that come my way," Ivanka told Fox Business Network host Maria Bartiromo Friday. "It is important to me to focus on the task at hand, which is serving the American people and using this moment in my life to advance an agenda that I deeply believe in and feel very fortunate to be able to work on."
Ivanka has often presented herself as an advocate for mothers and families, declaring at the Republican National Convention that "American families need relief" and calling for "policies that allow women with children to thrive." But when President Trump rolled out his policy of separating undocumented children from their parents at the border and putting them in cages, Ivanka was conspicuously silent.
Bee devoted a segment of her show, Full Frontal With Samantha Bee, to discussing this, noting that Ivanka posted a loving picture of herself and her daughter on Instagram as her father's administration was forcibly separating parents from their children.
"You know, Ivanka, that's a beautiful photo of you and your child," Bee said. "Let me just say, one mother to another: Do something about your dad's immigration practices, you feckless c*nt. He listens to you." Bee later apologized for the joke, calling it "inappropriate and inexcusable."
Still, Ivanka didn't address Donald's family separation policy until he signed an executive order ending it in June. Shortly after he did this, Ivanka thanked him for doing so Twitter. This drew even more condemnation, as it was the president himself who implemented the policy in the first place; one Twitter user responded that "you don't thank an arsonist for putting out the fire he started."
During her show on Friday, Bartiroma asked Ivanka whether she had advised her father on family separation.
"Of course, I have very strong opinions on that topic," Ivanka replied, although she didn't reveal what any of those opinions were and declined to discuss the topic further.
All of that being said, Ivanka did present a report on human trafficking at the State Department on Thursday that condemned the policy of family separation.
"The international community agrees that a family caregiving setting, or an alternative solution that is appropriate and culturally sensitive, is the most conducive environment for the growth, well-being, and safety of children," the report said. "Removal of a child from the family should only be considered as a temporary, last resort."
However, that report was compiled in April, before the Trump administration began separating families, so it wouldn't be accurate to call that segment a criticism of the administration's policies per se.
Over 2,000 undocumented children have been separated from their parents by immigration officials and placed in detention facilities across the country. On Tuesday, a federal judge ordered the administration to reunite all of those families within 30 days. It's unclear if the administration has any plan for how to do this, however, and in an attempt to fill the void, the nonprofit immigrant advocacy group RAICES has set up a hotline to help legal advocates reunite undocumented children with their parents.