Ivanka Trump Deleted A Motivational Tweet After It Was Mocked For A Hilarious Mix-Up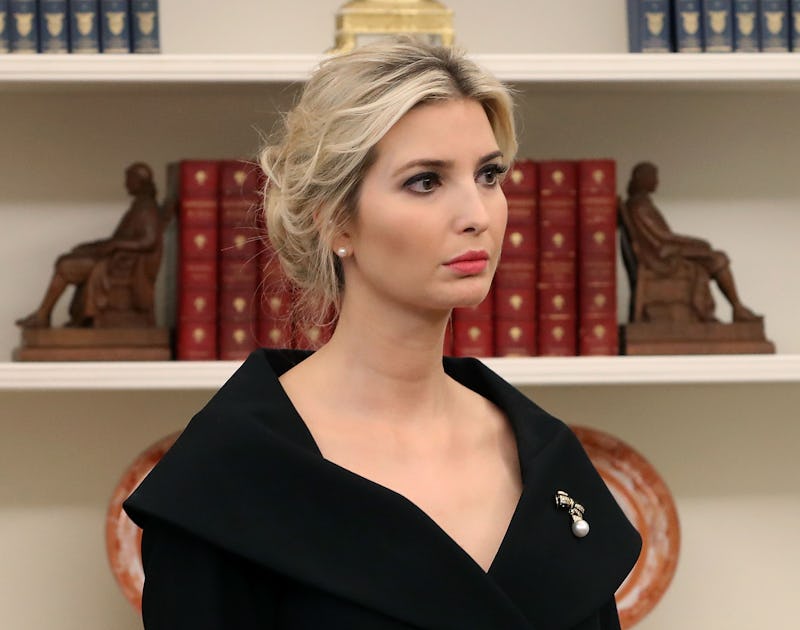 Mark Wilson/Getty Images News/Getty Images
The Trump family had a busy morning — on social media, that is. Twitter mocked Ivanka Trump for misattributing a quote to Socrates in a tweet Tuesday morning, which she quickly deleted and reposted. She wasn't fast enough to evade some harsh jokes, though.
"The secret of change is to focus all of your energy, not on fighting the old, but on building the new," Trump tweeted, first attributing the motivational quote to Greek philosopher Socrates, as HuffPost reported. But the quote actually originated from a character called Socrates in Dan Millman's book, Way Of The Peaceful Warrior: A Book That Changes Lives. Once commenters pointed this out, Trump retweeted the quote with an addendum after Socrates that read, "note: a fictional character not the philosopher."
The first daughter has a penchant for tweeting cheesy motivational quotes, but their origins aren't always clear. In June, she raised some eyebrows by tweeting a "Chinese proverb" that didn't appear to be a Chinese proverb at all. The website Quote Investigator claimed the saying "Those who say it can not be done, should not interrupt those doing it" originated in the United States, and no evidence surfaced that it was, in fact, a Chinese phrase.
But unlike the June tweet, which she left up, Trump took a second stab at the Socrates quote. Quote Investigator confirmed that the quote came from Millman's character nicknamed Socrates, not the famed philosopher. An excerpt from the 1984 book, according to Quote Investigator, reads:
Back in the office, Socrates drew some water from the spring water dispenser and put on the evening's tea specialty, rose hips, as he continued. 'You have many habits that weaken you. The secret of change is to focus all your energy not on fighting the old, but on building the new.'
The book was made into a movie in 2006, with the title shortened to Peaceful Warrior.
It's easy enough to see how someone might assume a quote attributed to Socrates means that Socrates. But any tweet coming from the president's oldest daughter is bound to be heavily scrutinized, so it was only a matter of time before someone uncovered the truth.
While she was correcting her motivational tweet, her father was forming a tweet degrading Stormy Daniels, the adult film star who alleges she had an affair with the president in 2006 (which he denies). POTUS called Daniels "horseface" and threatened to "go after" her and her "3rd rate lawyer," even though a federal judge threw out Daniels defamation suit against him.
Daniels responded in a tweet of her own, writing that the president "has demonstrated his incompetence, hatred of women and lack of self control on Twitter AGAIN! And perhaps a penchant for bestiality." She added, "Game on, Tiny."
Though the first daughter has a very different social media presence than her father (i.e. much less angry), her occasional motivational quotes often turn out to be from totally different sources than she initially claims. In this instance, she gave the fictional Socrates the credit his fake self deserved.