This Insult Aimed At Stormy Daniels Shows Trump Doesn't Think Of Women As People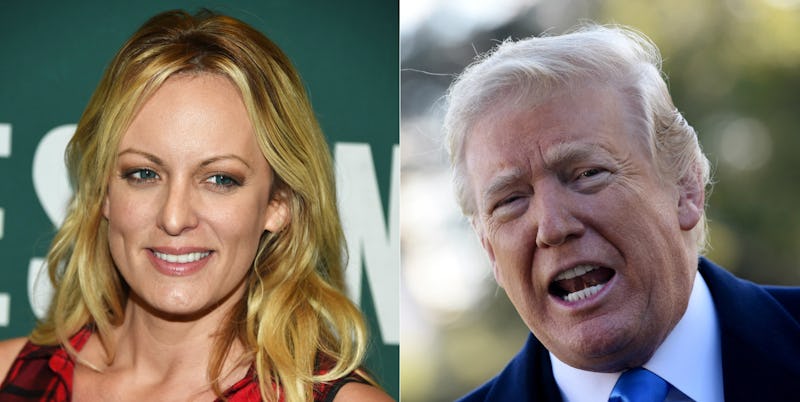 Amanda Edwards/Getty Images Entertainment/Getty Images / Pool/Getty Images News/Getty Images
One day after a federal judge dismissed the adult film star's defamation suit, President Donald Trump called Stormy Daniels "horseface" in a tweet where he also threatened to "go after" her and her "3rd rate lawyer." Daniels was ordered to pay Trump's legal fees on top of dropping her claim that he defamed her in an April tweet. But rather than simply boast that he won the legal battle, the president hurled a sexist insult at Daniels.
"Great, now I can go after Horseface and her 3rd rate lawyer in the Great State of Texas. She will confirm the letter she signed! She knows nothing about me, a total con!" Trump tweeted Tuesday morning after quoting a Fox News report about the case being dismissed.
Though New York magazine's Olivia Nuzzi speculated that Trump called Daniels "horseface" because he remembered that she rides horses, the president has a pattern of insulting women's looks and referring to them as animals. In August, he called former White House aide Omarosa Manigault Newman a "lowlife" and a "dog" in a tweet after she came out with a tell-all book that didn't paint him in a positive light. Before he took over the Oval Office, he also called Arianna Huffington and Kristen Stewart a "dog" in tweets that were never deleted.
Trump didn't exactly hide this tendency during the presidential election, but he didn't respond kindly to women asking him about it. During a 2016 presidential debate, Megyn Kelly said:
Mr. Trump, one of the things people love about you is you speak your mind and you don't use a politician's filter. However, that is not without its downsides, in particular, when it comes to women. You've called women you don't like "fat pigs, dogs, slobs, and disgusting animals."
When Trump responded that he only used that language when referring to Rosie O'Donnell, Kelly told him it was "well beyond Rosie O'Donnell." He later claimed Kelly had "blood coming out of her eyes, blood coming out of her wherever" during the debate, a comment he later tried to walk back.
Daniels called Trump out for insulting her on Tuesday with more colorful language than Kelly, suggesting that she's up for a fight if he really plans to "go after" her.
"Ladies and Gentlemen, may I present your president. In addition to his...umm...shortcomings, he has demonstrated his incompetence, hatred of women and lack of self control on Twitter AGAIN! And perhaps a penchant for bestiality," Daniels tweeted. "Game on, Tiny."
Daniels alleges she had an affair with Trump in 2006, which he has repeatedly denied. She sued him for calling her claims a "a total con job" after she released a sketch of a man she alleged threatened her to stay quiet about the alleged affair. Judge S. James Otero threw out her defamation case this week on the grounds that Trump's tweet in question was "rhetorical hyperbole by a public official involving a public figure," Bloomberg reports.
It seems the president took the decision to mean he can continue tweeting about Daniels. Her lawyer, Michael Avenatti, responded to Trump insulting his client by calling the president "a disgusting misogynist and an embarrassment to the United States" on Twitter.