Ivanka Trump's Latest Tweet About Jared Kushner Shows How Proud She Is Of Him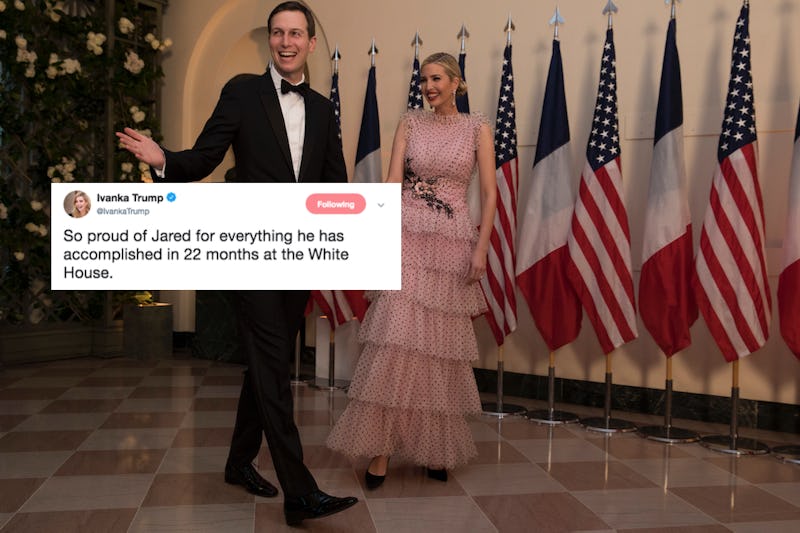 Aaron P. Bernstein/Getty Images News/Getty Images
The world is continually fascinated by the relationship between President Trump and the first lady, Melania, but the same fascination holds for another White House couple as well. The president's daughter and son-in-law seem to have the closest professional relationship to Trump, and on Monday, Ivanka Trump expressed how proud she is of Jared Kushner.
"So proud of Jared for everything he has accomplished in 22 months at the White House," Trump wrote in a tweet on Monday evening. "I am continuously impressed by his incredible work ethic, laser focus and quiet achievement as he serves our great Country."
Trump wrote the tweet alongside a link to an interview that her husband had done with CNN's Van Jones during the news outlet's day-long CITIZEN conference focusing on politics and policy. Kushner was among top figures in politics at the New York City conference, which also included House Minority Leader Nancy Pelosi, Chicago Mayor Rahm Emanuel, and Arizona Sen. Jeff Flake, who played a central role in Supreme Court Justice Brett Kavanaugh's confirmation vote.
During the conference panel, Vanity Fair noted, Kushner complimented his wife, saying, "Anyone with Ivanka would be a power couple. She's really amazing. When we started dating, I told her that if I wasn't so attracted to her, she'd just be my best friend."
"We were always involved in each other's business and knew what was going on, but working together has given me an even greater appreciation for just how effective she is with everything she does," Kushner continued. "I mean, she puts her mind to accomplishing things and she's able to get them there. Everyone wants to work with her and she's a great team player."
Kushner also praised his wife for being able to juggle both her roles as a White House adviser and as a mother to three. "Having two parents in the White House is a big strain obviously for the family, but she does a great job balancing it, and I don't know how she does it, because I wouldn't be able to do it," Kushner said.
The two are as high on the power couple totem pole as it comes (aside from Trump's father and stepmother). According to Refinery 29, Michael Wolff's Fire and Fury: Inside the Trump White House details how the duo had mapped out their potential presidential future, if it were to happen, and the support they would show each other.
An excerpt from the book reads: "Balancing risk against reward, both Jared and Ivanka decided to accept roles in the West Wing over the advice of almost everyone they knew. It was a joint decision by the couple, and, in some sense, a joint job. Between themselves, the two had made an earnest deal: If sometime in the future the opportunity arose, she'd be the one to run for president. The first woman president, Ivanka entertained, would not be Hillary Clinton; it would be Ivanka Trump."
Trump doesn't post often about her relationship with Kushner; her Twitter history mostly shows agreeable posts on White House events and initiatives. So, when she does express pride in her husband, it means that much more for one of America's most recognizable power couples.