Ivanka Trump's Tweet About Trolls Didn't Really Follow Its Own Advice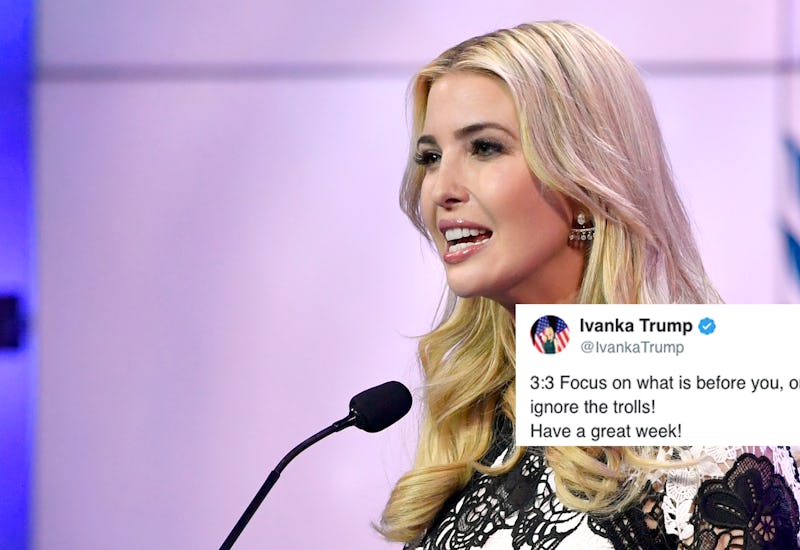 Larry French/Getty Images Sport/Getty Images
This week has already been a difficult one for the first daughter, after she tweeted a picture of her son that turned out to be quite controversial. Critics said it was "tone deaf" and in poor taste given the administration's policy of separating migrant children from their moms. Ivanka Trump responded to trolls Tuesday with a quote from the last of Rome's "Five Good Emperors."
Ivanka quoted advice from the book, Meditations by Roman Emperor Marcus Aurelius and then wrote, "Focus on what is before you, on what you can control and ignore the trolls! Have a great week!"
The controversy on Monday was regarding her Instagram post, which garnered attention for its bad timing. Ivanka's photo showed her holding her son and looking into his eyes. She wrote, "My love," using the heart emoji with the photo and the hashtag #SundayMorning. About 26,00 people responded to the photo, most noting concern, like one person who wrote it was an "odd tweet in the middle of the horror going on with missing children ripped from their parents arms."
Here's what her full quote from Meditations said on Tuesday, in several tweets:
"If thou workest at what is before thee, following right reason seriously, vigorously, calmly, without allowing anything to distract thee... If thou holdest to this, expecting nothing, fearing nothing, but satisfied with thy present activity according to nature... thou wilt live happy. And there is no man who will be able to prevent this." -Marcus Aurelius, Meditations
Then came her third, summary tweet with the message to "ignore the trolls."
The criticism against her was focused on two concerns with the Trump administration. One was on the 1,500 children that were "lost" by the Office of Refugee Resettlement. That issue took over Twitter with many asking about the missing kids, using the hashtag #WhereAreTheChildren. It ends up they may not exactly be "lost," but that didn't keep the Twitterverse from calling out Trump for it.
Some on Twitter conflated this issue with the Trump administration's reported decision to take migrant children away from their parents when they seek asylum at the border. One such prominent post came from Paola Mendoza, one of the Women's March organizers and a Colombian-born filmmaker. "@IvankaTrump, you are lucky to hold your son while 1500 mothers cannot, because your father ripped their children away under a vicious policy that he created," Mendoza wrote in a quote tweet of Trump's post. "Ivanka, #WhereAreTheChildren?"
Much of the online criticism focused solely on the policy to separate families. As many as 700 children have been taken from their parents through April, according to The New York Times, as the process began long before Attorney General Jeff Sessions announced it.
Brian Klass, a Washington Post columnist, also posted on Twitter about the matter. "This is so unbelievably tone deaf, given that public outrage is growing over young kids being forcibly ripped from the arms of their parents at the border — a barbaric policy that Ivanka Trump is complicit in supporting," Klass wrote, also quote tweeting Ivanka.1
The real trolls, though, that Ivanka alludes to might be those who responded to her tweet. As of Tuesday, more than 26,000 people had done just that, some sending messages of support, but most expressing outrage over what the Trump administration is doing to migrant families.
"The administration you work for and support is separating thousands of children from their parents," responded one user @justjo1002. "Some of the children lost in the system and probably settling in with traffickers. How tone deaf can you be?"
Also of note in Ivanka's tweet is that the the reign of the emperor she quoted, Emperor Aurelius, was noteworthy because he ruled jointly with his son. His reign is considered to be the beginning of the end of Pax Romana and the start of the downfall of the Western Roman Empire.