Why Ivanka's White House Job Is Basically One Big Ad For Her Brand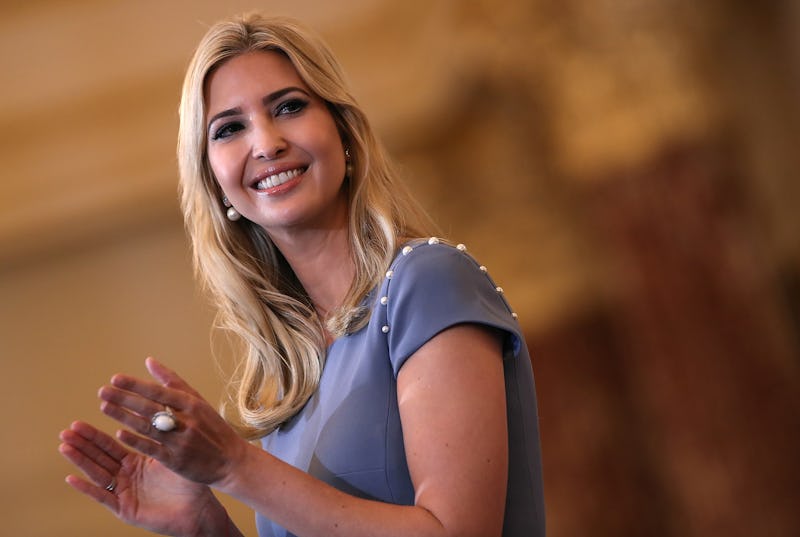 Win McNamee/Getty Images News/Getty Images
On Dec. 27, the Wall Street Journal put Donald Trump's daughter and her fashion brand in the hot seat with a conflict of interest that might leave you feeling pretty concerned. It's no secret that the first daughter has been criticized for maintaining ties to her business as she works in the White House. But now, months after her father took office, it's clear that Ivanka Trump's White House position has basically become an ad for her fashion line.
In a statement emailed to WSJ, Ivanka strongly denied any possibility of her cashing-in on wearing her company's clothes in D.C. She suggested that if profits were her goal, she'd be a bit north of the capital. Ivanka told WSJ, "If what motivated me was to grow my businesses and make money, I would have stayed in New York and done just that."
In a social media analysis carried out by WSJ, though, Ivanka was reportedly wearing her company's creations in 46 out of the 68 photos she shared on her social media accounts. The photos analyzed cover a time span from March to October 2017. In those photos, Ivanka is said to be wearing her brand's handbags, jewelry, dresses, and shoes.
Although the paper raises questions about a conflict of interest, an anonymous person close to Ivanka told the WSJ that she supposedly tries to make some effort to not wear her brand's dresses while she is in D.C. The same goes for when she attends super prominent events — at least according to this unnamed person. The paper also noted that information regarding her profits are entirely private. So, knowing just how much she made (or didn't) is impossible.
But the amount of money that is known is pretty high. For instance, Ivanka's brand is reportedly worth more than $50 million. And that's not all. According to the WSJ, her income between March and May was reportedly somewhere between $1 million and $5 million.
Even analysts and scholars on presidential studies, like associate professor Guian McKee from the University of Virginia, say it's problematic that Ivanka wears her brand's clothes so openly and frequently. "Ivanka Trump is testing the boundaries on federal rules that bar government employees from using their position to promote brands that personally enrich them," McKee told the WSJ.
This won't be the first time that a member of the Trump administration came under fire for reportedly promoting a certain brand while in office. Ivanka's husband, Jared Kushner, was also heavily criticized for reportedly failing to disclose his interest in a real-estate investing startup called Cadre while working in the White House. According to Vanity Fair, Kushner had been working for the White House while the technology company raised a reported $65 million. Kushner invested in the business prior to the election, and though he sold some of his stocks before Trump took office, he didn't sell all of them. The company itself was worth a reported $800 million as of June.
Furthermore, back in February, Kellyanne Conway, media-savvy counselor for the White House, landed herself in controversy when she basically promoted Ivanka's company on air. On Fox News, Conway said, "Go buy Ivanka's stuff! I hate shopping, and I will go get some myself today." Conway also said, "I fully, I'm going to give a free commercial here. Go buy it today, everybody. You can find it online." It may sound like just a friendly shout-out on TV but Conway's thumbs-up on screen led to a reportedly massive growth in sales for Ivanka's company. We're talking a reported 10,700 percent. With such blatant promotion, it's no wonder why the WSJ decided to pose some serious questions.