Twitter Is Calling BS On Ivanka's Women's Equality Day Message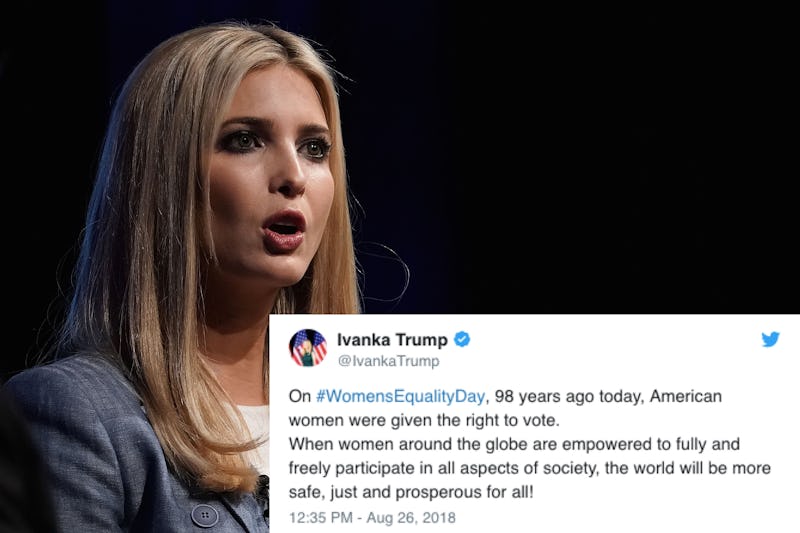 Alex Wong/Getty Images News/Getty Images
Sunday marked Women's Equality Day, which was designated by Congress to commemorate the passing of the 19th Amendment, which gave women the right to vote. Presidential adviser Ivanka Trump celebrated with a Women's Equality Day tweet and historic photo.
On Sunday morning, the first daughter wrote: "On #WomensEqualityDay, 98 years ago today, American women were given the right to vote. When women around the globe are empowered to fully and freely participate in all aspects of society, the world will be more safe, just and prosperous for all!"
The accompanying photo was a historical-looking, black-and-white photo that appears to be from the suffragette movement.
The replies were not focused on the substance of Trump's tweet — Women's Equality Day — but instead were focused on the first daughter's role in her father's administration. Immediately, Twitter users asked her about the Trump administration's immigration policy of separating families at the border, the president's frequent golf trips, his well-documented negative comments about women, and even the Saturday Night Live parody of Ivanka Trump starring Scarlett Johansson.
Trump's tweet has received far more criticism than it has support. For example, the top reply read: "Please graciously get off of Twitter and kindly tell the rest of your family to delete their accounts as well! America is so done with this ....and all set with your family..."
The first daughter's Women's Equality Day tweet isn't the first to cause some ire. Back in March, Trump tweeted in support of International Women's Day.
She tweeted: "Today we come together in recognition of women at home & around the globe. We celebrate women's achievements, past & present, & pledge to empower women to reach their full economic potential for generations to come. When women thrive, we ALL succeed. #InternationalWomensDay."
Fellow Twitter users weren't pleased. In fact, Marie Claire UK reported that users were calling Trump a "hypocrite." One user said she was using "Big words from the girl on a perpetual 'Bring your daughter to work day.'" While others brought up the sexual assault allegations against her father (Donald Trump has denied them all) and reports of the working conditions in the factories that once produced Ivanka Trump merchandise.
Another user said they were "amazed and stunned" at the first daughter's lack of self awareness. The user wrote, "You have no self-awareness whatsoever. I stand amazed and stunned at how you try to keep up this act."
In April 2017, Ttrump tweeted her support for Equal Pay Day, which marks the day when a woman makes as much money as her male counterpart did during the calendar year ending in January. She wrote, "#EqualPayDay is a reminder that women deserve equal pay for equal work. We must work to close the gender pay gap!"
But by September 2017, Trump was supporting the end of an Obama rule on data collection on the gender wage gap, CNN reported. "Ultimately, while I believe the intention was good and agree that pay transparency is important, the proposed policy would not yield the intended results," she said in a statement to CNN.
Trump tweets her support of women and women's equality on major commemorative days. But, according to Twitter users on Women's Equality Day, her social media statements on women's causes often don't translate to her actions.