I've Never Used A Dating App & Here's How I Meet People IRL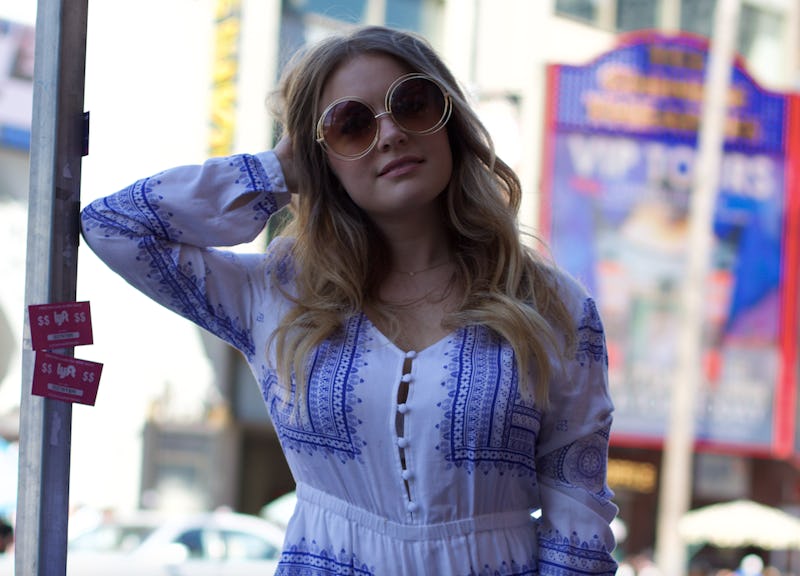 Author's Own
Even though dating apps are most popular among Millennials, according to a recent SeatGeek survey of 1,000 singles, 95 percent would rather meet people IRL versus online or on an app. That's why for the second year in a row, Bustle is deeming April, "App-less April" and encouraging our staff and readers to delete their dating apps for 30 days and meet people the old-fashioned way: offline. With participants tracking their progress and tricks and tips from dating experts, we'll be helping you feel empowered to meet people IRL all month long.
Bustle's App-less April challenge is all about going cold-turkey, forgoing dating apps, and putting. the. damn. phones. down. But to me, App-less April is just another month. I've never used a dating app and have never even downloaded one to my phone. Nope, I'm not a cavewoman emerging from a frozen state like Austin Powers. I'm just a 26-year-old who still believes in good, old-fashion love. This confuses people, namely millennials. So on my personal site Stripping Down Celebs, I stripped myself down in effort to explain why I have an unconventional dating life for someone my age. By unconventional, I mean super old-school with a side of skeptical attitude about modern dating methods. Nonetheless, I'm totally content with my dating life and hope to help you guys feel better about meeting people in person if you continue to date without dating apps after April's over.
"There's no better way to gauge attraction and chemistry than to be physically present with someone," Thomas Edwards, founder of The Professional Wingman, tells Bustle. "You get to experience their vibe right away, which is something no online dating platform can deliver."
So let me lay out some groundwork: I'm a red carpet reporter living in LA, so it's not like I'm meeting guys at work (they're mostly gay or celebs, so the pool for a straight gal like myself is very limited). If you're looking for places to find love, you won't find bars or clubs on this list. I've given up on those spaces, to be honest. So if you're like me, with work and nightlife options crossed out, and can't bear the thought of telling your wedding guests you met your significant other on Tinder, you're not alone. Here are some ways I skip apps, meet people, and live my life in the process:
Here's the thing: I've learned to get over the fact that my friends aren't natural matchmakers. Love them to death, but for whatever reason, they don't instinctively think to set me up with their good-looking, perfectly normal, single guy friends. (Guys, why?) Thus, I've become a little aggressive in this arena. Now, when I see that my friend knows of or is friends with someone who is my type, I won't beat around the bush. I'll straight-up ask if we can be introduced. They say that if you want something done, you gotta do it yourself, and I've become an expert at this. Yay, single life.
I once met a guy at the gym while we were awkwardly trying to get things out of our back-to-back lockers at the same time. He introduced himself, asked about my work, the conversation kept going, and that was that. Don't let being sweaty keep you from being open-minded. You never know.
No, really. The possibilities are endless here, and if you take a breather from your phone, looking down, constantly getting app updates, and swiping, you'll notice. I've met guys in the grocery aisle, in the check-out line, even actual cashiers. Maybe I don't date them, but if nothing else, it's nice having face-to-face interactions with nice guys without phones between us. Maybe the next Trader Joe's cashier you get isn't your future spouse, but it could be just a cool person to hang out with, or hey, some practice.
I've found that with anything in life, putting in a little more effort always pays off, even if it sounds hard at first (which is anything that doesn't entail the couch and Netflix, honestly). I'm not a religious person, but I once forced myself to go to a 20s and 30s singles gathering through a Los Angeles temple. I was mortified, questioning everything, until I got the hell over myself. I grabbed a friend, we went, laughed it off, and actually met really great, chill guys. And think outside the box. I'm as athletic as a rock, but joined a co-ed volleyball team and had a blast meeting new guys. You can do it!
I understand travel can be limiting, but even if it's a two-hour road trip, something about getting outside your mundane routine feels exotic. Thus, you may be inclined to let your hair down, introduce yourself to people, and exchange numbers. I met great guys on my birthright trip to Israel that I went out with when returning to the states. I even exchanged numbers with a few guys from LA that I met in Vegas on a last-minute road trip I took last weekend. It feels more rewarding getting outside of your comfort zone in more ways than one.
It sounds cliche, but I truly have found the best relationships when I least cared or looked. I've found that my friends who are constantly on apps and going on dates they hate are just frustrated more than anything else. But I don't experience those frustrations because I haven't spent the time trying in the first place, so it doesn't seem like a waste of time. Freely living your life and going about your day, in my opinion, is the best application to finding someone that you can have.
People my age always tell me I'm nuts for never trying dating apps. They constantly try to convince me that it's 2017 and apps are "just what people do" these days to find love. I get it. But it doesn't have to be what you do, and it's certainly not what I do. Do I feel lonely at times? Sure, but the excitement and hope of unexpectedly bumping into my future partner outweighs that feeling by a landslide. Good luck!
Join the campaign and share your stories with #ApplessApril and by tagging @Bustle.