This Pic Of Dani Dyer's Family Roast Featuring Jack, Danny, & Bruv Is Everything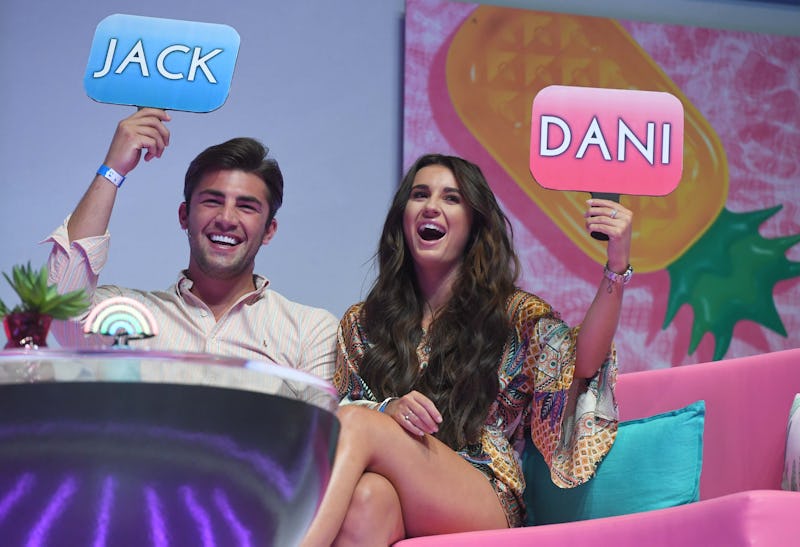 Stuart C. Wilson/Getty Images Entertainment/Getty Images
Even the Love Islanders aren't immune to the charms of a bank holiday weekend and a recent Instagram from a pair of them warmed my cold, hardened heart. Last series' winners Jack Fincham and Dani Dyer chose to reconnect with her family over the weekend for a Sunday roast and it looks like Jack's settling in just fine into the Dyer clan. Jack and Dani's roast seems to have gone down a treat with the clan as her father EastEnders' Danny Dyer was grinning along in one of Jack's recent Sunday roast posts, as well as the one, the only Love Island 2018 legend — Dani's grandad, a.k.a. Bruv.
Jack shared a sweet image of the four of them on Instagram, captioning it, "Nice little roast round bruvs." He also tagged Bruv's new Instagram handle, @bruv_loveislandlegend, which takes the cake for most wholesome place on the internet. It's basically just a string of photographs of himself and the family, plus his bio is a funny little throwback to his granddaughter's reality TV show. It reads "Excuse me I got a text." Bruv also showed off his tech skills when he regrammed the same photo from Jack, swapping out the caption to "Mañana mañana."
Bruv skyrocketed to fame during Love Island earlier this year, when during a Meet the Family episode Dani referred to her grandfather as "Bruv" on the phone. According to the Evening Express, she gave him the nickname because she had always wanted a brother when she was younger and it seems to have stuck.
It seems like Danny Dyer's finally accepted Jack into the fold, given their slightly rocky start. When his daughter Dani and Jack first started shacking up in the villa this year, he was quizzed on their relationship on Good Evening Britain per The Daily Star. More specifically, he was asked how he felt about his daughter joining the Do Bits Society on telly and it didn't go down well.
He said at the time, "I'll strangle him or something."
Yikes. He did later say he was joking, but that must have been a fun first meeting. During Love Island: The Reunion, Dani clarified that she and Jack had officially "done bits" now that they were off the air per The Mirror. Given that Jack's still alive and kicking, I'm guessing that Mick Carter has since given him a pass.
It seems like things are only getting more serious for Jack and Dani now they're out of Love Island's villa. After winning the series by a landslide — honestly, was there a single person out there that thought for a second they wouldn't snag the crown? — Dani revealed on Instagram stories just weeks later that the pair had moved into a new home together, as reported by Metro.
Jack took things even further however in an interview with The Sun, saying, "We're getting married next year, 100 per cent. Like my mum said to me so many times, 'When you know about someone, you just know.' And now I know what she's talking about. I just know that that's what we want to do."
Odds on their wedding being filmed as a bonus Love Island episode? I'd be here for it, TBH.