If You're Wondering Why Danny Dyer & Jack Fincham Haven't Met Yet, This Is Why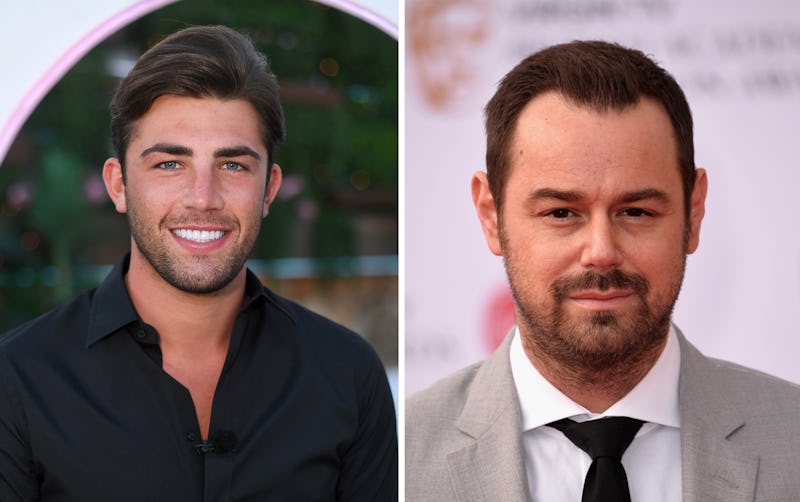 James Gourley/ITV/Shutterstock, Jeff Spicer/Getty Images Entertainment/Getty Images
After that incredible Skype call between Jack, Dani, and her parents, I was holding out hopes that the star's equally famous dad, Danny Dyer, would appear on Love Island's reunion show. But alas, it isn't to be as Danny Dyer and Jack Fincham still haven't met. It's not because the Eastenders actor has taken a sudden disliking to the stationery salesman (although that would have added a very dramatic twist to their budding romance). It's more because the entire Dyer family — which includes Danny, his wife Joanne Mas, 11-year-old daughter Sunnie, and five-year-old son Arty — are currently living the life in Florida.
The pre-planned family holiday explains exactly why Dani's grandparents were the only ones to make an IRL appearance in the Love Island villa. To be honest, Eastenders is a pretty full-on acting job so it's unlikely that Dani's dad would have been able to get time off at such short notice anyway. Just because he's not in the country doesn't mean that Dyer has remained quiet when it comes to his daughter's new relationship. Talking to the Daily Star, the actor opened up about having a child at the age of 20 and gave some advice for Dani.
"As much as I love Dani, and of course I'm overjoyed we had her, I would advise her to have children later on in life," he told the paper. "You should live your life first. There are benefits to having kids early, but you lose a lot of your own childhood and self-discovery."
However, the 41-year-old said that he does trust his 22-year-old daughter, adding: "I know she's a very loving girl who has come on this incredible journey with me and her mum. I know she's got her head screwed on right and I think she'll do OK in the end. I mean she'll be a happy and fulfilled person."
The statement comes after 26-year-old Jack told The Sun that the the couple have plans to marry next year. "Like my mum said to me so many times, 'When you know about someone, you just know," the Love Island winner commented. "And now I know what she's talking about. I just know that's what we want to do."
The pair also said that they will be moving in together after the summer and are planning to spend August looking for houses. "It's the only logical thing to do — we've lived together two months," Jack told The Sun. "If I lived separately it would be rubbish, so it's the only thing I'd want to do now."
All of the final Love Island couples are currently busy filming for the series' reunion episode which airs this Sunday. It will follow the finalists as they meet families and head back to their workplaces. Unfortunately, Dyer won't appear on it but let's hold out hope for another memorable Skype session.
According to Metro, Jack and Dani will take centre stage though as they make a trip to Jack's office and the pub that Dyer's daughter previously worked in. It looks like Dani has already met Jack's family and friends if Instagram is anything to go by.
The same goes for runners up Laura Anderson and Paul Knops who will be seen visiting Laura's hometown of Stirling in Scotland. Viewers will also get the chance to see what Josh Denzel and Kaz Crossley's friends think of the couple and the first family meeting for Wes Nelson and Megan Barton-Hanson.
Love Island: The Reunion will air on ITV2 on Sunday at 9 p.m.