How Jack Pearson Was Almost A Totally Different Person On 'This Is Us'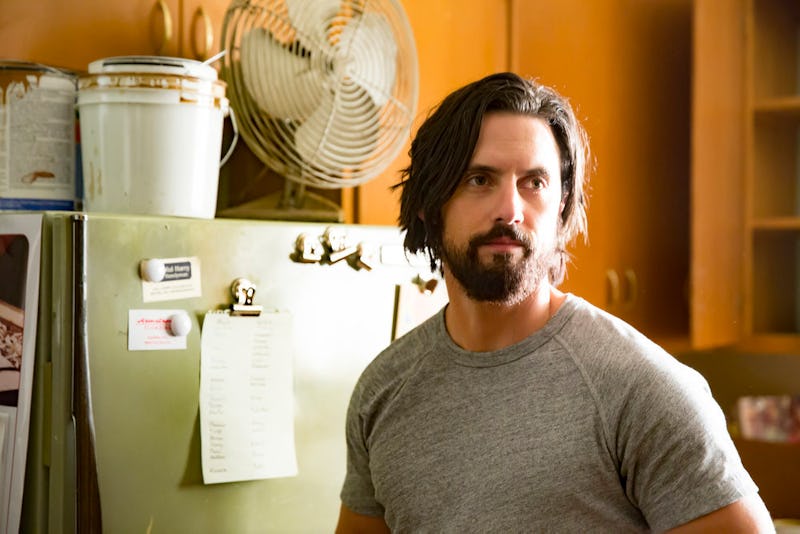 Ron Batzdorff/NBC
At this stage in the hit show, it feels almost impossible to imagine any of the This Is Us characters being different from how we know and love them now. But, as an in depth profile of the show by The Hollywood Reporter reveals, Jack Pearson was almost a different character in the early stages of the show's creation. So much so that the character was re-developed for Milo Ventimiglia specifically after creator Dan Fogleman saw the actor read for the part. Fogleman was originally looking for a "doughier," actor to portray the Father of the Big Three, with Jack meant to resemble someone more like himself and his "regular-guy buddies." And there's one specific scene that would have been radically different had that have been the case.
As you, and the rest of the hungry-eyed internet, remembers, one of the biggest talking points in the lead up to the This Is Us pilot episode airing was a particular scene involving Ventimiglia's bare, naked butt. While the shot had plenty of people talking, as Fogleman tells it, the scene was originally supposed to be funny, not hot. He explained to THR:
"In the way a shot of my butt would be funny. I didn't imagine that that was going to be a thing that would blow up the internet. I joke about it a lot, but really, my initial conception of that character was that different."
Though this may seem like an arbitrary or superficial change to the character of Jack, it's actually a major one, and Ventimiglia actually brings a whole lot more to the role than simply possessing a particularly pleasing butt.
Ventimiglia brings a lot of dimension to Jack both physically and in the emotional range he gives to his performance. What makes Jack so compelling is that he's as admirable as he is flawed, like all the other characters on the show. Within the space of any given episode of This Is Us, it's easy to switch between rooting for a character and feeling frustrated by their behavior. We encounter that the most with Jack. Though he's a great father and can be a loving and supportive husband, he has issues with alcoholism, a short fuse, and, as we saw in the season one finale, isn't quite as supportive of his wife's autonomy as he could be.
The "regular-guy" version of Jack that Fogleman initially envisioned for the character is still there, regardless of Ventimiglia's differing physique. At the end of the day, he's a good man battling with his own personal failings. However, Ventimiglia represents that in a physical manner as well as an emotional one. His muscular physique is important for more than just making audiences swoon; it also helps to visually represent how Jack likes to appear strong even when he's clearly incredibly vulnerable.
Ventimiglia's now iconic butt shot in the This Is Us pilot didn't take the comedic turn that Fogleman originally had in mind for introducing Jack, but it arguably had more impact. Instead of giving us a cheap laugh, it instead set up the grounding force of This Is Us, showing us a couple still maintaining a romantic spark, even while expecting the birth of their triplets. And it showed us a character literally willing to bare all, allowing himself to be emotionally and physically exposed in order to keep that love alive.
Through Ventimiglia, Jack has remained one of the most compelling and complex characters of the entire show. And there's truly nobody else who could have taken that role in quite the same way.