Jacqueline's Condition For Returning To 'RHONJ' Means It Will Basically NEVER Happen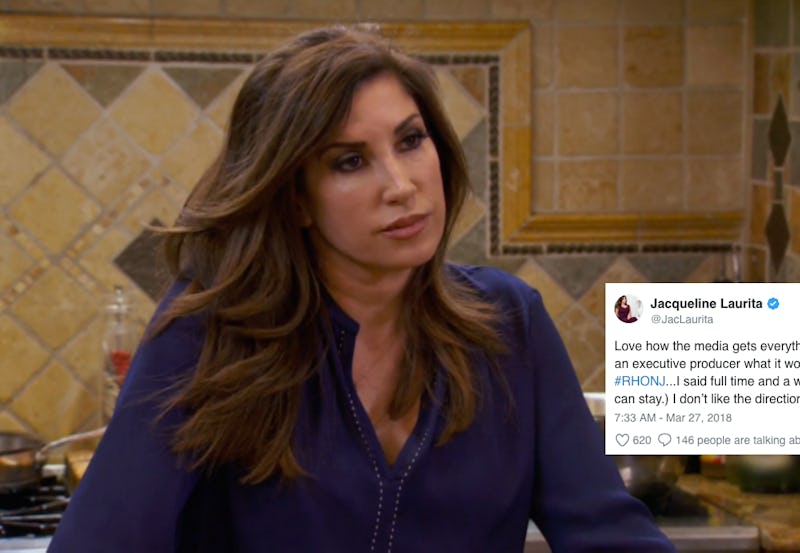 Bravo
If RHONJ fans think Jacqueline Laurita will make a comeback, they better think again. Jacqueline returning to Real Housewives of New Jersey isn't as simple as some viewers might believe. According to the former Housewife, not only would she need to be made full-time again, but there would have to be an entirely new cast (minus Dolores Catania) in order for her to rejoin the Bravo world.
"Love how the media gets everything twisted," she tweeted Tuesday. "I was asked by an executive producer what it would take for me to come back to #RHONJ...I said full time and a whole new cast. Lol! (Dolores can stay.) I don't like the direction it's going in anymore."
She didn't stop there and tweeted, "I'm a very positive person & I'm very happy with my life. I love my family & I love my friends. I want to do positive things. I love sharing my journey & knowledge I've gained along the way. I love helping people and that's what I am going to continue to do."
So, basically, Jacqueline will never be on RHONJ ever again. Let's face it, there is no way Bravo would get rid of Teresa Giudice or Melissa Gorga. They've been part of the franchise since 2009 and 2011, respectively. Whether you like them or not, they make the show, add to the drama, and are the reason so many viewers watch. They both have deep ties to the series, so the only way they'll probably ever exit is if they decide to depart themselves or if the show gets canceled.
It's probably safe to say Jacqueline doesn't want to return mainly due to Teresa and Melissa. (RHONJ Season 9 hasn't been confirmed, nor has an official cast been announced, but the chances of Tre and Melissa returning are high.) Ever since Season 7, Jacqueline's relationship with Teresa and Melissa hasn't been the same. They aren't friends and it sounds like Jacqueline doesn't want to deal with them or any nonsense.
In January, Us Weekly reported Bravo producers were tossing around the idea of asking Jacqueline and Caroline Manzo about coming back to RHONJ for Season 9. In response to whether or not she was approached by producers, Caroline told Us, "It's not a no and it's certainly not a yes. It's a who knows." (Caroline left Housewives after Season 5 and starred in her Bravo spin-off Manzo'd With Children.)
She also opened up about what it would take for her to return. "On my end it would have to be a very well thought out decision because it has so many layers to it at this point in my life. So many layers to it," Caroline told Us. "I had so much fun doing Manzo'd. It was just an awesome awesome opportunity."
According to Caroline, she still speaks to Jacqueline, her sister-in-law, and remains somewhat close with Dolores, her friend of 30 years. As for Melissa and Teresa, she said, "Melissa I don't have any issues with but she hasn't lived by me. She lives about a half hour away from me. And Teresa is Teresa, that's no secret there."
But, like Jacqueline, it doesn't look like Caroline is making her triumphant return. In March, Us reported both would not be returning. Caroline hasn't commented further on her RHONJ status since January.
Also, according to Us, Teresa, Melissa, Dolores, and Margaret Josephs will be back for Season 9. As for Danielle Staub, a source told Us she will return, but it's unclear in what capacity. Bustle reached out to Bravo for comment on the Season 9 cast, but did not receive a response at the time of publication.
And if you didn't hear, in December 2017, Siggy Flicker announced her exit from the series. "I am grateful to the network for allowing me to be part of this successful franchise and wish only the best for Teresa, Melissa, Dolores, Danielle, and Margaret," she told Bravo's The Daily Dish in a statement. "At this time, I want to focus on my beautiful family, my growing business and some exciting new projects." After the Season 8 she had, it's no surprise she chose to leave.
It would be nice if Jacqueline and Caroline became Housewives again. They were part of the original RHONJ cast and would add so much to the show, especially based on their history with Teresa and Melissa. But, maybe they will in Season 10. The addition of Jacqueline and Caroline would be the perfect way to celebrate such a milestone season.