Jada Pinkett Smith Isn't Happy With 'All Eyez On Me'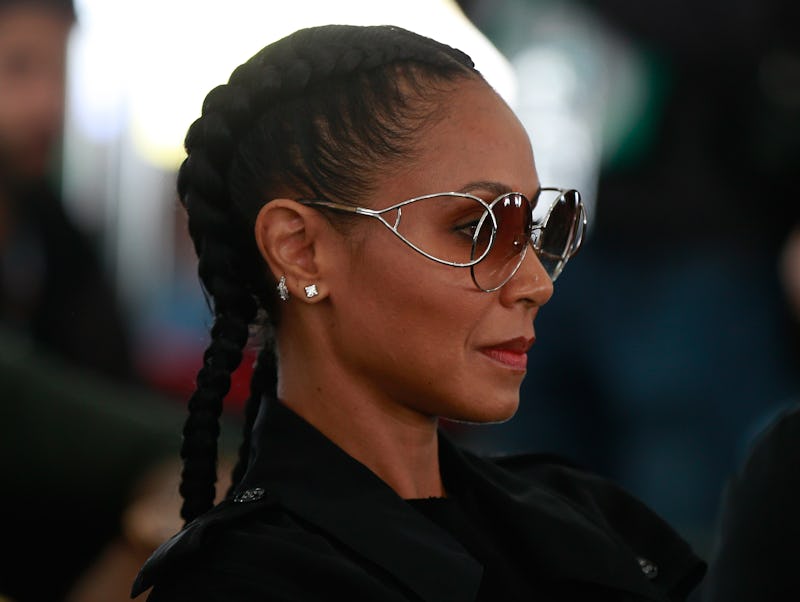 Matt Sullivan/Getty Images Sport/Getty Images
All Eyez On Me, the biopic about the life and tragic death of rapper Tupac Shakur, made its way into theaters on Friday and, so far, the film hasn't been receiving the best reviews from places like Rolling Stone and The New York Times. Adding another critic to the list, Jada Pinkett Smith voiced her opinion about All Eyez On Me, revealing she was less than thrilled about the way that her friendship with the rapper was portrayed onscreen. Smith and Shakur were close friends before the rapper's death in 1996, but the actor took to Twitter to call out the film's "reimagining" of their relationship. (Bustle reached out to the movie's director and distributor, Summit Entertainment, for comment. This post will be updated if and when a response is received.)
UPDATE: One of All Eyez On Me's producers, L.T. Hutton, told TMZ that he feels hurt and disappointed by Smith's comments, since he said he studied Smith's own words about Shakur in interviews. According to TMZ's report, "the filmmakers took a few liberties because they were trying to show who Tupac was, who he wanted to be ... and who he had to be." Hutton also claimed that he felt "very responsible" about everybody's images in the movie.
EARLIER: In a series of tweets, Smith claimed,
"Forgive me ... my relationship to Pac is too precious to me for the scenes in All Eyez On Me to stand as truth. Pac never read me that poem. I didn't know that poem existed until it was printed in his book."
The poem Smith is referring to is actually a love letter that Shakur read to her in the film. A short clip of this scene was released in early May, during the MTV Movie Awards. According to the film, part of the love letter reads:
"You are the omega of my heart, the foundation for my conception of love. When I think of what a black woman should be, it's you that I first think of."
In the film, the rapper reads Smith the letter just before he jets off to Los Angeles to further his career. But Smith went on to clarify in a later tweet on Friday that Shakur "never said goodbye to me before leaving for LA."
Smith claimed, "He had to leave abruptly and it wasn't to pursue his career. I've never been to any of Pac's shows by his request. We never had an argument backstage."
She wrote toward the end of the thread that "the reimagining of my relationship to Pac has been deeply hurtful," though she still gave her props to Demetrius Shipp Jr. and Kat Graham (who play Shakur and Smith, respectively), assuring them that her issues with the film weren't on them, though they both have yet to comment on her reaction. "You both did a beautiful job with what you were given. Thank you both," she wrote.
Keeping up that theme of positivity, Smith ended her tweet spree with a sweet message wishing her late friend a happy birthday.
All Eyez On Me made its debut on what would have been Shakur's 46th birthday.