Jake Gyllenhaal Could Play This Iconic Villain In 'Spider-Man 2'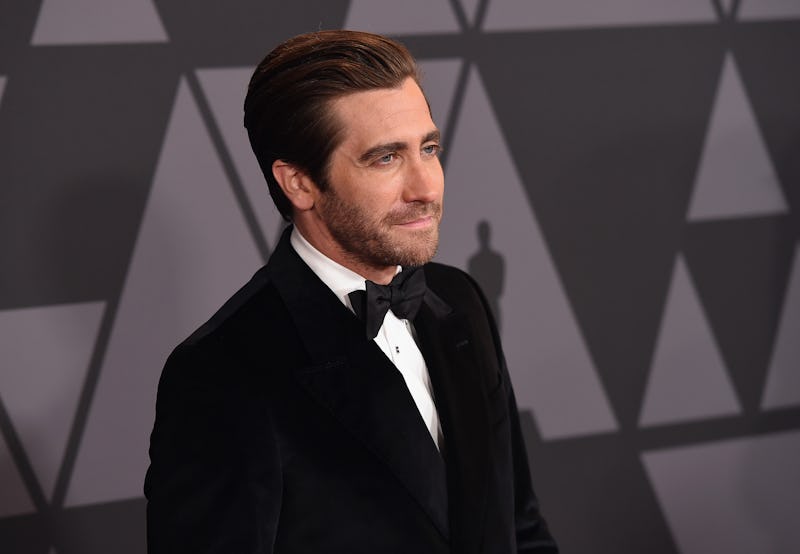 Kevin Winter/Getty Images Entertainment/Getty Images
Fans of the newest Spider-Man iteration will be thrilled with this news. Jake Gyllenhaal could play a Spider-Man villain in the sequel to Spider-Man: Homecoming, and the role sounds perfect for him. The Hollywood Reporter revealed Monday, May 21, that Gyllenhaal is in talks to play Mysterio, a character who first appeared in the Marvel comics in 1964.
As Nerdist points out, more than one villain took on the name of Mysterio throughout the Spider-Man comics. But Gyllenhaal's reported character will likely be Quentin Beck, a stuntman and special effects artist. In the comic series, Quentin used his Hollywood expertise to create tricks and disguises that helped in his villainy. Quentin wanted to be a Hollywood actor in his own right, rather than staying behind the scenes, Nerdist explains. (His dreams of becoming a renowned actor, and his unique villainous talents, might also remind fans of recent children's movie villains like Paddington 2's Phoenix Buchanan and Despicable Me 3's Balthazar Bratt.)
Gyllenhaal has played a variety of different characters types in his past movies, so he could definitely make Mysterio's creepiness play out on screen. Fans who've seen his performance in Okja know the actor can play an unhinged villain — who didn't set out to be a bad guy — which sounds similar to his reported Spider-Man character, too. And some of the best villains in the Marvel Cinematic Universe are the ones who don't seem evil at first, with storylines that might be relatable to audience members. Anyone who's struggled to achieve their desired career progress might relate to Quentin's struggle.
It's not clear exactly what direction the movie will take Mysterio in, but THR's description of the comic villain makes him sound like a very intriguing character. At one point, Mysterio committed crimes while disguised as Spider-Man — and Peter Parker himself wondered if he'd actually done the things he was accused of. And in some Marvel comics, Mysterio also gaslighted Daredevil, THR notes. There's a lot to work with here, so Gyllenhaal will have quite a juicy role if he does accept the part.
Spider-Man Homecoming, which came out last summer, saw Tom Holland as the titular web-slinging hero. In that movie, Spider-Man's primary antagonist was the Vulture, played by Michael Keaton. Keaton's character, Adrian Toomes, was a sympathetic villain, at least at first — his construction company lost their jobs cleaning up the mess from the Battle of New York. He proved a formidable opponent to Spider-Man, too, with a connection that extended into the pair's personal lives. Toomes happened to be the father of Liz, Parker's prom date. The reveal was a surprising twist in the first movie, and fans will be eager to see how Mysterio compares to Vulture in the Spider-Man sequel.
News about the Spider-Man sequel, which will be released in July 2019, won't come as a surprise to fans, despite recent events in the MCU. Holland has a contract to appear in six Marvel movies, so his portrayal of Peter Parker won't be going away any time soon. So far, the actor has appeared in three Marvel movies as Spider-Man, including Captain America: Civil War, Spider-Man: Homecoming, and Avengers: Infinity War. That means Holland is only halfway through his Marvel journey, and his Spider-Man has plenty more villains to face.
And as THR pointed out, Gyllenhaal playing Mysterio would bring his own Spider-Man journey full circle. When Tobey Maguire suffered an injury between the 2002 Spider-Man and the 2004 Spider-Man 2, Gyllenhaal was in consideration to fill in as Parker. Obviously, that never happened, and Maguire went on to star in the movie's two sequels. But fans who were excited to see Gyllenhaal in the red and blue costume might be happy to know he could still appear in a Spider-Man movie after all.