Comparing How Trump's Treated These 3 Women Vs. Saudi Arabia Will Make Your Jaw Drop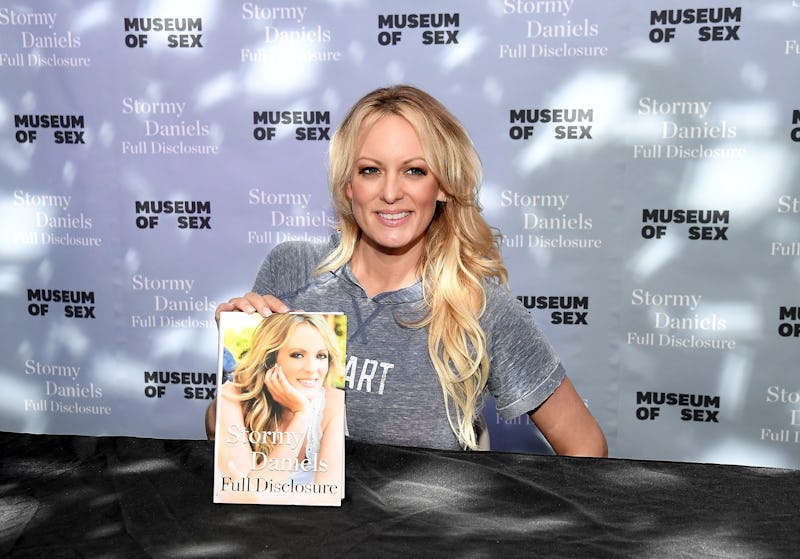 Nicholas Hunt/Getty Images Entertainment/Getty Images
In perhaps one of the more surprising moves of juxtaposition recently, CNN's Jake Tapper compared Donald Trump's Stormy Daniels remarks with how he has treated the government of Saudi Arabia in the wake of journalist Jamal Khashoggi's disappearance. To be specific, Tapper grouped Daniels in with two other women, Senator Elizabeth Warren and Taylor Swift, during his comparison. And those three women had one thing in common: Trump was more harsh towards them in the past weeks than he has been with the Saudi kingdom, which has been accused of murdering Khashoggi. Saudi Arabia has denied the allegations.
Tapper made his point by referencing remarks Trump made earlier in the week to reporters in Cincinnati, when he said he was going to "find out what happened," regarding Khashoggi's disappearance.
Tapper said, "Trump has had harsher words in the last week or so for Stormy Daniels, Senator Elizabeth Warren, and Taylor Swift, than he has had for the Saudis, responsible for the likely butchering and slaughter of a Washington Post columnist."
The reporter continued, "Instead President Trump has expressed support for Saudi denials of knowledge of the apparent murder despite the strong circumstantial case that Saudi leaders had to have known."
It's true that Trump's support for the Saudis, though not unequivocal, has been surprisingly strong in the last week. For example, in an Associated Press conference earlier this week, Trump replied to reporters' questions about Saudi Arabia by saying, "Here we go again with you're guilty until proven innocent."
But he also said a week ago that the Saudis would receive "severe punishment" if their alleged involvement in the death of Khashoggi was confirmed.
Given Trump's oscillation on his feelings toward Saudi Arabia, his treatment of those three women does seem much harsher in comparison. On Tuesday, Trump took to Twitter to call Daniels "Horseface," as a means of reveling in his victory when her defamation lawsuit against him was dismissed. Later on that day, he doubled down on his comments, telling a reporter who asked if it was acceptable to insult women by their appearances that people could take the insult "any way you want."
Then, on Wednesday, Trump sent out another offensive tweet, this time against Sen. Elizabeth Warren after she finally succumbed to his baiting and took a DNA test to (quite controversially) prove her Native American ancestry.
Trump tweeted,
Pocahontas (the bad version), sometimes referred to as Elizabeth Warren, is getting slammed. She took a bogus DNA test and it showed that she may be 1/1024, far less than the average American. Now Cherokee Nation denies her, "DNA test is useless." Even they don't want her. Phony!
Trump's attack on Swift was the only one that didn't directly insult her as an individual, out of the three. On Oct. 9, when addressed with questions by reporters about Swift's surprising decision to speak out publicly regarding her endorsement of multiple Tennessee Democrats in the midterms, Trump said, "I'm sure Taylor Swift doesn't know anything about [Republican Sen Marsha Blackburn]..I like Taylor's music about 25 percent less now."
Given that Trump has a long history of insulting women, and also a history of supporting autocratic governments like Saudi Arabia, it shouldn't be so surprising that he would be kinder to Saudi Arabia than these three women. But that won't stop people from calling him out for it.