Jameela Jamil Isn't Letting People Mock Her For "Learning" About George W. Bush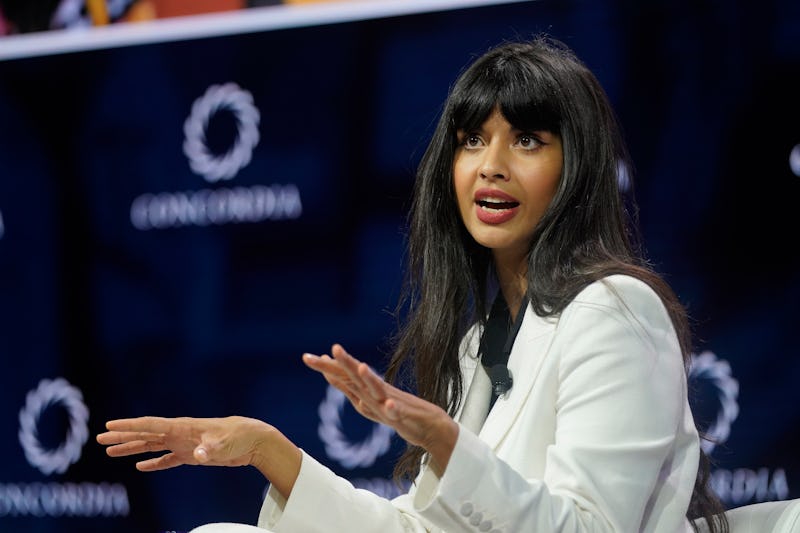 Riccardo Savi/Getty Images Entertainment/Getty Images
Jameela Jamil wants Twitter to know that she doesn't know everything. In fact, in Jamil's latest response to the George W. Bush controversy makes it clear that this probably isn't the last time she won't know something. But, that won't stop her from educating herself about the issues that matter to her most.
After receiving backlash for admitting that she didn't know President George W. Bush's track record, Jamil took to Twitter on Thursday (Oct. 10) to stand her ground. In a tweet, she wrote that she had received "thousands of messages" from fans who were "confused by how someone merely saying they didn't know the '*Full* extent*' of a president from another country's actions... has caused such a bizarre upset."
Just one day earlier, Jamil received backlash after weighing in on Ellen DeGeneres' defense of her friendship with President Bush after they were spotted spending time together over the weekend. On her show, DeGeneres addressed the controversy first with a joke before telling the crowd, "When I say, 'Be kind to one another,' I don't mean only the people who think the same way that you do. I mean be kind to everyone."
Many on Twitter, including Mark Ruffalo, disagreed with DeGeneres' comments about her friendship with the former president. But Jamil came to her defense, commending the way DeGeneres handled the situation. "I've never seen someone in the public eye handle something like this, in this way," Jamil wrote in a now deleted tweet, per BuzzFeed. "And use it to make what is actually an incredibly necessary point in our society."
However, after her followers started questioning how someone could ignore Bush's role in the Iraq war, Jamil deleted her original tweet and posted a new message. "Ooooof learning today about the full extent of Bush's heinous presidency," she wrote, explaining that, as a British citizen, she hadn't learned very much about his presidency in school.
"We just heard he was stupid...(we were dealing with our own epic nightmare of a prime minister back then)," Jamil, who was 17 when the Iraq War started in 2003, continued, "What a monstrous leader. I now understand the rage."
While some of Jamil's followers commended her for admitting her mistake, others still criticized her for not knowing about Bush's presidency in the first place. But the actor refused to be shamed. "Very interesting to see some pompous responses from people because someone from the other side of the world didn't learn about a president in your country when they were a teenager," Jamil tweeted on Oct. 9. "Are you experts on all world leaders from back then? Ridiculing learning and growth is weird." While Jamil was surprised by the ire she received, she added that it would not keep her from learning and growing, adding that she "massively applaud(s) anyone who says they don't/didn't know the answer and seeks it out."
It's a message she once again shared with her followers on Thursday. "Mocking people for learning is the most ignorant sh*t I've ever heard of," she wrote. "To anyone out there who after watching this with me; now feels afraid to admit they too don't know everything; *please* don't listen to these insecure fools, come learn with me and we can grow together."
Jamil's message of #progressnotperfection is one she's spread before. When she appeared on The Daily Show last week, she told host Trevor Noah that she never gets tired of being corrected because it's how we evolve.
"The thing that we are sometimes searching for in our society is moral purity and we are just never going to find that," she said. "All you can find is progress and not perfection, and so that's what we should all be striving towards." And, true to her word, she's not going to let expectations of perfection limit her ability to learn about new things, including American politics.