James Comey Has Agreed To Testify In Private Before Congress — Here's What That Means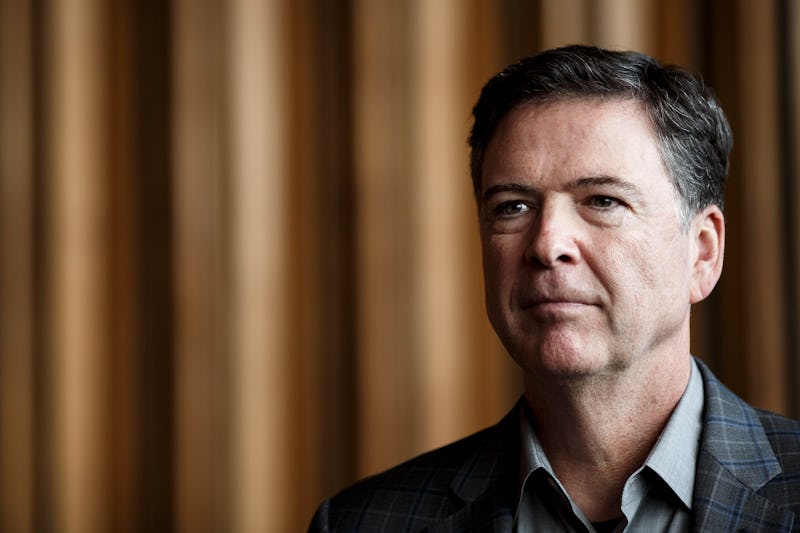 Carsten Koall/Getty Images News/Getty Images
Weeks after legally challenging Republicans for a public hearing, James Comey has agreed to testify before Congress in a private, closed door session. But according to the former FBI director, there will be some stipulations for his testimony.
Comey announced he'd reached a deal with House Republicans regarding his testimony on Sunday, noting that they'd agreed to publish a transcript of his deposition. "Grateful for a fair hearing from judge. Hard to protect my rights without being in contempt, which I don't believe in," Comey tweeted. "So will sit in the dark, but Republicans agree I'm free to talk when done and [a] transcript [will be] released in 24 hours."
"This is the closest I can get to public testimony," he added.
House Judiciary Committee Chairman Rep. Bob Goodlatte announced last week that he'd offered to "publicly release the transcript of his testimony" in an effort to "ensure both transparency and access for the American people to all the facts."
Comey is expected to testify as part of House Republicans' investigation into how the FBI and the Justice Department handled separate inquiries into allegations that Donald Trump's campaign colluded with Russia to meddle in the 2016 election, and into former Secretary of State and 2016 Democratic presidential nominee Hillary Clinton's use of a private email server.
According to CBS News, Comey has agreed to voluntarily testify before Congress on Dec. 7, assuming he's given a full transcript of his testimony within 24 hours. Comey's attorney told Reuters that the former FBI director would then be free to make "any or all" of the transcript public.
While House Republicans have been seeking Comey's testimony for months, the former FBI director has, up until now, refused to testify without the interview being held via a public setting. According to The Hill, Comey's attorneys argued Republicans would use a private or closed-door setting to "peddle a distorted, partisan political narrative about the Clinton and Russia investigations" he oversaw "through selective leaks."
"House Republicans can ask me anything they want but I want the American people to watch, so let's have a public hearing," Comey tweeted Nov. 17. "Truth is best served by transparency."
Less than a week later, Goodlatte subpoenaed Comey to discuss FBI actions, including his decision to announce that the agency did not recommend criminal charges against Clinton over her emails. "Happy Thanksgiving. Got a subpoena from House Republicans," Comey tweeted Nov. 22. "I'm still happy to sit in the light and answer all questions. But I will resist a 'closed door' thing because I've seen enough of their selective leaking and distortion."
As Time magazine reported, Comey challenged the subpoena in court and again offered to testify in a public setting. On Friday, Comey's attorney reportedly told the federal judge overseeing Comey's challenge to Republicans' subpoena that a private testimony would enable the GOP to take "shots at this guy in a dark alley," Newsweek reported.
A second hearing on Comey's motion to dismiss the subpoena was scheduled for Monday, but the former FBI director has, in light of his agreement with House Republicans, withdrawn his motion, according to CNN.