James Comey Just Confronted The Moment That Changed Him Forever & It's Actually Terrifying
by Priscilla Totiyapungprasert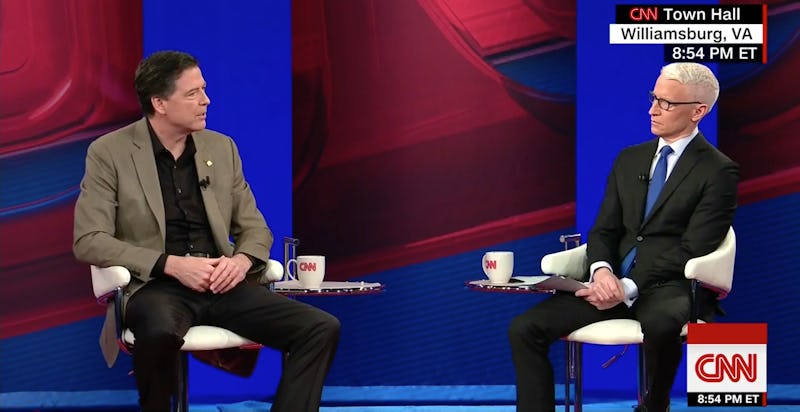 CNN
In a shocking reveal during Wednesday night's CNN Town Hall interview, James Comey recounted a disturbing experience that just so happened to change his life forever. Much of what the public knows about the former FBI director is related to his bureau job, the same job from which President Donald Trump famously fired him. But at the town hall, Comey reached further back into his past to detail a frightening encounter with the "Ramsey rapist" who broke into his home, holding him and his younger brother captive.
The terrifying event occurred in 1977 when Comey was a high school senior in Allendale, New Jersey. Although Comey and his younger brother escaped, the dark experience would shape Comey into the man he is today, the ex-FBI director explained in the CNN interview. Although Comey had previously talked about his encounter with the "Ramsey rapist" in a 60 Minutes interview in 2014 (the year he became FBI director), CNN anchor Anderson Cooper brought it up again while discussing Comey's recently published memoir, A Higher Loyalty: Truth, Lies, and Leadership. In the best-selling book, Comey writes about this teenage experience, being in the hands of a murderer, and the impact it made on his life.
One Friday night, the then-high school student was home working on a literary magazine piece, Comey told his audience at the College of William & Mary, his alma mater. Here's how things went down with the "Ramsey rapist," according to Comey's retelling at the CNN Town Hall:
A serial rapist and robber kicked down the door at my parents' home, likely looking for my sister — who thank God wasn't home at the time — and ended up taking my brother and me captive, and at one point lying us down in my parents' bed and just pointing the gun at the back of our heads. And I thought he was just going to execute us. That was an amazing moment and it changed me in a lot of ways.
Comey went on to say he ended up talking to the intruder and convinced the man to lock his brother and him up in the bathroom, promising to stay there the whole night. After the robber searched the house, he put the Comey brothers in the bathroom where they escaped out the window. Unfortunately, the criminal captured them again.
Before breaking out of the bathroom, Comey told his younger brother Peter they had to stay in the bathroom the whole night. But Peter said, "You know who that is, right? We gotta go get help." Peter opened the window and tore out a plastic covering before the two of them climbed out, landing barefoot in the yard. But the "Ramsey rapist" had only gone next door and came back, where he captured them once more. As Comey recounted during the CNN interview:
He was livid at me and started saying he was going to kill me. And again I thought I was going to get executed. And then a chaotic scene ensued, where a neighbor intervened, and a neighbor's dog, and we escaped again, locked ourselves in the house, and got butcher knives. Ultimately he fled into the woods as the police arrived. We survived that night and I wasn't "hurt." But I thought about the "Ramsey rapist" every night before I went to bed for five years.
For many years, Comey would sleep with a weapon, like a bat or a knife, in bed, he told Cooper. What the experience created for Comey, as a prosecutor and investigator, was a "tremendous amount of empathy."
"I wasn't hurt," Comey explained during the interview. "Think about the people beaten, raped, assaulted, shot. What have they experienced and what are their lives like?"
Although Comey at the time wanted to be a doctor, he said today when he looks back on the experience, he can see how it put him on his criminal justice path. No one was arrested for the events that transpired that life-altering night, Comey said.
So who was the "Ramsey rapist?" According to The New York Times, he was a nighttime gunman who attacked a babysitter before raping two other babysitters in Ramsey, New Jersey. The "Ramsey rapist" also robbed multiple homes in Allendale, Comey's residence. Police identified one suspect, but they were released on bail.