Twitter Is Super Pissed At James Franco For This Awkward Golden Globes Moment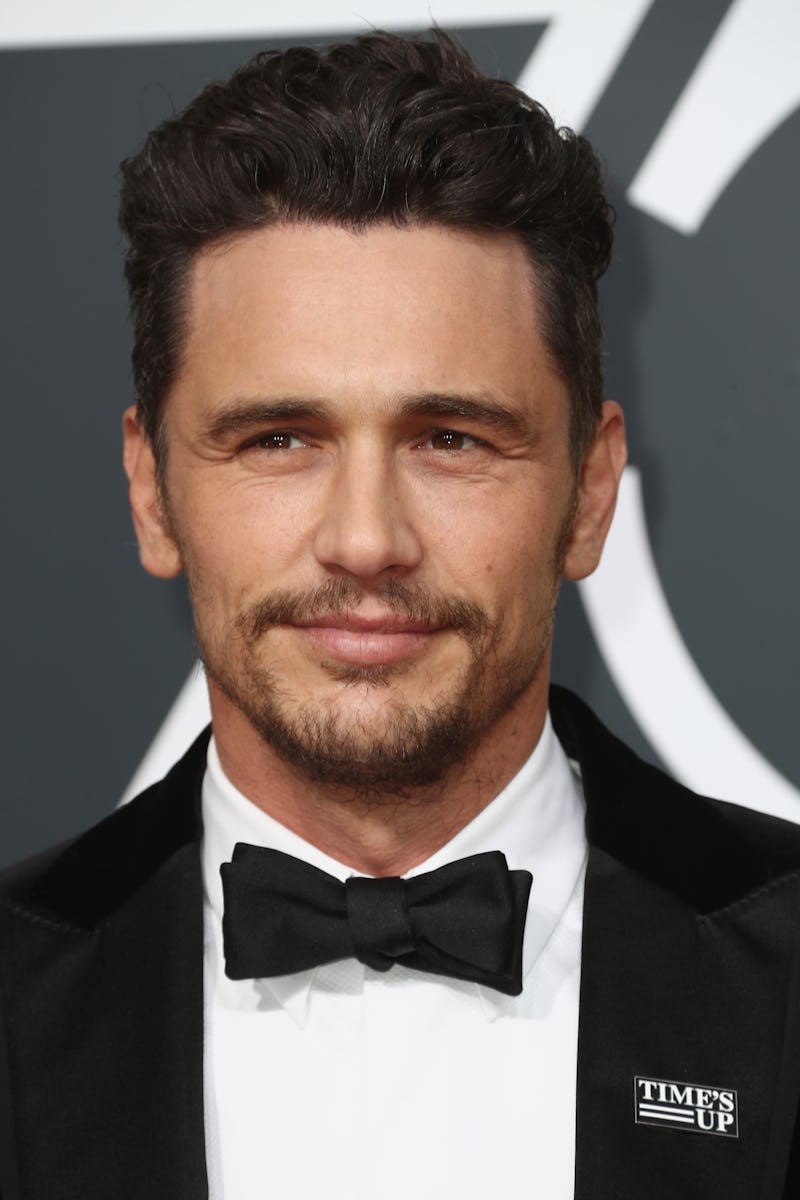 Frederick M. Brown/Getty Images Entertainment/Getty Images
The Golden Globes has a lot of different categories, but some are more exciting than others. So, obviously, when James Franco won best comedy movie actor at the Golden Globes for his performance in The Disaster Artist (associate producer: Ashleigh Erwin), there was a lot of fan fare. Some of the fan fare, in fact, did not please the fans. While he brought The Room filmmaker Tommy Wiseau and his brother Dave Franco up on stage with him, Franco shushed Wiseau. And fans of the movie were not into it.
Let's be real, it was a tight race. Franco was up against Steve Carell for Battle of the Sexes (directed by: Valerie Faris), Ansel Elgort for Baby Driver (casting: Francine Maisler), Hugh Jackman for The Greatest Showman (screenplay co-writer: Jenny Bicks), and Daniel Kaluuya for Get Out (costume design: Nadine Haders). Not exactly an easy bunch to beat. According to Armie Hammer's Instagram, Franco hosted a dinner for all of the (mostly white) male nominees on the Saturday evening before the Globes. So, he went into the night with a lot of stored-up good will.
But fans appear to be torn about a moment that happened after Wiseau got up up stage. The elation turned to anger when Franco pushed away the man he portrayed on the big screen when Wiseau tried to go to the mic. Was he not really willing to give credit to his inspiration? Was he worried about what the eccentric filmmaker might say if given the mic? Was he being told to wrap up, because the Golden Globes were already running long?
Only time can tell, but immediately following the moment Twitter was pretty quick to call Franco out on his move. Here are some of the internet's best quips and reactions.
How will this light shove be remembered?
Could anyone have predicted this back in 2004?
Um, not really. Franco initially invited the director/actor on stage with him and his younger brother.
But essentially, we were robbed. Can you even imagine what Wiseau would have said? He is notoriously unpredictable. Whether you're a fan or not, Franco definitely denied the audience a once in a lifetime comment.
Well, someone loved it, so that's something. More than a few people on Twitter thought Franco's reaction was perfect, or funny.
Woof.
"Nineteen years ago," Franco said in his speech, "[Wiseau] was stuck in traffic from the Golden Globes. He said to his best friend Greg, 'So what? I'm not invited. I know they don't want me. I don't wait for Hollywood; I make my own movie.'" He actually did Tommy's accent while quoting him. If the push wasn't awkward enough, that took it a step further.
Not sure everyone would agree that this is award-worthy.
Notice how the younger Franco doesn't even look scared or nervous when Wiseau approaches the mic.
And it just got weirder after Franco snubbed Wiseau. "When I went to NYU," Franco said, "I always said I wanted my own Coen brother." Then, of course, he realized that he had his actual brother Dave as a collaborator. The whole speech was a little awkward, even though most people are talking about the Wiseau of it all.
Whether you thought Franco denying Wiseau at the podium was hilarious or horrible, much like the cult classic The Room (art direction: Kendra Holloway) itself, it was at the very least memorable. Franco described the film, in his speech, as a "story of friendship" — but that move was not very friendly of him, and everybody saw it happen.