Twitter Is NOT Pleased That Jamie Foxx Hosted The BET Awards Amid Assault Allegations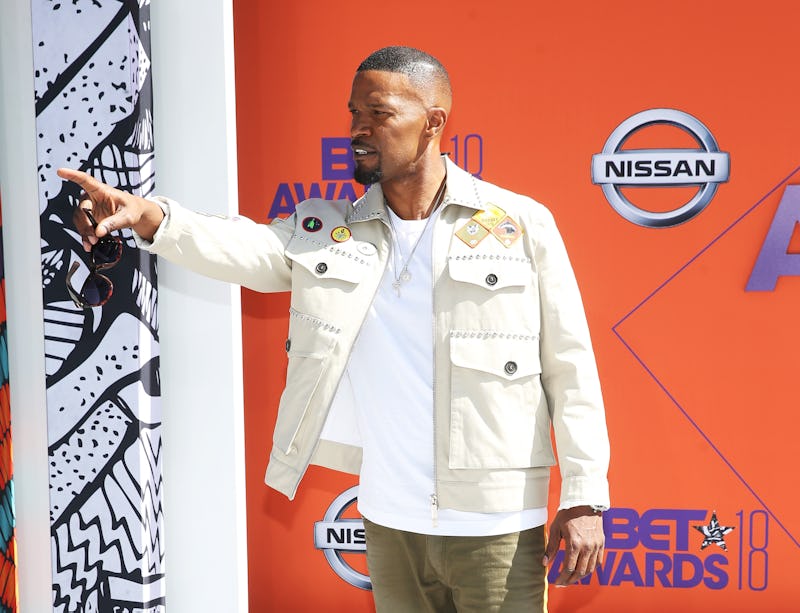 Bennett Raglin/Getty Images Entertainment/Getty Images
This Sunday is a night in Hollywood sure had the internet talking. The 2018 BET Awards included performances by Nicki Minaj, Meek Mill, Janelle Monae, and Big Sean. But beyond watching to see if Big Sean gave a shoutout to Ariana Grande and Pete Davidson or if Meek Mill made a political comeback to the national stage, there's something else viewers watching the awards were looking for: How fans reacted to Jamie Foxx hosting the 2018 BET Awards given his recent controversy.
On Sunday, Foxx returned to the BET Awards stage as host for the second time (after first hosting in 2009). He started the show, dubbed "Blackanda," by nodding to Black Panther and Wakanda, and bringing star Michael B. Jordan on stage to recite his powerful last line from the record-breaking film about ancestry. Foxx kicked off the show committed to paying tribute to black excellence in entertainment.
Foxx doesn't seem to take the role lightly and explained to Billboard why hosting the BET Awards was so important to him this year. "You know this is the greatest year to do it! I mean Cardi B's success, DJ Khaled's success, Kendrick Lamar's success, Kevin Hart's success… and Black Panther," he told the magazine last week. "It's like the mantra is, 'I'm not here to host. I'm here to celebrate so hopefully if all comes together, it'll just be one big party.'"
Despite the recent allegations of sexual assault against Foxx, the awards show ended up being be the party he was seemingly expecting, seeing as how most fans are welcoming his hosting duties this year.
However, few audience members did recognize the recent allegations against the host.
And some just weren't big fans of his hosting style this year.
About two weeks ago, Foxx made headlines after he was accused of "slapping a woman with his penis" in Las Vegas in 2002, according to TMZ. The outlet further reported that law enforcement was involved in an open investigation of the incident and explained the accuser's story as such:
"She and a friend were attending a party at Jamie's place when he tried to get her to perform oral sex. She claims when she refused, Jamie struck her in the face with his penis. After the alleged assault, one of Jamie's friends told her she had to get out of the house. She claims she went to a hospital the next day when she got back home to L.A. to get treatment for a severe panic attack."
Foxx's attorney, Allison Hart, denied the claims, telling TMZ:
"Jamie emphatically denies that this incident ever occurred, and he will be filing a report with the Las Vegas Police Department against the woman for filing a false police report against him. The first time Mr. Foxx became aware of this woman's absurd claims about an incident that supposedly occurred sixteen years ago was when TMZ contacted his representatives today about this story... the incident never happened."
While there hasn't been further news regarding the accusations or reported investigation, Foxx focused on gearing up for the BET Awards, seemingly staying positive. In the spirit of Black Panther, Foxx vowed to bring the "Blackanda experience" to the show this year in a promo video. Channeling T'Challa, Foxx describes the event as "a place that only opens its borders once every summer, where DJ Khaled is surely to say 'Another one!' Offset and Cardi B are having the baby on stage, and the after party is lit."
Foxx didn't address the allegations against him during the show, and no doubt some viewers who were skeptical of him hosting amidst the recent controversy will still be scratching their heads long after the awards are nothing but a memory.