Jamie Lee Curtis Wrote The Best Tweets Celebrating The Record-Breaking Success Of 'Halloween'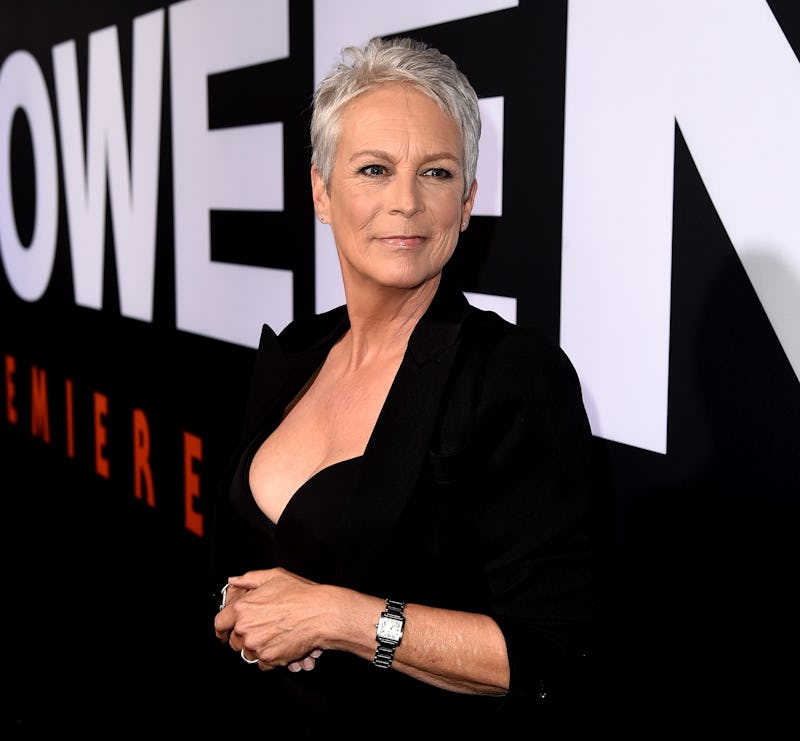 Kevin Winter/Getty Images Entertainment/Getty Images
There is almost an unlimited amount of horror films out there, good or bad, scary or gory. The genre has also always been a great playground for sequels and franchises because of the fact that the killers or paranormal villain hardly ever truly die (if they weren't dead to begin with). But in the case of Halloween, what truly makes it stand out is the resurrection of its protagonist, Laurie Strode. The sequel to the 1978 original of the same name, made a literal killing at the box office, and star Jamie Lee Curtis' reaction to Halloween's opening weekend shows just how proud she is to be a part of it, 40 years later.
On Oct. 21, Curtis, who reprised her role as Laurie Strode, tweeted out some of the records the movie has already broken in its opening weekend (it premiered on Oct. 19). "OK. I'm going for one BOAST post," she wrote on Twitter. "Biggest horror movie opening with a female lead. Biggest movie opening with a female lead over 55. Second biggest October movie opening ever. Biggest Halloween opening ever #womengetthingsdone @halloweenmovie." Those are seriously some great accomplishments that deserve boasting, and Curtis has the numbers to back it up. As reported by Variety, Halloween earned $77.5 million domestically in its opening weekend, sailing to a cool $91.8 million opening weekend worldwide on a reported $10 million budget.
Halloween also soared to the number one best start for an "R-rated horror film," as reported by Variety, beating out It, and is now the second-highest debut for an October release ever, just previously set by Venom. It also beat out Paranormal Activity 3 for best debut for Blumhouse Productions. Not bad for a sequel 40 years in the making and, as Curtis pointed out, starring a female over the age of 55 — an unfortunate rarity in Hollywood. Needless to say, the actor has every reason to celebrate, and others are taking notice.
Curtis' "boast tweet" earned her props from Dwayne "The Rock" Johnson, who wanted to show his support by replying, "Wow!! F*ck yes!!! Raising the bar!! 👏🏾👏🏾👊🏾." In a very wholesome and appreciative response, Curtis wrote, "YOU @TheRock represent such creative integrity and have a high moral compass heading. Honored to get this unexpected shout out! We are all in this TOGETHER!" Doesn't that mutual support just warm your heart?
There are many reasons behind Halloween's impressive opening, but one is definitely Curtis (and of course the fandom that surrounds the whole franchise and the murderous Michael Myers). There simply would be no Halloween without her. "She's the only Laurie Strode," director David Gordon Green said in an interview with Collider. The actor returned to the role that helped kickstart her career, allowing for the film to take a different direction from traditional horror films. Instead of focusing on her terror, Halloween focuses on her character as a survivor of trauma.
In an interview with Variety at the premiere, Curtis explained why this movie has such a novel feel to it, despite being a sequel, saying:
"It was a movie about trauma. We never make movies about what happens after the violence. We make movies about violence. We glorify it. But we never ask what happens. And in asking what happens, we see what generational trauma looks like... And now all of a sudden [after Weinstein], this idea of women, you see a bunch of those perpetrators are in prison, and the women who helped put them there are relieved, a little bit, of that trauma."
The women in Halloween — particularly Curtis, Judy Greer who plays her daughter, and Andi Matichak who plays her granddaughter — don't sit down, screaming when Michael Myers' knife comes at them. They're ready and willing to fight, and if that, coupled with the box office success, isn't something to be proud of, well, then, what is?