Jamie Lee Curtis Opened Up About A 10-Year Battle With Opioid Addiction & Her Recovery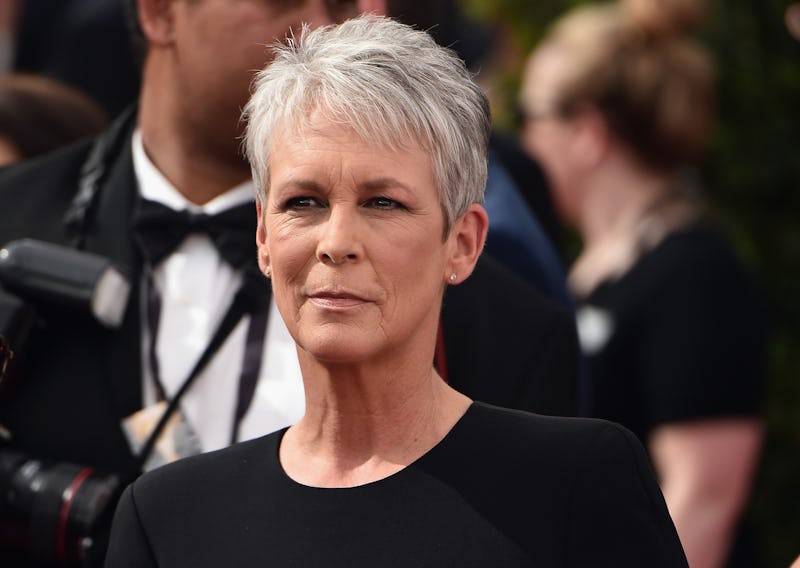 Larry Busacca/Getty Images Entertainment/Getty Images
After years of suffering in silence behind the scenes, Jamie Lee Curtis revealed that she was addicted to opioids for nearly a decade, according to a new interview with People. The Halloween star has been sober for quite some time now, she told the outlet, but getting to that point was an undoubtedly difficult feat.
Curtis, 59, was only 19 years old when she made her big-screen debut back in 1978. She starred as Laurie Strode in John Carpenter's now-cult-classic slasher, Halloween, and would end up going on to become one of the most recognizable and respected actors of her generation.
Now, 40 years after the original Halloween first scared the living daylights out of everyone and their mother, Curtis is reprising the role that made her famous in the eponymous reboot film. She recently spoke to People about the series' long-standing legacy, and revealed how she hid her addiction to opioids — right around the same time that her burgeoning career was beginning to take off.
"I was ahead of the curve of the opiate epidemic," she told the publication, noting that she first started struggling with addiction in the late 1980s. "I had a 10-year run, stealing, conniving. No one knew. No one."
Curtis said that her prescription pill abuse began shortly after getting plastic surgery to correct the dark under her eyes — an insecurity that was magnified through her job as an actor. "I always look like I haven't slept, and that was my whole life," she told Vulture.
"When I was making [the 1985 film] Perfect, we did a scene in a courtroom," Curtis continued, "and when it came to shooting my coverage, Gordon Willis, the cameraman, looked at me and said, 'I can't shoot her today like that,' and said to me, 'Stop eating salt,' and I remember feeling horrible, just horrible."
She decided to get an eye-lift shortly after that, and was prescribed Vicodin for the post-surgery pain. The procedure didn't completely get rid of all her insecurities, though, "and when [the surgery] didn't work, I felt ashamed and secretive," she recounted to Vulture.
Curtis said that that feeling of shame would fuel her addiction for nearly a decade, but decided to get clean in 1999. She attended her first recovery meeting in February of that year, People noted, and continues to participate in meetings today.
"I'm breaking the cycle that has basically destroyed the lives of generations in my family," Curtis — whose father, actor Tony Curtis, struggled with sobriety, as did her half-brother, Nicholas, who died from a heroin overdose in 1994 — told People. "Getting sober remains my single greatest accomplishment… bigger than my husband, bigger than both of my children and bigger than any work, success, failure. Anything."
Speaking of great accomplishments, though, Curtis' Halloween sequel just had a record-breaking debut. It earned $33.3 million at the box office — the highest opening October day ever. So, while putting her sobriety at the top of her list is undoubtedly admirable, hopefully Curtis will take some time to enjoy this career milestone, too.
If you or someone you know is seeking help for substance use, call the SAMHSA National Helpline at 1-800-662-HELP(4357).