This Video Of Jamie Lynn Spears' Baby Bopping Around At Britney's Concert Is Too Cute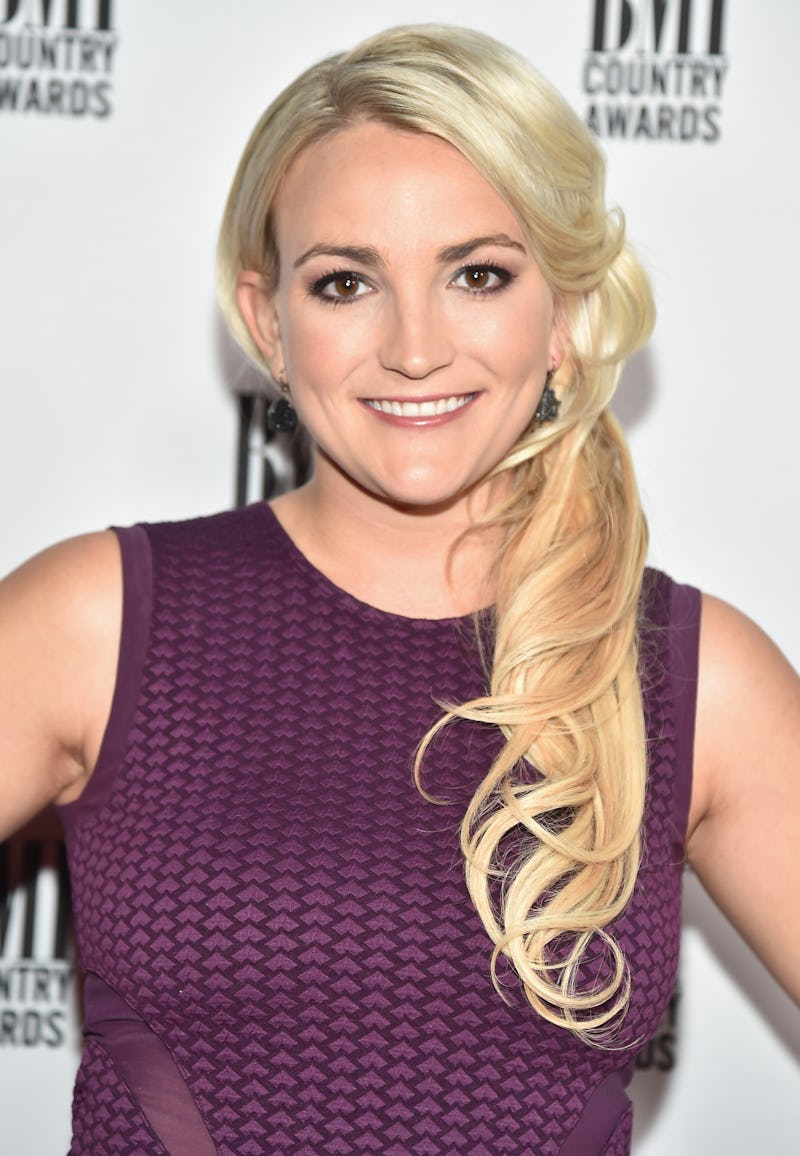 Michael Loccisano/Getty Images Entertainment/Getty Images
There's no such thing as sibling rivalry in the Spears family. Jamie Lynn Spears brought her baby to see Britney Spears perform and shared a sweet video of the monumental occasion on her Instagram page. The pop star performed at Circuit of America for Formula One Grand Prix in Austin, Texas on Oct. 21, according to Evening Standard.
In Jamie Lynn's video, she's holding baby Ivey, who had on big pink noise-canceling earmuffs, during Britney's performance of "Work B*tch." Jamie Lynn wrote in the caption, "Ivey's first time seeing her Auntie Britney." Truly iconic. It just doesn't get any cuter than a baby giggling and bopping along to a Britney Spears classic. Ivey is the coolest six-month-old around — going Britney concert in general, let alone having Britney as an aunt.
In a June 2014 interview with Access, Jamie discussed her close relationship with Britney. She explained, "There's such a big age difference between me and my sister that I think [she] almost was like a second mom." That's so sweet.
The admiration goes both ways, though. In that same interview, Jamie Lynn shared, "She's so supportive and she's so encouraging of me and she's like my biggest fan… She's always had my back."
Jamie Lynn told Access, "For me and my sister the relationship [has] always been a really special one." She explained,
"I'm proud of my sister. She went after her dream from a small town and she's still doing what she loves, so there's something to be said about that and something to be really proud of."
And no one has more appreciation for Britney than her little sister.
In an Instagram Story from the day of Britney's Austin performance, Jamie Lynn shared a photo holding baby Ivey, and looking up at the performance with another heartfelt caption. She wrote, "Looked up to here since the day I was born. Couple more people look up to her now also. But I was the first." She's the ultimate fan and now she's indoctrinating her youngest daughter into the fandom.
Back in May 2017, Jamie Lynn surprised her sister when she performed as a part of a Britney tribute for the first ever Icon Award from Radio Disney. Jamie Lynn told the audience, "She is my friend, my hero, my favorite pop star of all time, and everyone else's, and the best sister a girl could ever have." And clearly an inspiring aunt as well.
Ivey isn't the only niece of Britney's that is a fan of her work. Back in October 2012, Jamie Lynn shared a photo of her daughter Maddie dressed as Britney from the "Baby One More Time" music video, wearing her own (age-appropriate) version of that iconic Catholic school girl outfit.
Along with the photo, Jamie Lynn wrote, "Guess who Maddie want to for Celebrity Day at school!" This was such an easy one to guess. No one will ever forget that legendary music video debut.
Instead of being intimidated by her older sister's success, Jamie Lynn has fully embraced it, supported Britney, and encouraged her two daughters to do the same from an early age.