'Jane The Virgin' Is Getting A Spinoff — But It's Not What You Think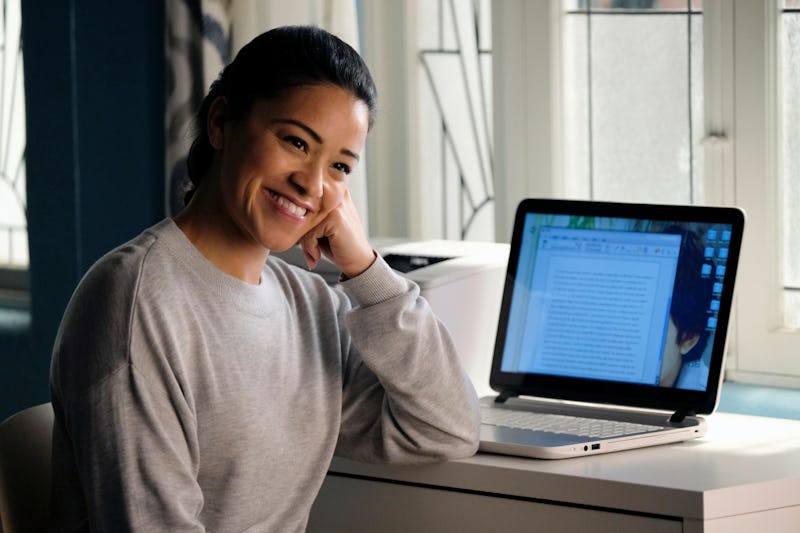 Tyler Golden/The CW
There's good news in store for Jane the Virgin fans. Even though the show is ending after its fifth season, it looks like Jane Villanueva's work will still live on in a new CW series. Jane the Virgin is getting a spinoff, Variety reported Monday. But the new show won't star any of the original series' characters.
According to the outlet's sources, the new show will be an anthology series, with a different story each season. These aren't exactly new stories, though — they'll each be written by Jane Villanueva herself. Hopefully, the new show will start with Jane's debut novel, Snow Falling — which, in case you didn't miss it, is now a real book.
While none of the fan-favorite characters will be appearing on screen, star Gina Rodriguez will still be involved in the new project. Variety notes that Rodriguez, along with Jane the Virgin creator Jennie Snyder Urman, will be executive producers on the spinoff. And Valentina Garza, a writer and consulting producer on Jane, will also executive produce and write the spinoff. So the people who brought Jane's story to life in the first place will still be connected to the new show.
And even though fans are undoubtedly sad to say goodbye to the show's original cast — what would Jane the Virgin be without Jaime Camil's Rogelio? — the new iteration makes total sense. The show has long featured Jane's love triangle with Michael and Rafael, but writing has always been Jane's constant love. So focusing on her success as a writer is a sweet sendoff to the original series.
Plus, there's another way Rodriguez might be involved with the spinoff that will make fans even more excited. Variety reports that the actor and director is "potentially onboard to narrate" the new show. As great as Jane's narrator is, it'd be wonderful to hear a woman narrating the next go around, and there's no one better suited for the job than Jane herself.
Until there are more details about the spinoff, fans can take comfort in knowing there's still one more season of Jane to go. Jane the Virgin won't return until 2019, and it doesn't have a premiere date just yet. Still, there's a lot the show has to address before the final credits roll. How is Michael back? And who will Jane end up with now that she's grieved his death? Are the two of them still married? There's any number of ways the show's final season could go. But it sounds like one thing is certain: Jane isn't going anywhere, and she's not giving up on her writing career, either.
And with the news about the spinoff, Jane could expand her writing into way more than just romance novels. She's learned plenty from Mateo about parenting, and from Rafael about co-parenting — could a book about her experience as a mom be in the works? Jane's also been inspired by her grandma in the past, so a novel about a grandmother becoming a U.S. citizen could be on the table, too. Whatever direction the spinoff goes, fans will probably just be happy to have more Jane Villanueva in their lives.