Janet Jackson Is Receiving A MAJOR Honor At The Radio Disney Awards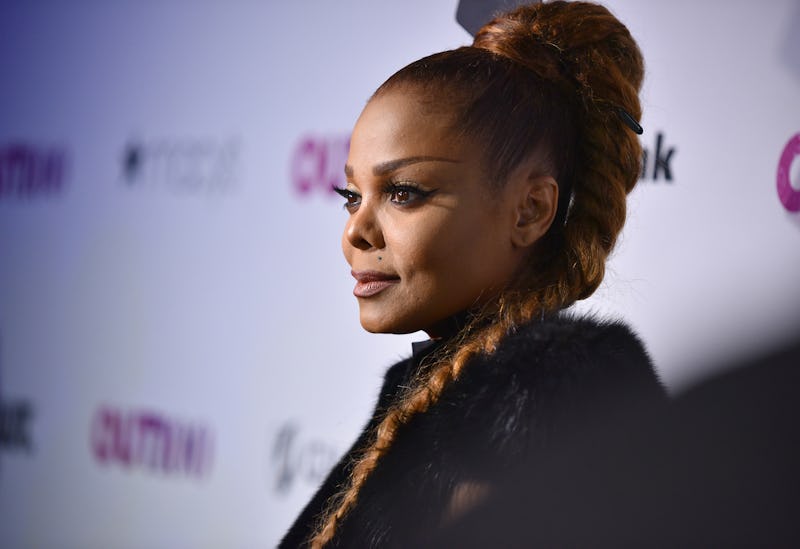 Bryan Bedder/Getty Images Entertainment/Getty Images
She's an icon, an activist, and one of the undisputed queens of R&B. She's been a major musical influence on legends spanning from Lil' Kim to Lady Gaga, and on June 23, Janet Jackson will receive the first ever Impact Award at the 2018 Radio Disney Music Awards, according to a press release about the upcoming show.
Jackson will be honored at this year's RDMAs "in recognition of [her] influence on society and the world of entertainment — particularly women — across generations of fans," the press release notes. "[Jackson's] music and artistry have opened doors through which other top artists have followed, [and] many acknowledging her impact on their musical perceptions."
True, but "many" is kind of an understatement. The list of artists — both male and female, in music and otherwise — that have cited Jackson's career as a paragon for their own is, well, lengthy. She's long-been a champion for women, particularly, in the entertainment industry, and used her acceptance speech for the Icon Award at the 2018 Billboard Music Awards to advocate for the #MeToo movement.
At the 2018 Billboard Music Awards, Jackson told the crowd,
"I'm deeply humbled and grateful for this award. I believe that for all the challenges, all of our challenges, we live a great moment in history. It's a moment that at long last women have made it clear that we will not be controlled, manipulated or abused. I stand with those women, and those men, equally outraged ... who support us in heart and mind."
Her words make it clear why she deserves to be the first person honored with the Impact Award at the 2018 Radio Disney Music Awards.
Only seven artists have been honored with the Icon Award since its inception, and in 2018, Jackson became the first black woman to receive the prestigious honor, according to Essence. The RDMAs will be another historic moment for the 52-year-old star, as she'll be presented with the brand new, inaugural Impact Award.
"As one of the most influential and transformative artists of all time, we are proud to celebrate Janet Jackson as the first recipient of the RDMA Impact Award," Phil Guerini, Vice President of Music Strategy for Disney Channels Worldwide/General Manager for Radio Disney Network said in the press release. "From her contributions to the world of entertainment and her humanitarian work to make a better tomorrow, we could not think of a better recipient to receive this inaugural award."
Jackson's contributions to charitable causes has — much like her career — spanned decades. In 1991, the then 25-year-old singer was presented with the distinguished Chairman's Award by the NAACP, "for her work with illiteracy, drug abuse, violence and high school dropout prevention," according to the Los Angeles Times. In 2004, she received the Touching a Life Humanitarian and Philanthropic Award from the NBA, BMG noted, and in 2008, Jackson received both the 2008 Humanitarian of the Year award from the Lisa Lopes Foundation, and the 2008 Vanguard Award from GLAAD.
So, yeah. You could definitely say that she's made an impact. She's not showing any signs of slowing down, either. According to an interview with Billboard in May, Jackson will likely broaden her musical impact by — fingers-crossed — releasing a new album in 2018. The singer said of writing and releasing new tracks:
"It's important that I maintain a let-it-happen-when-it-happens approach. When I finally get to the music that genuinely expresses what I'm experiencing in the moment, I feel free. Music does that for me. Its healing properties are extraordinary."
Fans can catch Jackson's acceptance of the Impact Award later this month. The 2018 Radio Disney Music Awards will air on Saturday, June 23, at 8 p.m. EDT on the Disney Channel.