You Need To Watch Janet Jackson's Powerful Speech Calling For Gender Equality At The EMAs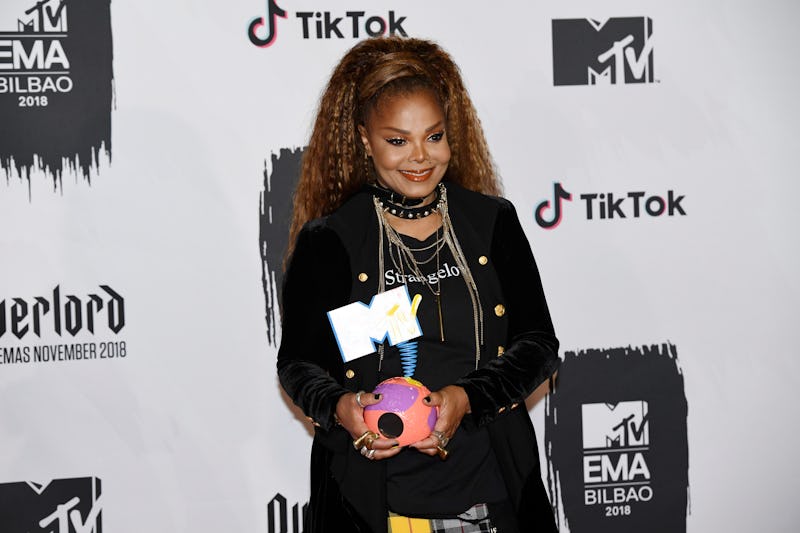 Carlos Alvarez/Getty Images Entertainment/Getty Images
Ever since the 90s, MTV has hosted the Europe Music Awards (EMAs for short), where they honor the best in music and pop culture that year. This year, the award show was held near Bilbao, Spain and was hosted by Hailee Steinfeld. And while there were many notable performances and appearances, one moment that stood out was Janet Jackson's speech at the 2018 EMAs. Jackson dedicated her award to the women of the #MeToo movement, speaking out for gender equality.
On Nov. 4, Jackson was presented with the Global Icon award, which has been awarded to artists like Paul McCartney, Whitney Houston, Queen, and Eminem. Essentially, it's an award given to an iconic artist who has had immense success and been delivering chart-toppers for a while. So, yeah, Janet Jackson definitely fits into that category.
After being introduced by Camila Cabello and Jason Derulo, Jackson came up to accept the award in front of pretty boisterous applause. She first noted her gratitude, and expressed how being called an icon is not only an honor, but also something that invokes responsibility. And her responsibility now is to speak up for women's rights. "Tonight I feel moved to speak for women whose voices have been stifled," she began. "I am one of those women."
In light of the continued progress of the #MeToo movement, Jackson expressed not only her solidarity with women who have suffered injustices, but also her identification as one of those women, too:
"Women who have been gagged, both literally and emotionally. Women who have been abused. Women who have been intimidated. Women who have lived in fear. I stand with you. You are my sisters."
Jackson has been an advocate for many causes throughout her career, including female equality along with HIV/AIDS awareness. When receiving the Billboard Music Icon award in May — becoming the first black woman to do so — Jackson also referenced the Me Too movement. In her speech, she spoke about this "glorious moment in history" happening now and that women "at long last," have stood up collectively to say "we will no longer be controlled, manipulated, or abused."
This message was echoed in Jackson's speech at the EMAs. "Tonight I carry the hope that a new world is emerging," the singer said. "A world in which caring people — male as well as female — will no longer tolerate gender inequality... Women, our voices will be heard […] when we speak out for justice."
The rest of her powerful speech touched on her faith while also calling for tolerance and acceptance of people across religions:
"Speak out for a spirit that crosses all borders, recognizes the dignity of all people and affirms the beauty of all faiths. Speak out for acts of true charity both small and large. Speak out for an all-embracing love. Because it's love that will heal our wounds. Love that will give us strength to come to one another's aid. So let's lift our voices. Let's start today to let the ever-amazing love of God lead the way. With all my heart, I thank you God, I thank all of my fans. "
While there, Jackson also performed a medley of her songs, including her newest collaboration with Daddy Yankee, "Made For Now." And it's safe to say her performance and moving acceptance speech were two of the biggest highlights of the night.
Jackson's display of advocacy for the #MeToo movement showed how dedicated she is to continuing the conversation and uplifting the voices of those who can't speak for themselves. What better definition of a "Global Icon" could there be?