The Best Dating Day Of The Year Is Almost Here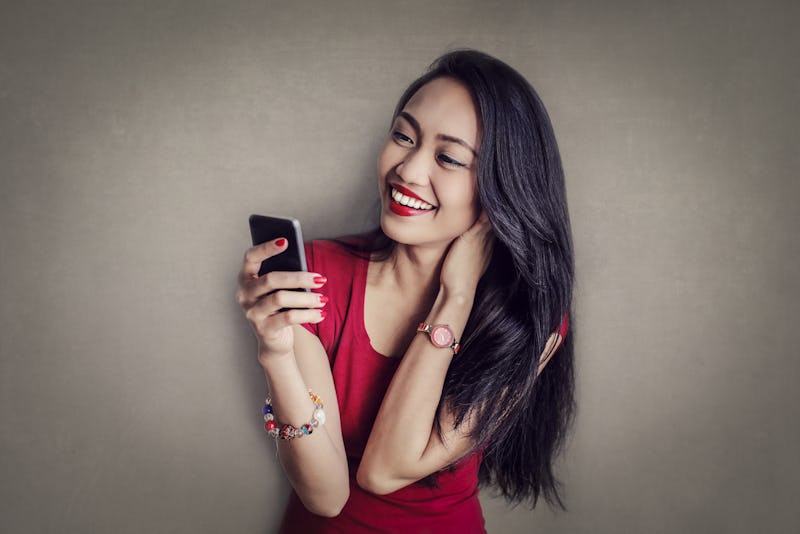 Olly/Fotolia
If your New Year's resolution involves finding a significant other, then the biggest day for your favorite dating app is almost here. Tinder has named January 8, 2017 the best dating day of the year. Why? Well, 'Dating Sunday'— the first Sunday after New Year's— is typically the busiest swiping day of the year for Tinder. But because this year that fell on January 1 aka New Year's Day aka staying in bed and watching Netflix all day, January 8 is this year's Dating Sunday.
"The New Year is the perfect time to find love because so many singles are feeling refreshed and ready to put themselves out there," Tinder Sociologist Dr. Jess Carbino said is a press release. "In the spirit of 'New Year, New You', people are open to new experiences which may include focusing on their love life and joining an app, like Tinder, that fosters new connections."
And it's not just a good time for Tinder — Plenty Of Fish, Happn, Match, and Hinge all report seeing a boom in activity around the first few weeks of the year.
This year, you can expect to see at least a 12 percent increase in matches made on January 8.
"Typically, we've seen a spike in people joining and using Tinder at the beginning of each year," Carbino said. "With the close of one year comes new beginnings in the next, and during the last few weeks of the year, people often take time to reflect on their accomplishments, failures, as well as reassess how to improve their lives in the New Year — especially in the romance category. For singles, a very common New Year's resolution is to find a significant other."
So what does this mean for you besides more people swipe right or left on? More matches! Last year, there was a 10 percent boost in the number of matches made on Dating Sunday. This year, you can expect to see at least a 12 percent increase in matches made on January 8.
"For singles wanting to make the most of Dating Sunday, I would recommend sending a message immediately after receiving the "It's a Match!" notification," Dr. Jess tells Bustle. "Because Tinder users will be very active that day, chances are they'll also be ready to chat. Another tip is updating your profile photos to show potential matches how fun your holiday break was. Whether you went ice skating at Rockefeller Center or escaped to a warm-weather destination, you should flaunt it. This could be a great conversation starter since some may ask how you celebrated the holidays and New Year."
Here were the cities with the most matches last year on Dating Sunday, but don't worry — the increase is worldwide:
1. London, England
Wow, my adopted hometown had the most matches on Dating Sunday last year. I have a feeling they were mostly from my flatmate. Suz is an aggressive swiper.
2. Sao Paulo, Brazil
Down south? The folks of Sao Paulo really got busy last January.
3. New York, United States
The Big Apple had some big swiping last year.
4. Stockholm, Sweden
The Swedes are apparently good at swiping. Because they are good at everything. Damn them and their paternity leave and cozy sweaters.
5. Chicago, United States
The only over American city to make the top 10, Chicago had the fifth most matches last Dating Sunday.
6. Berlin, Germany
The Germans did a lot of swiping... but then, they are supposed to be very efficient.
7. Istanbul, Turkey
Istanbul came in at number seven last year.
8. Oslo, Norway
Another Scandinavian win, the folks of Oslo were really busy swiping in 2016.
9. Budapest, Hungary
Budapest, which isn't a massive city, made up for lack of numbers with some serious Tindering.
10. Montreal, Canada
If you're a maple syrup lover you're in luck, Montreal rounded out the top 10 of most matched cities last Dating Sunday.
Your city didn't make the list? Don't worry — the jump in activity on Dating Sunday is across the board. "Overall, people want to know that you're interested in getting to know them, and the best way to show this is by asking questions directly related to your match's bio and photos," Dr. Jess says.
So get ready for January 8 — you got this!