6 Tinder Hacks To Get More Right Swipes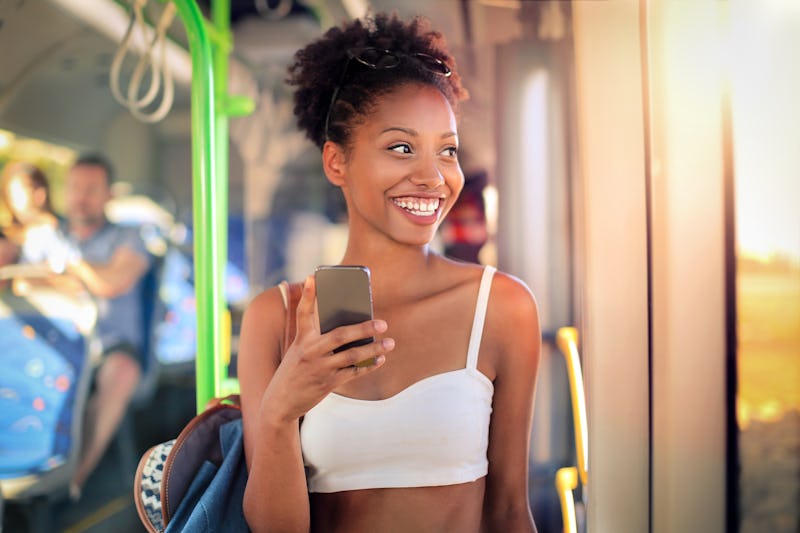 It's probably happened to you — you're on a dating app or site, you swipe right on certain people, but they don't swipe right back. What gives? If you're wondering how to get more right swipes on Tinder, new research from the dating app could help. They analyzed 12,000 photographs from users aged 18 to 40 from multiple major U.S. metro cities to see what worked… and what didn't.
Personally, I think they know what they're talking about, since the app is ~through-the-roof~ popular. There are more than 1.4 billion swipes on Tinder — each day. Of course, all those swipes also lead to a lot of matches — 26 million worldwide per day. Wondering how many matches have been made to date? Eleven billion. So, the pics you use in your profile could make or break it. After all, even though the written profile is important, you want someone to like your profile pictures, too.
"Photographs that provide insight into an individual's personality are particularly helpful for determining who they are and whether they are compatible with someone else," Tinder Sociologist Dr. Jess Carbino tells Bustle.
However, if you have the "wrong" pictures in your profile, you're probably doing yourself a disservice. That's where Dr. Jess comes in. Below, she clarified the results of Tinder's research so you know what kinds of photos to use — or not.
1. Include Pictures With Animals Or Traveling Ones
"Animal and travel shots are strong signals of personality characteristics," says Dr. Jess. "For some, photographs with dogs may signal that an individual is kind, compassionate, or capable of potentially caring for children in the future. Travel photos may be used to signal that they are curious about other places and the world generally, but also that they have the resources to travel and that they choose to spend their resources (time/money) in that manner."
2. Don't Wear Glasses Or A Hat
Tinder's study found that wearing glasses in a profile picture (prescription or sunglasses) tended to decrease users' chances of being right-swiped by 15 percent. Users wearing a hat decreased one's chances by 12 percent. When I go out IRL wearing glasses, I tend to meet more guys versus when I don't have my glasses on. But perhaps glasses in a photo is a different matter, since Tinder's research found it decreases the right swipes.
"Assessing someone's face goes far beyond physical attractiveness; it allows for a user to determine whether someone is kind, compassionate, or trustworthy," says Dr. Jess. "An individual's eyes are particularly critical for determining their trustworthiness. By wearing hats or glasses/sunglasses, a person may be obstructing their eyes and, therefore, not allowing a prospective match to evaluate their trustworthiness."
BTW, you can also check out someone's jawline. "We know that men with softer jawlines are perceived to be more kind and compassionate," says Dr. Jess.
3. Wear Bright Colors, Not Neutral Ones
Think about your dating app pics. What are you wearing in them? Bright colors? Or not? In Tinder's study, they found that 72 percent of users wore a neutral color (black, navy, beige, or white) in their primary photograph. I know — who doesn't love wearing black?! But I guess it's better to save it for IRL dates versus your app photos. "People who want to stand out should try to wear bright colors to distinguish themselves from other users," says Dr. Jess.
4. Wear Something Formal In At Least One Of Your Profile Pictures
In Tinder's research, they found that approximately 22 percent of women and 11 percent of men wore more formal clothing in their photographs. "Users may want to wear more formal clothing in their profile photos as a means by which to signal characteristics about themselves to other users," says Dr. Jess.
5. Have A Variety Of Photos In A Variety Of Outfits
Tinder's research found that 81 percent of users included at least four photographs in their profiles. "Through providing at least four photographs, users are able to provide multiple perspectives on who they are and their personality," says Dr. Jess. "I would encourage users to provide multiple shots that feature them in different ways, such as a full-length shot, a shot from the waist up, etc. You should be providing different perspectives of who you are in all facets. I would recommend that the clothing you wear in photographs is something you think shows you at your most confident."
6. Test Your Photos Using "Smart Photos"
Not sure which of your Tinder pictures should be your main profile one? Or if you should delete some? Now, the app will help you decide. Last week, Tinder launched Smart Photos. It alternates the photo first seen by users and keeps track of each response as people swipe on you. Then, it reorders your photos, featuring your best (i.e., most popular) ones first. When it was tested, users saw up to a 12 percent increase in matches.
So there you have it, the perfect formula for making your profile pictures swipe-right-worthy. After all, with the weekend coming up, there's no better time than now to give our profiles a makeover.
Images: Fotolia; Giphy