Jared Kushner Finally Makes His Voice Heard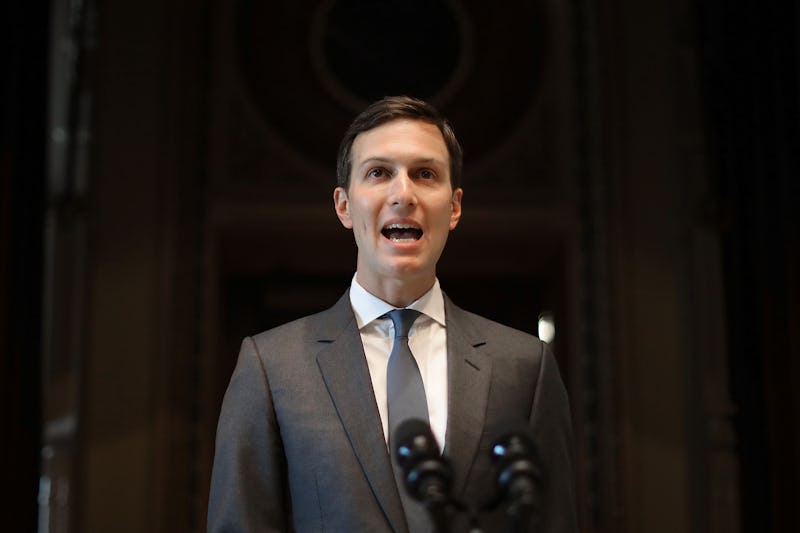 Chip Somodevilla/Getty Images News/Getty Images
On Monday, America was treated to a rare sound: The sound voice of Jared Kushner as he spoke for the first time since Trump's inauguration. President Trump's son-in-law and top advisor gave on-screen comments about the new government efficiency office he's leading, proclaiming that the administration has "set ambitious goals and empowered interagency teams to tackle our objectives." Much of the reaction, however, focused not on those goals and objectives, but, rather, what Kushner's voice sounded like.
It makes a degree of sense. Given that he's one of the most powerful people in the White House and is in the news on just about a daily basis, Kushner is remarkably camera-shy. He almost never speaks when he's being recorded, and when he's photographed, he's usually standing silently in the background. Kushner's comments Monday were the first on-screen remarks he's made since the inauguration; the last time he spoke on screen was in May 2016, when he very briefly (and barely-audibly) piped in during an interview with his wife, Ivanka.
"Kind of disappointed. Jared Kushner's making his first public remarks and he hasn't been hiding a cool Darth Vader voice. At all," Karen Dalton-Beninato wrote on Twitter. Writer Dana Schwartz commented that "somehow" his real voice is "even funnier than gilbert gottfried," while Jezebel posted an entire review of Kushner's voice.
However, despite what the reaction on Twitter might have you believe, this wasn't actually the first time Kushner gave audible remarks on camera. For instance, he once gave an interview about how pleasant it is to conduct business with Jehovah's Witnesses.
Kushner also gave the keynote speech at the 2014 Brooklyn Real Estate Summit. That's online as well, and in it, you can hear his voice.
So, what does he sound like? Well, it's hard to describe a voice, but I'd argue that Kushner sounds pretty similar to how he looks: Young and slightly frail. Nothing too exciting or unpredictable there.
Despite being, by all reports, one of Trump's closest confidantes and advisers, Kushner has chosen to operate almost entirely behind the scenes. This sets him apart from most others in Trump's orbit, many of whom either seem hungry for media attention or, at the very least, are not entirely averse to it. Even Steve Bannon, another top Trump official who prefers to stay out of the limelight, gives a radio interview every now and again.
Ultimately, the brouhaha about Kushner's voice isn't all that important. What ultimately matters, if anything, is how much influence he has on federal policy, what kind of role he's playing in the White House, and oh, yeah, the fact that his business dealings are currently under federal investigation — that stuff is a lot more important than the sounds his vocal chords produces.