Everything Jared Kushner Denied In His Russia Statement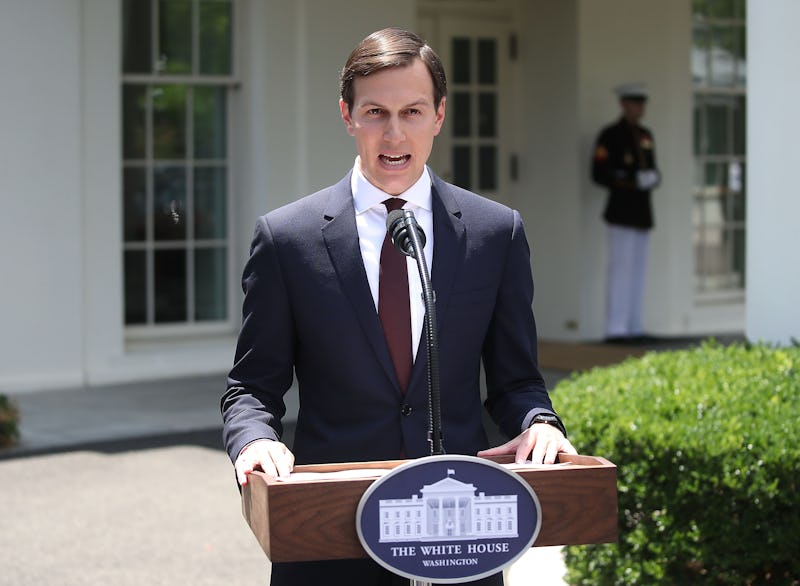 Mark Wilson/Getty Images News/Getty Images
On Monday, following his closed-door hearing that investigated a possible collusion between Russia and Trump's inner circle, Trump son-in-law Jared Kushner spoke in front of the White House. In his statement, Kushner denied any collusion with Russia. He also denied that Trump had won for any nefarious reason. He also denied using Russian funds in his business. Oh, and he denied some more stuff, too.
Since the first questions were raised in March, I have been consistent in saying that I was eager to share any information I have with the investigating bodies, and I have done so today. The record and documents I have voluntarily provided will show that all of my actions were proper and occurred in the normal course of events of a very unique campaign.
Let me be very clear: I did not collude with Russia, nor do I know of anyone else in the campaign who did so. I had no improper contacts. I have not relied on Russian funds for my businesses, and I have been fully transparent in providing all requested information.
Donald Trump had a better message and ran a smarter campaign, and that is why he won. Suggesting otherwise ridicules those who voted for him. It is an honor to work with President Trump and his administration as we take on the challenges that he was elected to face: creating jobs for American people, keeping America safe and eliminating barriers to achieving the American dream.
To recap, here's everything that Kushner denied:
not consistently sharing, and volunteering to share, necessary information with authorities
that any of his actions during Trump's campaign were improper
colluding with Russia
knowing anybody in the campaign who colluded with Russia
having any improper contacts
relying on Russian funds in his businesses
not being completely transparent regarding all of the above
Trump winning the election for any improper reason
Basically, you have Jared Kushner all wrong, according to Jared Kushner. Got that?