Jared Kushner's Security Clearance Downgrade May Mean He Legit Can't Do His Job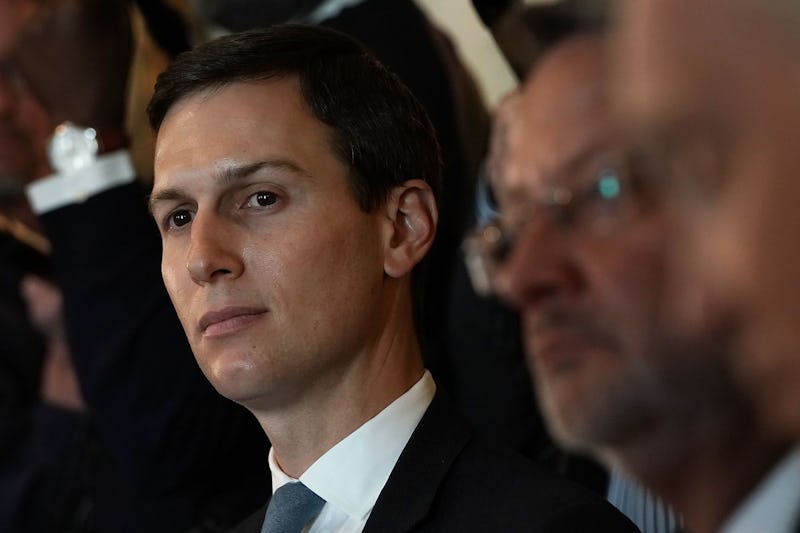 Alex Wong/Getty Images News/Getty Images
Last Friday, the president's son-in-law, Jared Kushner, had his security clearance downgraded from top secret/SCI-level (sensitive compartmented information) to secret, three sources familiar with the situation first told Politico. The downgrade of Kushner's clearance has called into question whether he can effectively do his job, which, among other things, involves negotiating peace in the Middle East and working on diplomatic relations between China and Mexico.
Politico reported on Tuesday that Kushner received notice that his clearance was being downgraded in a memo sent on Friday The memo was sent to all White House staff working on interim clearances and informed applicable employees that their clearances would be downgraded to secret level.
These changes came following a Feb. 16 announcement by White House Chief of Staff John Kelly that there would be new rules put in place for those who hold interim clearances. Kelly had set Friday, Feb. 23 as the deadline to revoke interim clearances for staff members whose background investigations began on June 1, 2017 or prior. The clearance downgrade reportedly not only affects Kushner, but several other staff members as well.
Losing top secret/SCI-level clearance could certainly impact Kushner's ability to do his job. The New York Times reported that Kushner's foreign policy portfolio could be particularly affected by the change in his clearance status.
As Aaron David Miller, a former State Department Mideast negotiator and current vice president at the Woodrow Wilson International Center for Scholars, told the Times,
It makes an already difficult situation all the more difficult ... Knowing stuff gave us an edge. He doesn't know what he doesn't know, and now he cannot find out. That is a real liability when intelligence services are driving a lot of the information.
The HuffPost reported that other intelligence and security experts echoed similar concerns about Kushner's ability to do his job, particularly his work in the Middle East, without top-secret/SCI-level clearance. Ned Price, a former CIA analyst and former spokesman for the National Security Council, told the outlet, "This is not a role one could do effectively without access to top secret information."
Bradley Moss, a lawyer specializing in security clearance applications, expressed similar reservations via the HuffPost.
That type of work [negotiating peace agreements] requires access to intelligence about the players involved, any side discussions they're having ― that's where signals intelligence comes into play ― and the situation on the ground ... I don't see how you do the equivalent work of a Secretary of State with only a 'secret' clearance.
However, according to NPR, General Kelly appears confident in Kushner's ability to do his job, even though the chief of staff previously said he would not comment on individual clearance cases. The outlet reported that Kelly said in a statement:
As I told Jared days ago, I have full confidence in his ability to continue performing his duties in his foreign policy portfolio including overseeing our Israeli-Palestinian peace effort and serving as an integral part of our relationship with Mexico ... Everyone in the White House is grateful for these valuable contributions to furthering the president's agenda. There is no truth to any suggestion otherwise.
NPR also noted that Kushner's lawyer, Abbe Lowell, shared similar comments in a statement. "Mr. Kushner has done more than what is expected of him in this process," Lowell said. " ... No concerns were raised about Mr. Kushner's application."
President Trump's Press Secretary, Sarah Huckabee Sanders, did not comment on the issue at Tuesday's press briefing, which, according to the Times, was held before Kushner's clearance downgrade was announced. "I've been very clear that we don't discuss security clearances," Sanders noted. "And that's not changing today, it didn't change yesterday, it's not going to change tomorrow, probably not going to change next week."
Only time will tell if Kushner's senior adviser role will suffer from this point forward. If the lack of top secret clearance becomes too prohibitive, Trump, as president, could choose to give Kushner a permanent security clearance. However, the president has indicated that he trusts Kelly's judgement in the matter, telling reporters on Friday, "[Kelly's] going to do what's right for the country and I have no doubt he'll make the right decision."