Twitter Thinks Jared Leto's Met Gala Outfit Made Him Look Like This Disney Character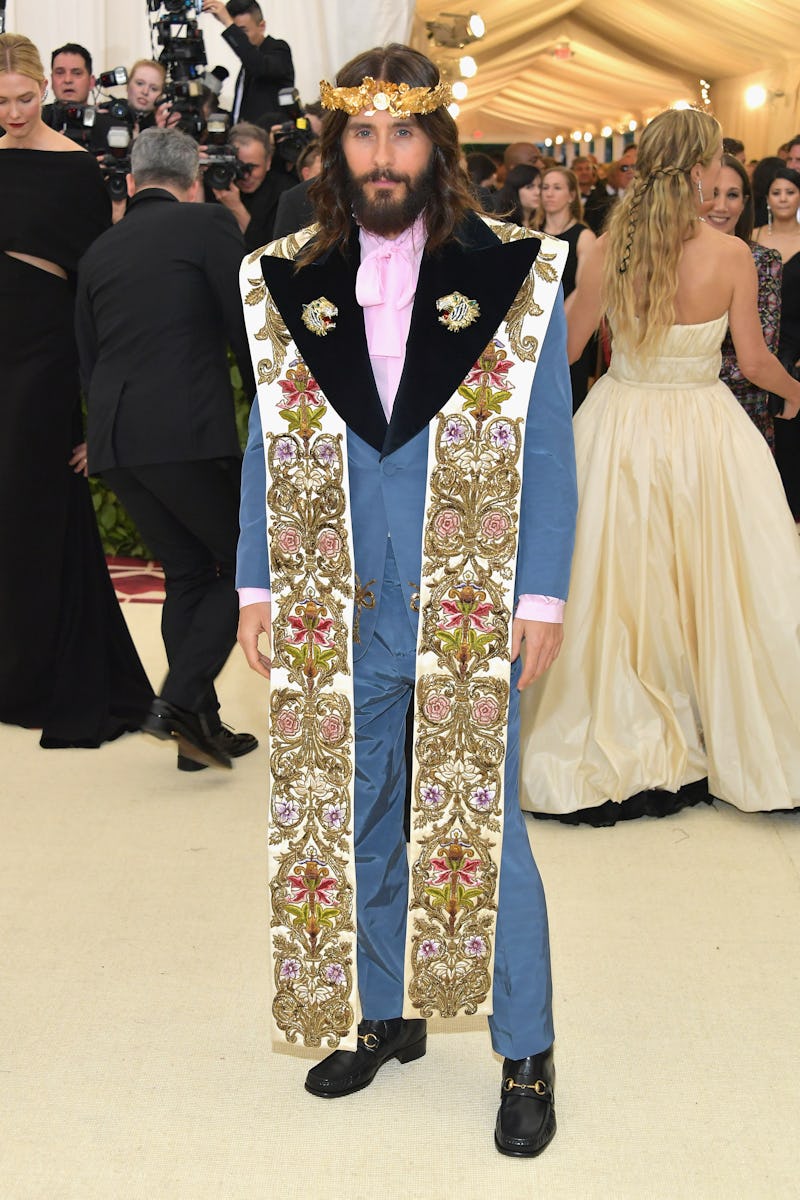 Neilson Barnard/Getty Images Entertainment/Getty Images
This year's gala proved to be one of the most creative ones thus far when it came to the red carpet, but there's one look in particular that has Twitter buzzing. Jared Leto's 2018 Met Gala outfit is getting more attention than most, and for a super nostalgic reason.
This year's Met exhibit is entitled "Heavenly Bodies: Fashion and the Catholic Imagination," and it explores how fashion and Christianity have been influenced by each other over the centuries. Seeing how the Vatican had joined in to help curate the exhibit, people wondered how tame — or daring — the red carpet would be.
It turned out to be a very well-thought out and sensitive red carpet, where not too many celebs toed the line with symbolism or artifacts. It was really interesting to see all the different interpretations people had of Christian art, and to see the different layers that the theme had achieved. Some people like Blake Lively took a Renaissance turn and showed up looking like reigning Catholic queens, and some like Selena Gomez chose to go a more angelic route with airy chiffon dresses. Some celebs like Solange took a more dark interpretation, contrasting black nun robes with latex. And then some channeled the devil himself, where Nicki Minaj showed up in a fiery red dress with a sweeping train.
But Leto's outfit really stuck out to some viewers because of the striking similarities it had with a nostalgic character from our childhoods.
Leto went the route of mimicking clerical clothing, and he wasn't alone. Lilly Colins, for example, channeled a Gothic nun, and Rihanna, who was a co-chair of the Gala, came dressed up as a sexy Pope.
In Leto's version, he dressed up like a retro Jesus Christ. He chose to don a satin periwinkle tuxedo with sweeping black velvet lapels, giving off a '70s like vibe with the cut and silhouette of his suit. He paired it with a cotton candy pink pussybow shirt and Gucci shoes, further cementing a throwback vibe. The Christian influences came in the form of his accessories, where the lapels had two giant, gold ornamental pins, and he donned a gold crown on his head and a floor-length stole that mimics what priests wear when they perform mass. The stole was just as colorful as the rest of his outfit, where the intricate flower design reminded the viewer of stain-glass windows found in a cathedral.
While definitely one of the most creative interpretations from the male red-carpet-walkers, some people saw a striking similarity between his look and an old childhood character's. Let looked just like Prince John from Disney's Robin Hood.
Even though the cartoon was made in 1973, chances were you watched the VHS version at least once when you were a kid. If you did, you would remember that Prince John was the villain in the cartoon, and he donned the same purple robe and low-slung crown as Leto did.
While it's true that Leto had a more elaborate stole than the fur one that the Prince wore, you have to admit that the similarities are pretty spot-on. It almost makes you wonder if he had the character pinned to his mood board when piecing together his look.
It definitely gives you a kick of nostalgia. But jokes aside, whether you loved or hated Leto's look, you have to give the actor props for playing with the theme and going all-in with his interpretation. Not many of the male attendants experiment with their looks each year thanks to the restricting silhouettes of their suits, so to see him commit to an experimental look is amazing.
This year's Met Gala red carpet definitely had a lot of creative and thoughtful outfits to enjoy.