Solange Wants Fans To Choose Her Met Gala Dress & The Choices Are Too Good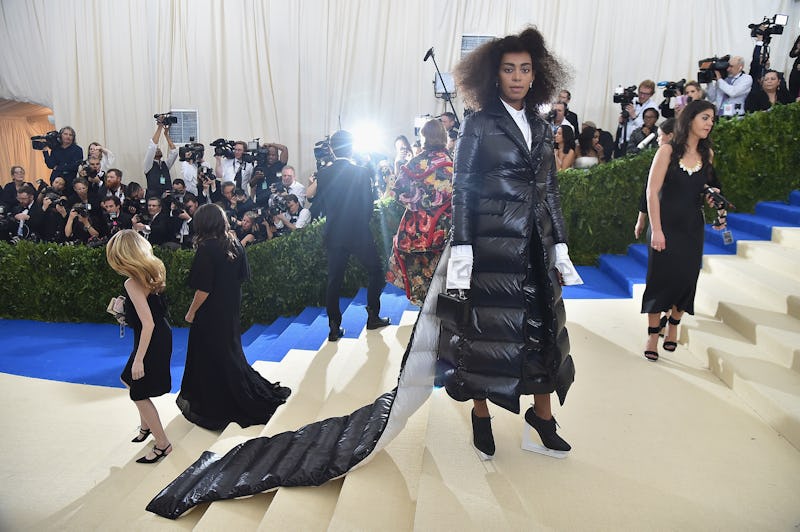 Theo Wargo/Getty Images Entertainment/Getty Images
Solange requires no last name. But, apparently, she does require help choosing a Met Gala dress. The singer and multi-talented artist is set to attending the soiree today, but the pressure of choosing a gown means that Solange's Met Gala dress was totally up to her fans for a bit before the event. Yes, she truly planned on letting her fans choose what she would wear, and she even gave multiple options. Honestly, they're all stunning.
According to Buzzfeed, Solange took to her Twitter account to show off five different dresses for her fans to choose from, and they're totally on theme. The 2018 Met Gala exhibit is based on the theme of "Heavenly Bodies: Fashion and the Catholic Imagination." Solange's looks seemed to have taken inspiration from various saints according to a previous tweet cited by Buzzfeed. All of the dresses are either black or white. While the designs and materials vary pretty drastically, there's not a bad choice in the bunch.
What Solange's tweets didn't include are which saints inspired each look. It seems as though that's going to be left up to her fans' imaginations. One of the dresses, however, seems to appear twice with Solange wearing two different hairstyles with it. Could it be the one she was actually leaning toward? Fans had wait until this evening's event to find out.
Solange has since closed the polls since posting the images of her dresses. The backtrack was on the advice of someone who appears to be a fan. She has seemingly chosen to "be herself" and thus choose her own gown.
What does each dress look like? You can check out the looks here and choose your favorite. From a latex calf-length dress with a wide slit to a stunning white frock with an angelic cape to a black gown with midriff cut-out and mini skirt, there's a whole lot of looks to love. No wonder Solange wanted a little help.
It's not as though Solange needs helps choosing her ensembles, honestly. She's looked stunning at the past several Met Galas. Last year, during the gala's celebration of designer Rei Kawakubo, an argument can be made that Solange was one of the few celebrities who actually embraced the structural designs of Kawakubo for the event (though, she's also cited Grace Jones as inspiration as well).
The dress was a marked departure from her 2017 look which seems to have featured voluminous and feminine pleated chiffon paired with a latex stirrup pant and clear heels. It was a vibrant moment on the red carpet, and clearly, for the next year, she wanted something less bright but still as impactful.
As for 2018, while Solange did offer fans the opportunity to choose her look, it's too late now. The star has made her mind up about what to wear, and Solange's 2018 Met Gala dress was a gorgeous combination of structure, shine, and splits.
The artist paired the dress with a pair of vinyl thigh-high leggings that are reminiscent of her 2016 pair of stirrup leggings that were bright yellow. Clearly, she wanted to switch things up in terms of color for the event.
As for her hair, Solange chose a style that may look somewhat familiar. It's similar to the braided style she wore on the cover of The Evening Standard that was ultimately photoshopped out of the shoot. Solange spoke out about the editing, and now, she's on the red carpet rocking a similar look.
Clearly, Solange needs no help choosing an ensemble, and her 2018 Met Gala look is further proof that this star knows her fashion