A Model Wore A Dress That Looks EXACTLY Like Belle's To The Met Gala & It's From H&M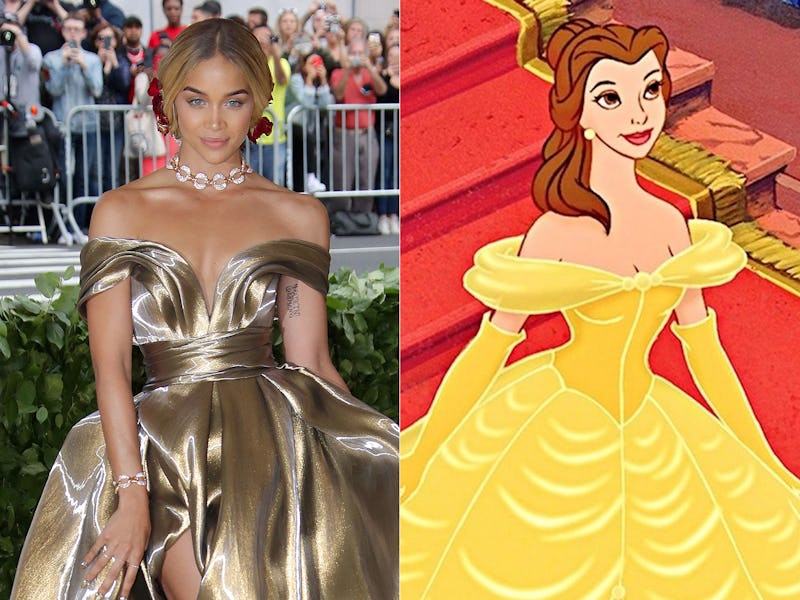 REX/Shutterstock; Disney
The first Monday in May is here, and celebrities are walking the famous Metropolitan Museum of Art stairs, and while the "Heavenly Bodies: Fashion and the Catholic Imagination" theme is in full effect, there are other references that can be made as well. One model's Met Gala gown looks exactly like Belle's, and you'll have to see it to believe how gorgeous it is.
In one of the first arrivals of the night, model Jasmine Sanders, aka Golden Barbie, walked the carpet wearing a stunning, golden gown that was giving serious Disney princess vibes. While Disney and Catholicism aren't necessarily two things most people would link (except for Hunchback of Notre Dame and that horribly creepy Claude Frollo fire scene), it seems as though, Sanders could have just created one all on her own.
Where did the voluminous and elegant off-the-shoulder ball gown come from? Hold on to your rosaries because this beauty is from none other than H&M. Yes, where you get your affordable fashions. Their design team is far more than denim and tees and rompers. In fact, if you hadn't heard, they've been dressing stars for the Met Gala for several years now. This is not their first Met Gala rodeo, but it could just be their first Disney-esque look for the event.
While Belle's well-known blue and white apron and frock combo from the beginning of Beauty and the Beast may have given Met Gala attendees some serious Virgin Mary vibes, it's Belle's iconic golden gown from the dance scene that is making Sanders look like a legitimate Disney princess. How do people feel about it? Well, Twitter users seem to be all about the gorgeous and glamorous look, including famous faces like Iggy Azalea.
Some, though, are still just shook that she's in H&M.
However, she's not the only star to rock the brand at the gala. Stars like Riverdale star Lili Reinhart (with her newly debuted boo Cole Sprouse) and actor Olivia Munn are also both wearing the affordable brand on the carpet tonight. All three women look equally stunning, but it's only Sanders that's serving Catholic Disney princess.
As it turns out, though, the look isn't meant to be a nostalgic throwback at all? Shocked, right? That a Met Gala theme wouldn't be all about the Beauty and the Beast lunchbox you had in elementary school?
No, according to one savvy Twitter user, Sanders look could be seen as an homage to the Met Gala's on display Shrine of the Virgin. The gold of the gown mirrors the gown of the statue, and the split in front of the gown was also pointed out as being similar to the split found in the front of the piece.
According to Refinery29, the gown wasn't cited as being inspired by the work of art. Instead, it was all about serenity and red carpet glamour. Creative advisor for H&M Ann-Sophie Johansson explained, "Each look has been entirely custom-made, focusing on rich detail and a modern take on red carpet glamour. We wanted each of our guests to feel both serene and effortless."
While Sanders gown won't be coming to a rack near you, it doesn't mean you can't shop gala looks from H&M. In fact, they have an entire gala collection right at your disposal that includes everything from frocks to shoes to accessories. All your Belle fantasies may not be able to be fully realized a la Sander's gown, but there's no need to sacrifice fashion just because (like most of we mere mortals) you aren't at the Met Gala.
Since you can't rock a ball gown every day, H&M has you covered — just like they do Sanders.