'Marvelous Mrs. Maisel' Season 3 Includes A Surprising Cameo From A 'Seinfeld' Favorite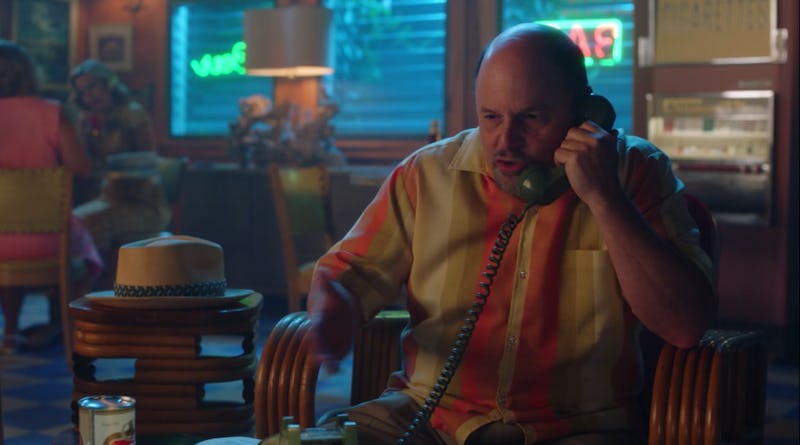 Amazon
Spoilers ahead for The Marvelous Mrs. Maisel Season 3. There are quite a few new faces in The Marvelous Maisel Season 3, and one of them is Jason Alexander (aka Seinfeld's George Costanza), who makes a surprising cameo as Asher, an old friend of Abe Weissman. Ultimately, his role is a minor one, but nonetheless integral to setting up a possible and intriguing future for Abe and the rest of Midge's family.
Abe first meets up with Asher in Miami, where he and Rose have run off to in order to get away from the raucous Moishe and Shirley. Midge puts them up in her hotel and invites them to her evening performances, but they're left to their own devices during the day. While Rose is busy nursing the mother of all hangovers (as a result of drowning herself in martinis the previous night so she wouldn't have to acknowledge Midge's stand-up career), Abe gets a call from Asher (pretending to be Upton Sinclair) and goes down to the beach with him to snorkel.
It's implied that Abe knows Asher from back in his college days, as they reminisce about unionizing fruit vendors, Trotsky, wanting to start a paper, and where their careers have taken them. Having abandoned his playwriting career in New York after he was accused of being a Communist, Asher now runs the snorkel and fishing gear shack on the beach. Abe tells him he's not teaching anymore, and is looking to be "involved in something meaningful," but that his recent attempt at starting a paper fizzled out because the beatniks were "a bunch of idiots."
"All young people are just a bunch of idiots," Asher easily responds, which could possibly read as a reference to his role as Seinfeld's George, who famously called himself the "Lord of the Idiots."
It's through Asher that Abe finds his passion for arts journalism (Welcome, Abe!). Asher is a Pulitzer Prize-winning playwright, and yet he's been blacklisted from New York for being accused of Communism, and Abe sees this as an important cause to take on. Abe attends a local Miami performance of Asher's Pillar of Salt play and then writes a review about it and Asher's other works. He then mails the piece to Asher for his approval.
Immediately Abe learns that Asher is not amused by the article: it's good, he says, but it's very personal and "hits too close to home." He says he never asked for Abe to "resurrect him," and he doesn't give his consent for it to be published. Nonetheless, Abe submits it to the New York Times, forging ahead with his art in the same way his own daughter does with her stand-up routine.
The piece is published and soon becomes a big hit: Abe is pelted with tomatoes by Broadway director David Merrick, which convinces him he's on the right path to shaking up the industry. Then, right at the end of the season, it's revealed that The Village Voice has asked Abe to be their resident theater critic. By the end of Season 3, Abe is no longer unemployed, has found his true passion, and it's in a creative field? Who knew this was the same stuffy Abe Weissman from two seasons ago!
It's ultimately an amusing twist because Asher's work ties Abe and Midge even closer together, though they may not realize it yet. The artist on stage and the critic in the front row are like two sides of a coin, and it seems inevitable that Abe will end up reviewing Midge, or at least finally accept Midge as a legitimate artist who audiences come to see. And if anything, Asher's debut finally reveals who exactly Midge got her taste for onstage drama from.