Jason Speaks Out About What He Really Thinks Of Colton Becoming The New Bachelor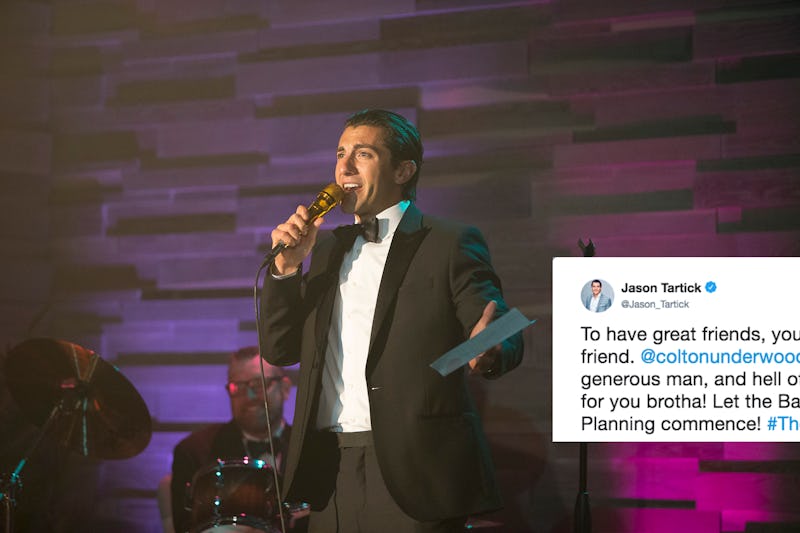 ABC/Paul Hebert; Jason Tartick/Twitter
It's difficult not to be somewhat disappointed that Jason Tartick won't be the next Bachelor come January. Over the past season of The Bachelorette, he proved himself to be kind, genuine, charming, and he has a general way about him that you couldn't help but like. And, just in case you had any doubt in your mind on the matter, Jason's reaction to Colton Underwood becoming the next Bachelor only reinforces what a great guy he truly is.
Jason was initially introduced during Becca Kufrin's season of The Bachelorette and ended up coming in third, finding himself eliminated shortly after hometown dates. By that point he had fully fallen in love with Becca and was heartbroken after she sent him packing. For many it felt as though ABC was gearing him up for a rather rose-y future, but alas, it just wasn't meant to be. Colton was named the 2019 Bachelor, leaving Jason to find love elsewhere. Instead of being bitter about the whole thing, though, Jason once again proved what we already knew deep down in our heart of hearts: that he's way too good for this Bachelor Nation world.
Shortly after Colton's Bachelor announcement was made, Jason took to Twitter to share his thoughts on the matter in a way that'll only make fans love him more.
"To have great friends, you have to be a great friend. @coltonunderwood is a class act, generous man, and hell of friend," he wrote. "So happy for you brotha! Let the Bachelor Party Planning commence! #TheBachelor"
Clearly, there are no hurt feelings on Jason's side of things. But then again, did we really expect anything less than a perfect reaction from him? It's one of the reasons so many wanted to see him become the next Bachelor. And it was an idea he was more than willing to consider. "Coming into The Bachelorette, I always led with a calculated mind and not an open heart," Jason said during a recent interview with People. "Now, I'm able to start leading with my heart and not my head. And I'm in the best position to find who I'm looking for now."
To even further drive the matter home, Becca herself came out with a statement of her own saying why she thought Jason should be the next Bachelor over all the other possible contenders. "He's such a sweetheart," she told E! News during an interview. "Jason will always have a soft spot in my heart. He just has such an exuberant personality, he's just fun and it's contagious so I would love to watch Jason."
Apparently, ABC higher-ups felt otherwise and decided to give Colton the Bachelor crown instead. But Jason's remarks are just further proof that he would've made an excellent rose distributor. Maybe his obvious friendship with Colton means he could pop up at some point during the season. It may not be to the extend fans were hoping for, but we can all agree that some form of Jason is certainly better than no Jason at all.