The New (Kind Of Controversial) 2019 Bachelor Has Been Announced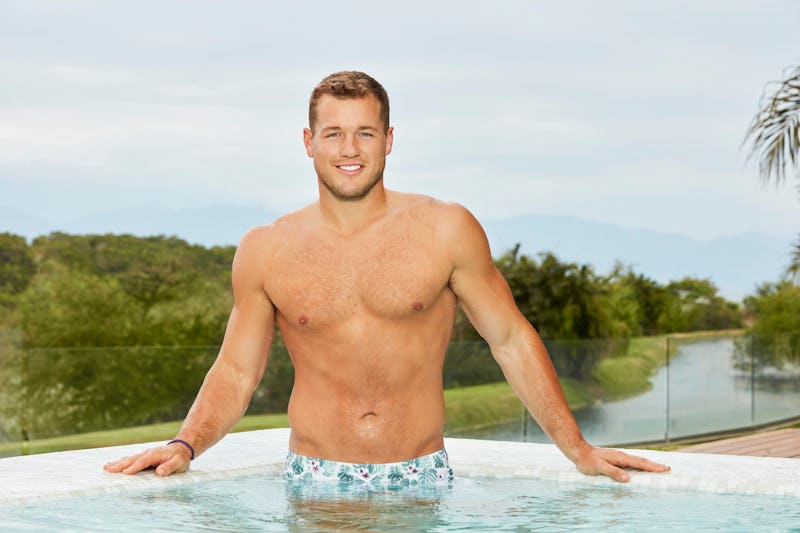 ABC/Craig Sjodin
With bated breath and open hearts, Bachelor Nation has been patiently waiting to hear who the 2019 Bachelor would be. Would it be one of Bachelorette Becca Kufrin's castoffs from last season? Would the producers take inspiration from the past two seasons when they surprised fans by picking former contestants and Bachelor Nation mainstays Nick Viall and Arie Luyendyk Jr. to come back and take on the role? Would they finally make history by casting the first black Bachelor? Would they be there for the right reasons? Now fans finally know who will be passing out the roses in Season 23. The new Bachelor is Colton.
"Third time's a charm, that's what they say," Colton joked on Good Morning America about being a three-time contestant on The Bachelorette, Bachelor in Paradise, and now The Bachelor. The big reveal happened live on GMA and wasn't too much of a surprise since in the days leading up the announcement, Bachelor insider Reality Steve put his money on Colton. "I know ABC has made last minute changes in the past so it's not technically official, but after the Paradise reunion taping yesterday," Reality Steve tweeted on Aug. 29. "I'm hearing that they will be announcing the next 'Bachelor' soon and it will be Colton."
Reality Steve's pick was a controversial one being that Colton has been known to bring the drama. For example, his love triangle with Becca Kufrin and Tia Booth on Bachelorette Season 14 and his eye-roll worthy moments of indecisiveness on Bachelor in Paradise Season 5. It was these frustrating moments that have led some fans to feel as if Colton's not there for the "right reasons." Specifically, that the former athlete's not really there to find love, but to bolster his own career. But even Bachelor host Chris Harrison agreed that Colton could make "a very interesting" choice if he wasn't engaged after BiP.
It was clear that he wasn't the night before the announcement when Colton and Tia Booth broke up on BiP, opening up the chance for him to the Bachelor. "We are finally on the same page, for the first time in our relationship, and we're just good friends," Colton said when asked about Tia on GMA. He also added that Tia would not make an appearance on his season.
As for what fans can expect from his season of The Bachelor, Colton promised to be as honest as he's always has been with Bachelor Nation. "That's one thing I took pride in on both seasons," he said. "Taking pride in who I am and I think it took all of that to get to where I am now and know who I am as a person and what I want in a life partner." Colton told GMA he's hoping to end his season with a proposal. "That's what I'm looking forward to the most," he said. "Being engaged."
The choice for who would be the next Bachelor seemed to be predicated on how Bachelor in Paradise turned out. When he appeared on The Ellen DeGeneres Show Grocery Store Joe teased he would be the Bachelor "if I'm single at the end of this show." Many fans assumed this meant if he's not still with Kendall Long, who has been the object of his affection since day one in Paradise. Though he definitely had his doubts about taking on the role. "Would I be a good one?" he said. "Probably not."
Of course, there were others from Becca's Bachelorette season that were excited at the possibility of being the next Bachelor like Jason Tartick who told Bustle, "I did find [love] through The Bachelorette. And I think I could find it through the journey of The Bachelor." Becca agreed telling Good Morning America in July that he was her choice for the next Bachelor. "I have a soft spot for Jason," Becca said.
Another one of Becca's contestants, Wills Reid was also vying to become the first black Bachelor. Last month, Wills told Entertainment Weekly "I feel like if the stars align and I am single after Paradise, I would love to be the next Bachelor." Wills' early departure from BiP certainly made it seem like the stars were lining up just right for him to make history. "There's no time like the present," he told EW of being chosen as the Bachelor. "I feel like I would be a great first, and just to be the first African-American anything in a positive light would bring honor to myself and my family forever."
Unfortunately, for these other guys, it's Colton who will get a chance to find love as the next Bachelor when it returns next year. But, they shouldn't lose hope, there's still a lot more roses to be handed out in the years to come. For now, it's Colton who gets to do the damn thing and no doubt Bachelor Nation will be watching to see how he does.