These Fan Reactions To Colton As The Bachelor Show He Wasn't Everyone's First Choice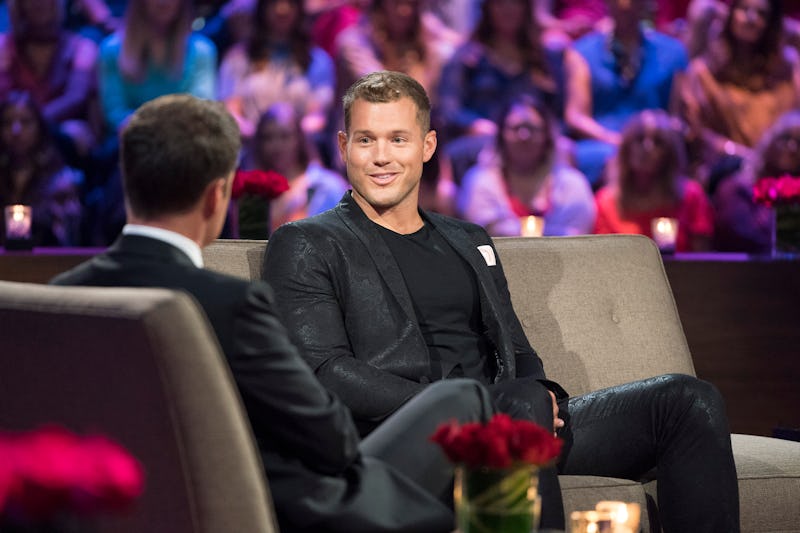 ABC/Paul Hebert
Fans finally know who the new Bachelor is but that doesn't mean they're happy about it. After Good Morning America announced that Colton Underwood would be the next lucky star of the franchise — a choice that really shouldn't be all that unexpected since Reality Steve predicted this days ago — immediate fan reactions to Colton being the 2019 Bachelor were pretty mixed, and sometimes downright harsh. Because despite the advanced notice, it's still a rather controversial pick. Colton's been known to frustrate Bachelor Nation with his indecisiveness. (Seriously, that Bachelor In Paradise breakup with Tia Booth seemed to come out of nowhere, right?) And a huge portion of Bachelor Nation is still in love with Jason Tartick, who was Bachelorette Becca Kufrin's Bachelor pick.
That's why Twitter isn't so happy with Colton being the new Bachelor and they're letting the world know it. Not to mention, sharing their thoughts on who should have been the Bachelor this time around. Yes, they're looking at you, Jason!
The realization that no, Jason would not in fact be the Bachelor, led to some very disappointed tweets. "Me after finally getting the confirmation that Jason is not the next Bachelor," fan @GrapesOf_Kath tweeted along with a gif of Entourage's Jeremy Piven throwing his phone across the room.
Though, @LauraXoxo23 was able to make lemonade out of these Colton lemons tweeting, "As much as I wanted Jason to be the next bachelor, I'm kind of happy that he isn't," they said. "He can be my boyfriend now."
But disappointment was definitely the overall theme with fans tweeting sad gifs that showed just how much they disliked this Bachelor choice. With one fan named @gossipgurl tweeting, "Colton didn't win the popular or the electoral vote yet he's still going to be the Bachelor."
As a fan named @alybarnaba tweeted it was like ABC didn't listen to a word Bachelor Nation said. Specifically, how they wanted to see a different one of Becca's contestants get the job. "ABC: who do you want to be the next bachelor? Us: JASON! BLAKE! JOE! ABC: Guess who's back! Colton!"
Michael Scott's despondent face really does say it all.
A Grocery Joe fan's Twitter account invoked Mean Girls writing, "Stop trying to make Colton as the Bachelor happen, no one wants it to happen." While another fan suggested that to get through Colton's Bachelor season ABC should add an extra hour that features three other favorite J-named Bachelorette contestants that aren't Jason.
"Instead of Colton as the Bachelor, could we just have an hour every week of the three Js: Joe, Jordan and John," @emilygreene24 tweeted the night before the announcement.
But, alas, it is going to happen despite many Bachelor fans threatening to boycott this season. Some fans even started using the hashtag #anyonebutcolton to let the world know how they felt about this.
There was one fan @maddieclementin who seemed to have the best explanation for what Bachelor Nation would likely do when the time comes. "Yes, I'm mad that they chose Colton for the next Bachelor," they wrote. "And yes, I'm still going to watch it and complain about him on social media every chance I get."
Of course, Colton is hoping fans will change their mind about him. On Good Morning America, the former football player made it clear he was on the show for the "right reasons," something fans had previously questioned due to his love triangle with Becca Kufrin and Tia Booth on Bachelorette Season 14 and his indecisiveness on Bachelor in Paradise Season 5.
"That's one thing I took pride in on both seasons," the former Bachelorette and Bachelor In Paradise contestant told Michael Strahan, referring to his penchant for honesty, including revealing that he was a virgin. "I think it took all of that to get to where I am now and know who I am as a person and what I want in a life partner." Colton told GMA he's hoping to end his season with a proposal. "That's what I'm looking forward to the most," he said. "Being engaged."
Colton's season of The Bachelor won't premiere until next year, which gives him a lot of time to convince fans that he was the right choice and they should be as excited about his new gig as he is. After reading these tweets, though, it's safe to say he's got his work cut out for him.