James' 'Pump Rules' Co-Stars Visit Him At Work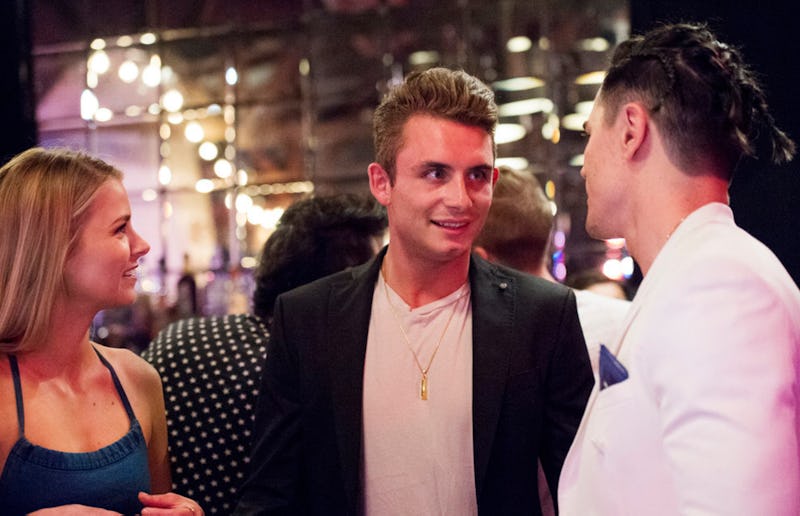 Nicole Weingart/Bravo
Prior to Monday's episode of Vanderpump Rules, this season had gone weeks without a major blowup. (Is that a record for this show?) Yeah, there was the paint store quarrel and the Taco Bell tower bridal shower argument, but it'd been ages since someone crumpled onto a bathroom floor into a puddle of drunk tears at a non-surprise birthday party; Ken and DJ James Kennedy's tense sidewalk confrontation was a lifetime ago. Well, this week's ep of Vanderpump Rules sure kicked things up several notches. And it is all thanks to James, Jax, Kristen, Scheana, Carter, Tom Sandoval, Ariana, Raquel, GG, and Ellie. The Siege At The Study was magnificent television.
Do you remember Ellie and GG? I know that storyline might be fuzzy; a lot of show has happened since we first heard Ellie and GG say James cheated on Raquel with them. But Pump Rules, perfect program that it is, never leaves a loose end untied. Which brings us to The Siege At The Study.
On Monday's episode, Jax, Kristen, Scheana, and Carter decided to meet up with GG and Ellie at James' place of work. Their mission: revisit the GG and Ellie rumors and blow up James' spot for the zillionth time. Hey, the pots won't stir themselves.
Here was Jax, Kristen, Scheana, and Carter's game plan:
Go to James' gig at The Study.
Watch GG and Ellie approach Raquel while James was on the clock.
Watch GG and Ellie tell Raquel about about James' alleged dalliances.
Watch GG present James with a bag of clothing that allegedly belonged to James.
Let the mint chocolate chips fall as they may (i.e., start a scene and try to get James fired... again).
All of the things on the docket happened. However, GG slapping James was not on the docket. Tom Sandoval interfering was not on the docket. Jax tossing a drink was not on the docket. The rumble that broke out after someone's glass smashed on the bar floor was not on the docket. The cigarette James waved in everyone's faces while he called them losers was not on the docket. The docket could only foresee so much, you know?
Drinks were thrown, accusations were thrown, kicks to the shin were thrown, and live renditions of "Feelin' You" were thrown. All in all, another great Pump Rules fracas for the books.