This Detail About Jax & Brittany's Wedding Will Make 'Pump Rules' Fans Say, "OF COURSE"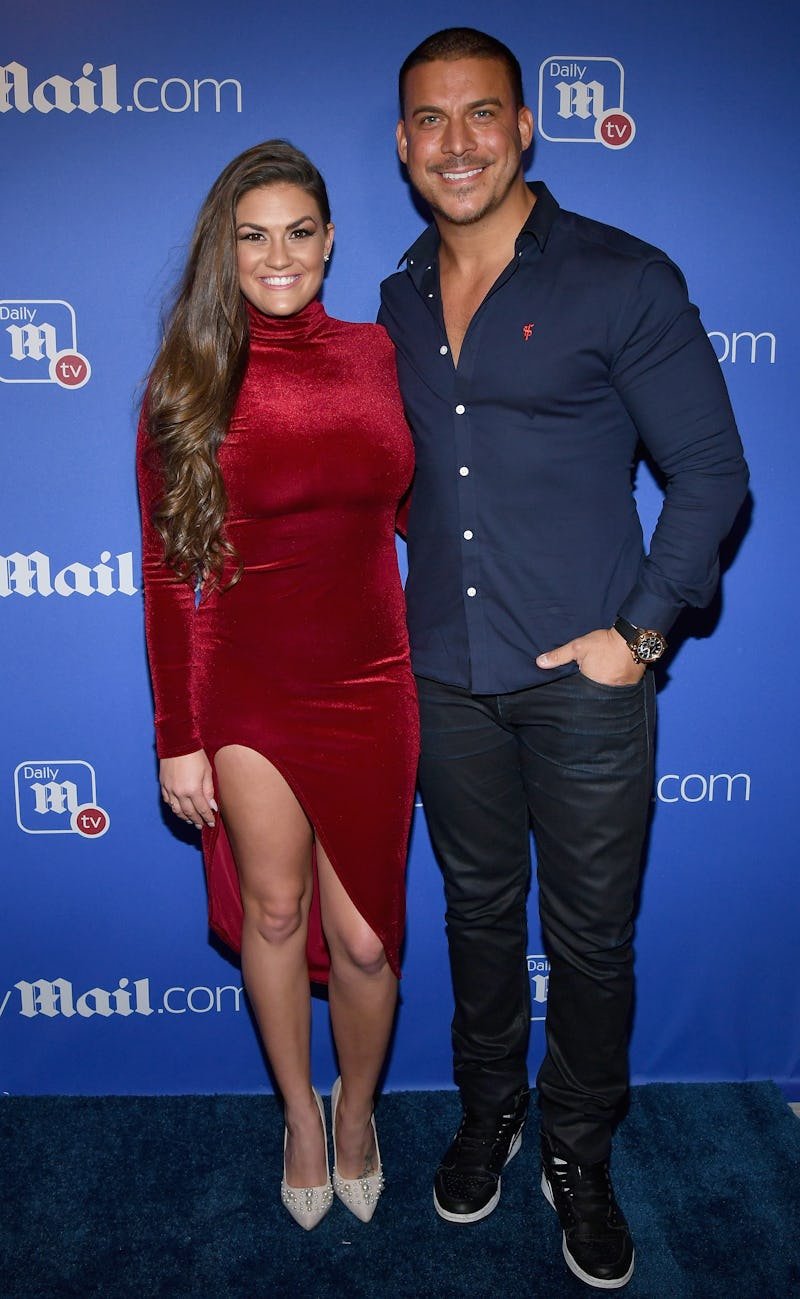 Slaven Vlasic/Getty Images Entertainment/Getty Images
Remember when Jax and Brittany took Kentucky? Well, it looks the on-again, off-again Vanderpump Rules couple might be heading down south again sometime soon. Only this time, they're heading back for a particularly special occasion. What's that? After an especially tumultuous year, Jax Taylor and Brittany Cartwright are getting married, that's what. And if Jax's recent tweet about the couple's wedding preparations is any indication, it sounds like the pair is going to say "I do" in Brittany's home state. Or at least, that's all the nuptial-related information Jax can share right now.
That honestly makes sense, since the notorious SUR lothario proposed to Brittany less than a week ago. (Though perhaps with this new bit of news, it might be safe to say former SUR lothario?) So it's definitely not surprising that the only wedding details the couple seems to have nailed down so far is the locale — albeit, in pretty broad strokes. Replying to a fan on Twitter who joked that he was trying to score an invite to the Vanderpump duo's upcoming wedding, depending on its location, Jax tweeted,
"I can tell you this, the wedding will be in Kentucky!!! That's all I know so far."
In a semi-shocking turn of events, given the pandemonium that rocked their relationship during Vanderpump's most recent season, Jax got down on one knee last Thursday, June 7, to ask for Brittany's hand in marriage. Unfortunately, fans of the famously dramatic SUR staffers didn't get to watch the proposal play out on television — at least not yet. That being said, both Jax and Brittany did gift the internet with a handful of exceedingly heartwarming Instagram posts, which doubled as their respective engagement announcements.
Jax's came first. Accompanying a string of side-by-side photos that are bound to have Vanderpump enthusiasts swooning (yes, even those who aren't necessarily fans of the couple's questionable relationship dynamics), the SUR bartender bared his heart for all of social media to see. "She said yes!!!" Jax wrote, captioning the photo series. Which, for the record, features Jax looking particularly pleased with himself while Brittany's sparkly engagement ring dazzles in the foreground. And for all the inquiring social media users out there who simply need to take a closer look at that rock, you're in luck, because there's also a close-up shot of Brittany's ring.
Continuing the proposal post's caption, Jax teased fans with an exciting (albeit, mysterious) tidbit to look forward to. While the couple's followers might not have gotten to watch the Brittany-Jax proposal unfold in real time, it certainly doesn't sound like that possibility is off the table, by any means. "I can't wait for y'all to see how this happened next season!!!" Jax wrote at the top of his first engagement-themed Instagram post. "I am marrying the woman of my dreams and I could not be happier!!"
He finished up that particular thought by circling back to the initial teaser, writing, "Make sure y'all tune in season 7 to see how this unfolded." So, who else is now suddenly counting down the days until Vanderpump's upcoming season airs?
Suffice to say, Brittany was all smiles over on her Instagram account, too. Captioning another truly heartwarming snapshot of the couple ostensibly very recently post-engagement, Brittany penned a short, but entirely sweet, caption announcing the news. "I still can't stop smiling," she wrote, echoing the radiant smile she's already bearing in the post's photo. Brittany finished up with a red heart emoji in addition to, "I love you @mrjaxtaylor." The same photo also appeared on Jax's Instagram over the weekend. And while he was notably less verbose in its caption (relative to his several-paragraph long engagement announcement post), Jax still managed to say it all. "Absolutely the best moment of my life," he wrote.
Though Vanderpump fans might be a little skeptical about the state of Jax and Brittany's relationship — what with the cheating scandal that marred most of the show's last season — it's probably worth at least trying to put that out of our minds right now. If their adorable social media activity is any indication, it looks like Jax and Brittany are happy with their engagement plans, and that's all that really matters at the end of the day.
So, here's to Jax and Brittany taking Kentucky for a second time. Because even the couple's dissenters would probably have to agree that, if nothing else, Brittany deserves to watch her dream wedding unfold on her turf, surrounded by friends and family.