Jax Finally Came Clean On 'Vanderpump Rules' & Everyone Is Over Him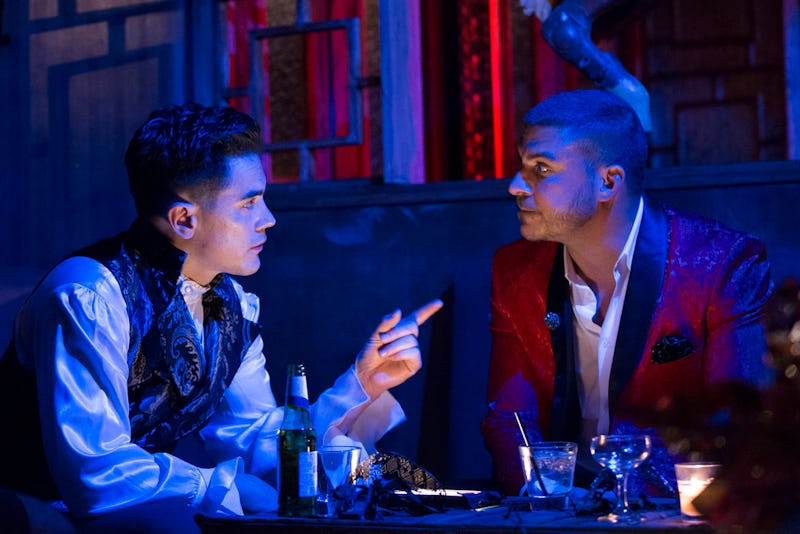 Isabella Vosmikova/Bravo
Oh boy, oh boy, Jax Taylor is in a whole bunch of trouble. In the Season 6 premiere of Vanderpump Rules, Jax Taylor was accused of cheating on girlfriend Brittany Cartwright by Faith, a former SURver who is friends with the gang. Jax denied, denied, denied, but he changed his tune pretty quickly in the Dec. 11 episode. Jax admitted he cheated on Brittany on Vanderpump Rules, and it seems like a leopard — especially a cheating one — never changes his spots. Luckily for Brittany, the majority of SURvers and friends are #TeamBrittany, fed up with Jax's immature behavior.
Jax has cheated on girlfriends before — if you've been watching Vanderpump Rules since the beginning, you know that he possibly got a girl pregnant on a Las Vegas trip while he was with Stassi, among many other infidelities — but this one hurts the most because everyone likes Brittany. As Kristen Doute said in the Season 6 premiere, Brittany is the best thing that has ever happened to this group. She's made everyone in the Vanderpump Rules family a better person, and to hurt this sweet baby lamb Brittany is unconscionable. You know that it's bad when everyone on Vanderpump Rules — and there's no honor amongst thieves — hates your stinkin' guts. As Ariana says, "Brittany deserves the world."
Finally, Jax admits that yes, he has cheated on Brittany, and yes, has had sex with Faith. "Everything I've done for you — you don't deserve me," Brittany tells him. "I moved and left my family to be with you, and you do this to me?" Really, though — why be in a relationship if you don't want to be? A person can have as much sex as she or he wants without the confines of a couple. Why hurt a person that cares so deeply for you? It's a true mystery, and one that no one on Vanderpump Rules has figured out yet.
Of course, news trickles to the rest of the cast that Jax has cheated on Brittany, and the only person that is #TeamJax is Tom Schwartz. Tom Sandoval and Schwartz knew about the cheating, but chose not to say anything, because they and Jax are "boys" (which is the excuse that's kept men behaving in a terrible fashion since, oh, the beginning of time). Both Toms said that Jax "can't help himself" and "that's how he loves" and Ariana and Lisa shut. that. down. It was disgusting. Brittany is an angel that's too good for this Vanderpump world, and she's shown the most human reaction to this kind of deception. Brittany is a person, not a reality show robot. She is embarrassed and devastated (the part where she cried about having to tell her mother that Jax cheated on her was so sad!). Anyone who has ever been betrayed like this knows these feelings, and to see them on television was raw and difficult to watch. Her guts are spilled, and the whole country gets to see it.
Later, after she and Jax have broken up, Brittany admits that she and Jax slept together again. In the old days of Vanderpump Rules (that is, if Stassi were ruling from her judgmental roost), Brittany would have been crucified for such a slip-up. Why would you get back together with the man who had just hurt you? He's terrible! But Ariana and Scheana show Brittany a much greater kindness, listening to Brittany's confession and understanding why she had sex with Jax again. Just because you break up with someone doesn't make it easy to split — Brittany was lonely and sad and terrified, and she fell back with the person who hurt her. It happens all the time, and no one among us can cast a stone on having those feelings and reacting to them.
Jax wants to play and Jax wants to give excuses about why he cheated — he told Brittany that the incidents happened "when [they] were going through bad times" — but at some point in adulthood, you have to start taking responsibility for your own actions. Jax's friends at SUR have actually grown up over the past six seasons. Yes, they get into trouble, and yes, the make mistakes. But Kristen, the Toms, Ariana, Stassi, and the rest of the gang have grown in ways that Jax refuses to. It's no wonder that they are mostly abandoning ship to Jax in regard to the way he treats Brittany. Brittany is a gem. It's time for Jax to grow up, and if he doesn't, he risks ending up completely alone.