JAY-Z Has Finally Revealed Why He Cheated On Beyoncé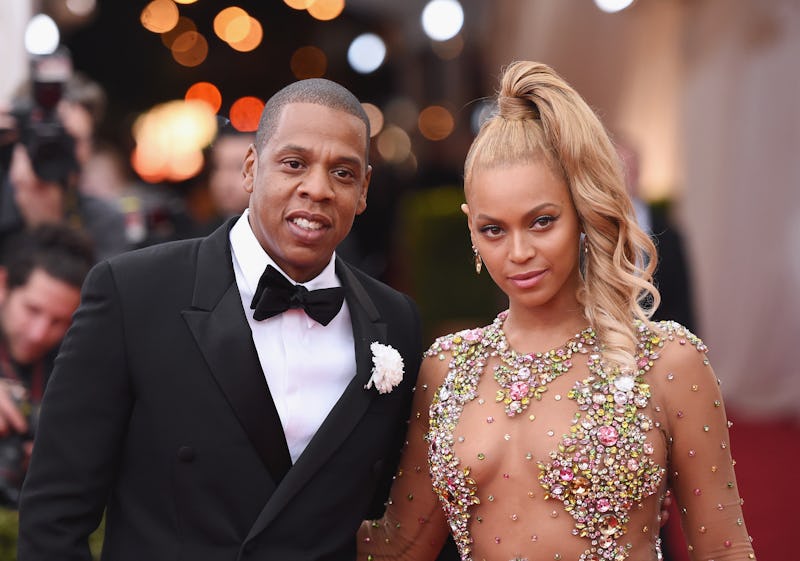 Mike Coppola/Getty Images Entertainment/Getty Images
When Beyoncé released Lemonade in 2016, fans couldn't stop talking about the fact that she implied she'd been cheated on. And now, JAY-Z has finally talked about his infidelity and what was going on in their lives behind the scenes when it happened. In an interview with The New York Times, the rapper revealed the circumstances that may have led him to be unfaithful to his wife, admitting that those rumors are true for the first time.
Despite the fact that the lyrics from the songs on Lemonade were very telling — like when Beyoncé advised JAY-Z that he'd "better call Becky with the good hair" — the question of whether or not she was drawing from her own real life experiences had never truly been answered. Of course, for months, the internet was abuzz with theories, as well as people wondering why JAY-Z would cheat on Beyoncé in the first place.
He didn't go into any specifics, like who he cheated with or exactly when it happened, but he did offer up an explanation about what caused him to cheat. As JAY-Z told the Times, his infidelity stemmed from the way he'd been raised, which caused him to go into what he called "survival mode."
While talking about his experiences in therapy, JAY-Z said that he'd realized that he and other men who had grown up in neighborhoods like his, the Marcy projects, never wanted anyone else to see their pain. He said:
You have to survive. So you go into survival mode, and when you go into survival mode what happen? You shut down all emotions. So even with women, you gonna shut down emotionally, so you can't connect ... And then all the things happen from there: infidelity.
It's certainly hard for fans to hear that their marriage did, in fact, suffer such a huge blow, but all is definitely not lost. He didn't go into the specifics of his infidelity, but it does sound like he and Beyoncé have been able to work through a lot of their issues together, especially through making music, together and separately.
"We were using our art almost like a therapy session," JAY-Z said, adding that it was "very, very uncomfortable" for them to both hear each other's pain in their individual projects.
But if you're still rooting for JAY-Z and Beyoncé to make it in the long run, it sounds like there's still hope for them yet. He seemed to dismiss the idea that they'd ever get divorced, no matter what obstacles they had to overcome in their marriage. He said:
You know, most people walk away, and like divorce rate is like 50 percent or something 'cause most people can't see themselves. The hardest thing is seeing pain on someone's face that you caused, and then have to deal with yourself.
Thanks to their music, Beyoncé and JAY-Z were forced to face that pain head-on, and even though it was hard to hear, he said that the songs on Lemonade are something he's proud of her for creating. It had to be a tough time in their lives, but they're putting in the work to make their marriage last.
It's hard to predict what the future will look like for Beyoncé and JAY-Z, but for now, it sounds like they're creating a stronger relationship by facing these difficult issues. We may never know the finer details of what happened to inspire certain lyrics in both Lemonade and 4:44, but it's good that they're maintaining some of their privacy in the face of something that had to be difficult to work through.
For now, it sounds like Blue Ivy, Rumi, and Sir's parents will be just fine.