JAY-Z's "4:44" Lyrics Say All You Need To Know About Those Cheating Rumors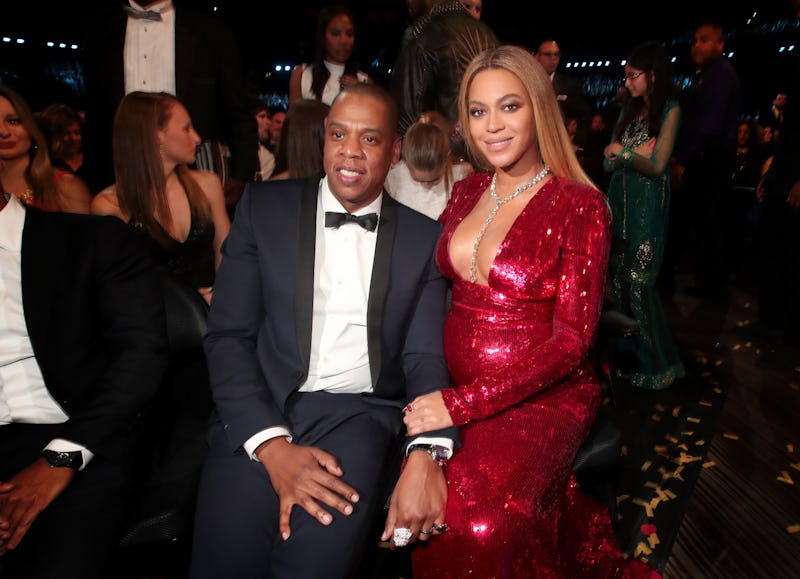 Christopher Polk/Getty Images Entertainment/Getty Images
JAY-Z has been busy. Not only did he just welcome twins with Beyoncé, he released a new album at midnight on Friday called 4:44. It's an intensely personal album about family and politics, and fans are loving it already. But, of course, the big news about Jay's first album since 2013's Magna Carta Holy Grail is the title track in which he seemingly responds to wife Beyoncé's Lemonade by addressing his own infidelity. Judging by the lyrics to JAY-Z's "4:44", the song is a revealing admission, apology and atonement. And boy, are the words juicy and also a little uncomfortable. "4:44" will make you love Beyoncé even more, if that's possible.
Jay called "4:44" one of the best songs he's ever written in an exclusive with IHeartRadio, and it's definitely an extremely honest one. In the song, he admits to being emotionally unavailable and not ready for marriage and apologizes to Beyoncé for the distress he put her through. "I suck at love, I think I need a do-over," he raps.
He seems to regret infidelity and fears what it would do to his family: "And if my children knew, I don't even know what I would I do/ If they ain't look at me the same/ I would probably die with all the shame," Jay raps. "You did what with who?"/ What good is a ménage à trois when you have a soulmate?/ You risked that for Blue?"
In that same vein, on another track from the album, "Family Feud," Jay mentions "Becky", which is reminiscent of the "Becky with the good hair" from Beyoncé's "Sorry:" "I'll f*ck up a good thing if you let me/ Let me alone Becky." Beyoncé is a co-writer on "Family Feud" and is featured in the background vocals.
Jay's kids are a recurring theme on "4:44" and throughout the album, and he raps later in the track about realizing too late just how important love and family are. The most raw and brutally honest lyrics are when Jay apologizes to Beyoncé for not being there for her when she had a miscarriage: "I apologize for all the stillborns/ 'Cause I wasn't present/ Your body wouldn't accept it."
But the admission of his infidelity is what many people wanted as a confirmation of Beyoncé seemingly calling him out for cheating on Lemonade. As he raps on "4:44":
I apologize, often womanize
Took for my child to be born
To see through a woman's eyes
Took for these natural twins to believe in miracles
Took me too long for this song
I don't deserve you.
As great a hip hop album as this is, if you are looking specifically for information of JAY-Z and Beyoncé's relationship, that last line is one that definitely stands out.