The Reason JAY-Z's Mom Came Out On '4:44' Is Truly Inspiring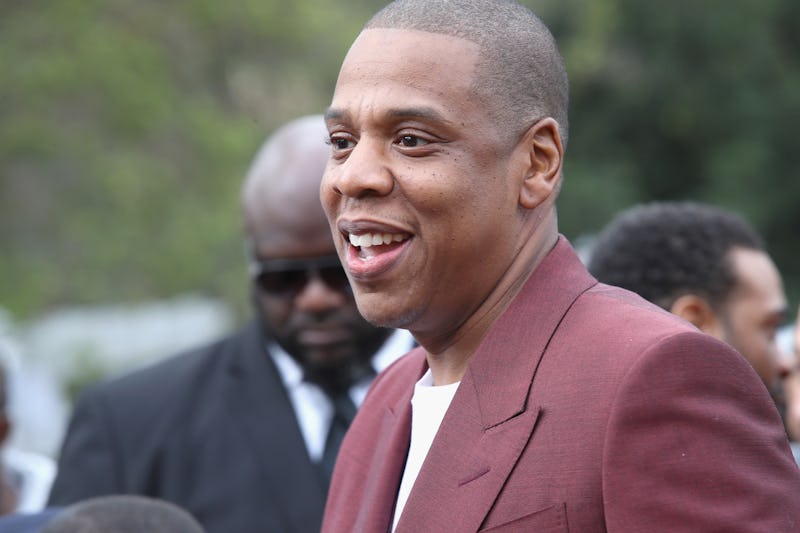 Ari Perilstein/Getty Images Entertainment/Getty Images
JAY-Z's most recent album, 4:44, is far and away his most personal. Released on June 30 — not long after Beyoncé gave birth to twins Rumi and Sir Carter — the 10 tracks address everything from his infidelity to his therapist. "Smile" is one of the record's most confessional songs, not just for JAY-Z but for his mother, Gloria Carter, who comes out on the track in a spoken word poem she penned herself. But Carter initially didn't want "Smile" released.
In an episode of the D'USSE Friday podcast released on September 6, Carter gave an oral history of how the track came to be, revealing that, at first, she did not want the song on the album, but changed her mind in the end after writing the poem and deciding that "It was time for me to life my life." She didn't realize the impact "Smile" would have until the album dropped, and that she encouraged so many fans to come to the same realization.
On "Smile," JAY-Z raps a verse about his mom coming out to him: "Mama had four kids but she's a lesbian / Had to pretend so long that she's a thespian" and "Cried tears of joy when you fell in love / Don't matter to me if it's a him or her."
Carter said that when she came out to her son, he got emotional. "Me and my son share a lot of information, so we were sitting there and I was telling him one day, I started telling him who I was," she said on the podcast. "Besides your mother, this is the person that I am, this is the life I live."
JAY-Z was inspired to write the track, but it almost didn't make it to public ears. His mother was hesitant at first, saying that though she wasn't ashamed of her sexuality or who she was, she didn't want it to be anybody's business or for the public to define her by it. "The first time I heard the song I was like no, dude, I ain't feeling that," she said. "Because when it first happened, I was sharing myself with [JAY-Z], not to share myself with the world."
But after much conversation, Carter went to visit her son in Los Angeles, and while on the plane, wrote the profound spoken word poem that ended up on "Smile." At the end of the day, the decision ended up being simple: As Carter says in the poem, "Life is short, and it's time to be free." She said on the podcast, "I'm an old G, so now it's time for me to live my life, be happy, be free."
Thank goodness she got there eventually, because "Smile" is one of the best and most raw tracks on 4:44. Carter was surprised at the influx of gratitude and support she received afterwards, but she shouldn't have been — hello, she's JAY-Z's mama!
"I didn't realize the impact of what I was going to do," she said. But her willingness to be so open really drives that message home: It's your life to live, and hiding it is just too exhausting. "I'm tired of all the mystery," she said. "I'm gonna tell 'em, so now that I told you, what do you have to talk about? Now you can focus on all the phenomenal things I do."
Here's to Gloria Carter, a phenomenal woman.