Twitter Totally Has Becca's Back After That VERY Awkward 'Bach' Elimination With Jean Blanc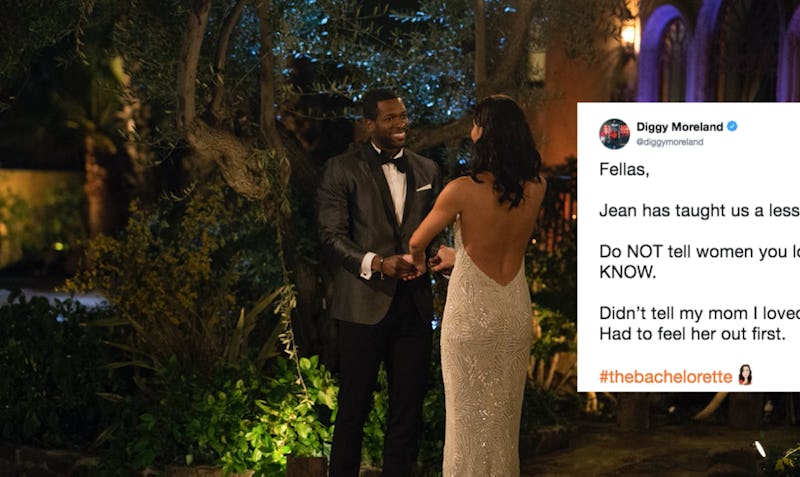 Paul Hebert/ABC; Diggy Moreland/Twitter
Even though the last episode of The Bachelorette had two rose ceremonies, Jean Blanc didn't get sent home at either of them. Instead, he got eliminated in the middle of a group date. Talk about dramatic, but it was so necessary. So many viewers tweeted reactions to Becca eliminating Jean Blanc during Week 4 of The Bachelorette, and they just couldn't help having a strong response.
Jean Blanc told Becca he was falling in love with her, even though it's just the first week out of the mansion and they hadn't even had a solo date yet. It was too much too soon and the Bachelorette herself was clearly overwhelmed by his enthusiasm, given their lack of chemistry.
He went in for the kiss and their was still zero spark between them. Then he turned the awkwardness up a notch. The self-proclaimed colognoisseur gave Becca her own customized perfume called Becca Blanc. Then he decided to come back for more quality time while other guys on the group date still didn't get any alone time with Becca that night.
Becca clearly wasn't feeling it and offered to walk him out, i.e. eliminate him immediately. Then he told Becca that he wasn't really falling in love with her and just said it for the sake of it. Jean Blanc even had the nerve to ask about her keeping the perfume he had made for her. Becca was devastated by his blatant dishonesty and once again, Twitter users came out in full force to defend the beloved Bachelorette star.