Jenna Dewan Was A Dancer In This Old Mandy Moore Music Video & It's '90s Perfection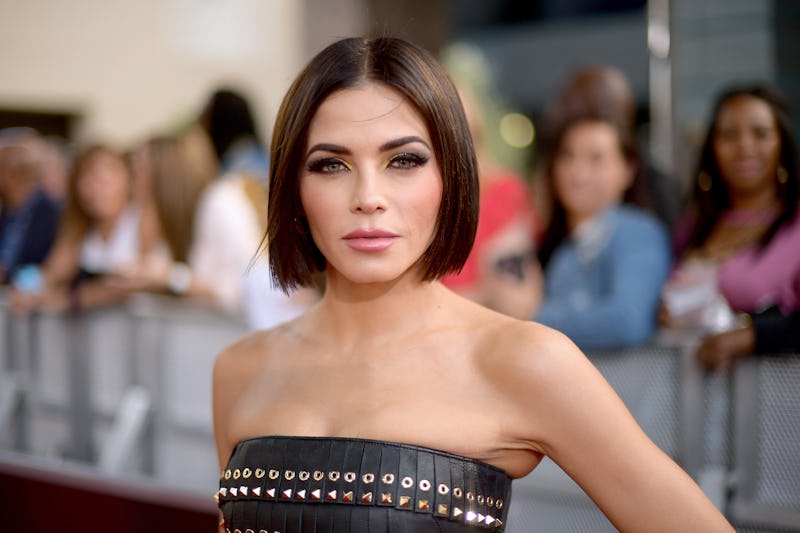 Matt Winkelmeyer/Getty Images Entertainment/Getty Images
Mandy Moore and Jenna Dewan go way back. Like all the way back to 1999 when Moore was a bubble gum pop star and not the This Is Us star she is now. During an appearance on The Late Late Show on Monday night, the two revealed that Dewan appeared in Moore's video for "So Real" and they've been friends ever since. And by the way Moore talked about this video, Dewan's the only thing she'd like to remember from it.
Moore admitted to host James Corden that the memories of filming the video for her second international single were a little foggy after nearly 20 years. "It was a song called 'So Real' that was like a single in Australia or something," Moore said of the video that has her camped out in an enchanted forest. "But," she said, "obviously Jenna is the most amazing dancer." If you've seen Step Up, you know how truly obvious this really is.
For Dewan, though, that video was everything — she even remembered some of the dance moves. "This was like the biggest deal in the world to me," she explained. "I called my family. I was like, 'I'm doing a Mandy Moore video.' It was this huge production." While Moore said she was a "cranky crab apple" during the night shoot, Dewan admits she was "just overly excited. I danced way too hard the entire time."
Honestly, though, can you blame Dewan for all her excitement? After all, Moore was right there with Britney Spears, Christina Aguilera, and Jessica Simpson for female pop star domination in the late '90s, and a Mandy Moore video cameo would certainly be something you'd want on your resume.
"I remember you dancing," Dewan said to Moore on the Late Late Show. But, it can be confirmed after close inspection of the video that while Moore does do a bit of swaying, shimmying, and hip shaking, she does not participate in any choreographed dance numbers in the "So Real" video. That said, even though Moore didn't dance a lot as a pop star, the video is still pretty light on the choreography.
There are barely any close ups of the dancers and, unfortunately, it's not that easy to spot Dewan in the "So Real" video. For all these years it's kind of been a secret cameo. However, there's a chance she's now been spotted (see below). I say only a chance because Dewan hasn't given any confirmation on when she appears in the video, so it's quite possible this isn't her. Could this be her below? Let's be honest, that sure looks like a young Dewan who does seem to be pretty excited about these moves, even if she can't remember them now.
"So Real" was actually Dewan's first music video, but it wasn't her last. She would go on to appear in Toni Braxton's video for "He Wasn't Man Enough," Christina Aguilera's 2010 video "Not Myself Tonight," and Celine's Dion's "One Heart" video, which she's easy to spot in. Just look for the woman in the white crocheted tank top.
But, Dewan says she owes everything to Janet Jackson who she danced for on tour and in her "Doesn't Really Matter" and "All For You" videos. "Because she was my dream job," Dewan said as to why she owes Jackson so much on Watch What Happens Live! last year. "She was my first big dance job." She also revealed that Jackson was the one who helped her get into acting through the contacts she made while working with her. "All roads lead back to Janet," she said.
Maybe that's why Dewan still remembers some of Janet Jackson's moves nearly 18 years later. Dewan even showed off some of the moves to "Rhythm Nation" on the Late Late Show. But don't worry, Dewan will never forget how much she loved working with Moore. And now thanks to this late night interview, either will her fans.