Jenna From 'Bachelor In Paradise' Denied Cheating On Jordan In A New Instagram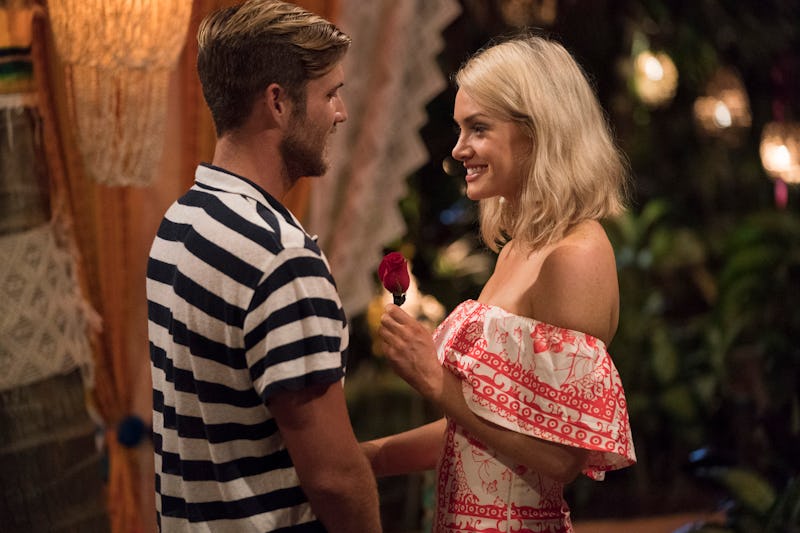 ABC/Paul Hebert
A day after getting engaged on-screen, this Bachelor In Paradise couple is certainly not celebrating. Instead, Jenna Cooper is denying Jordan Kimball's cheating allegations following rumors that she cheated on him. In a statement on Instagram, Jenna wrote that "those texts were completely fabricated, I never sent them to anyone." Those texts that Jenna is referring to are the ones that were included in a report from Reality Steve that claimed Cooper was in a relationship with another man during her time on BiP.
The alleged text messages between Jenna and this unidentified man, which the blog claimed to have verified, included her telling him she loved him and that her relationship with Jordan was fake. "I did not cheat on Jordan, and I have nothing to hide," Jenna wrote on Instagram. "I have been extremely open and vulnerable throughout this whole process. I was looking for love, and I found it."
While it's still unclear where these alleged texts came from, Jenna wrote that she "was hurt by these fake texts, and that anyone would believe this story so quickly without proof." Jenna also wrote that she has hired an attorney to "investigate this hurtful and fraudulent attack on my character. We are evaluating all legal remedies available to punish those responsible." (Bustle has reached out to Jordan for comment regarding Jenna's claim that the texts were fake, but has not yet heard back.)
But in a statement to People yesterday, before Jenna has publicly denied the text messages, Jordan said he wasn't convinced that the texts were fake. "I know my Jenna, and I read those texts and in my heart," Jordan told People. "I know it's her." Jordan said that he had spoken with Jenna after the texts were published and that their conversation gave him pause. "She was saying she didn't do it," he told People, "but hinting towards the fact that there's a possibility that it happened. In all reality, I don't expect her to own it."
Following the report from Reality Steve, Jordan called off their engagement, writing in his own Instagram statement on Sept. 12 that he had made the "decision to remove myself from the relationship," despite how painful of a decision it was for him. "It breaks my heart to think, feel and fall for this. It's dropped me," he wrote. "Fumbling emotions and being understanding is not easy I'll be taking time to pursue my inner peace and she will always have me to talk to, if you've reached out to me, allow me time. Thank you to those that have."
While the couple had only known one another for two weeks, Jordan says he had fallen hard. In fact, he had fallen in love with Jenna on first sight when he saw her come down those stairs in Mexico. "This was not a TV romance," Jordan says of his BiP relationship with Jenna, echoing what she had said in her statement. "This was real."
It's also why he told Entertainment Weekly that he can't be "in limbo" by staying in the relationship. Despite breaking things off, he says that he wants to respect what he had with Jenna. "I will not lash out, I will not try to convince people that she is a bad person," Jordan said. "You will not see me pursue any kind of vengeance on her. I care about Jenna." He added, "If this turns out to be fake, then hey, it's a good thing that I didn't lash out at her, but I cannot take a chance with my heart."
Jordan told EW that he plans on meeting up with Jenna, who he hasn't seen in two weeks. "I think that it's important for me to see her and to talk to her and just get closure to this whole thing," he said. But even if these texts do turn out to be fake as Jenna claims, Jordan says he's not sure if their relationship can ever go back to what it was.
"I've got to act on what my intuition tells me, I've got to act on what my emotions tell me," he said. "And this right now is what's right for me. I have to let this go." As sad as that may sound, Bachelor Nation might have to do the same.
Photo Courtesy Vivian Arthur