Jordan's New Instagram Post About Jenna Is A Must-Read For Every 'Bachelor In Paradise' Fan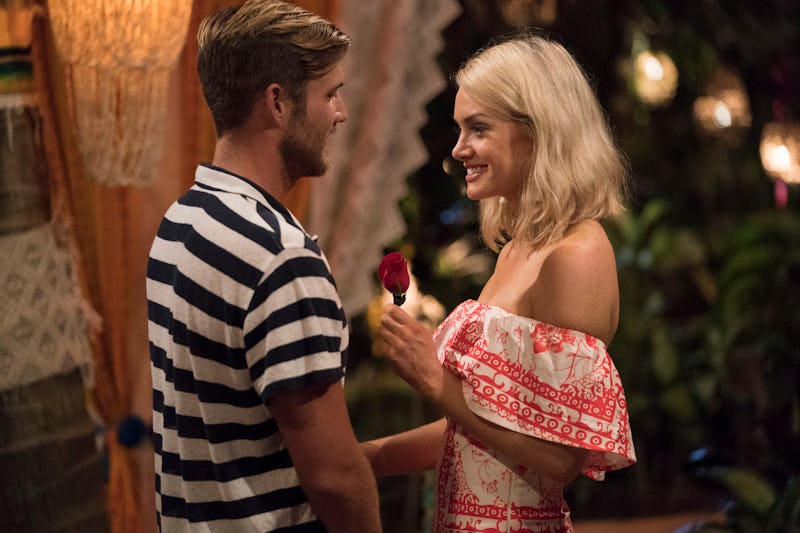 ABC/Paul Hebert
Bachelor in Paradise fans saw Jordan and Jenna get engaged on Tuesday night's finale, but the excitement for the happy couple has been short-lived. After a report from Reality Steve claimed that Jenna has been seeing someone else during her engagement, Jordan posted an Instagram caption about Jenna — or at least it sure seems like it. In the lengthy post on Wednesday, Jordan wrote that he's made the "decision to remove myself from the relationship." By "remove myself from the relationship," Jordan presumably means ending his engagement to Jenna. (Bustle has previously reached out to Jenna and Jordan for comment on the whole situation, but didn't receive an immediate response.)
UPDATE: On Wednesday afternoon, Jenna posted an Instagram, explaining her side of the story. She wrote,
"I want to start by saying those texts were completely fabricated, and I never sent them to anyone. I did not cheat on Jordan, and I have nothing to hide. I have been extremely open and vulnerable throughout this whole process. I was looking for love, and I found it. I was excited to share this journey with all of you. I am hurt by these fake texts, and that anyone would believe this story so quickly without proof. I have an attorney helping me investigate this hurtful and fraudulent attack on my character. We are evaluating all legal remedies available to punish those responsible."
EARLIER: Fans may have seen this news coming after reading Jordan's statements about the Jenna drama late Tuesday night. Jenna has denied the cheating allegations, but Jordan seemed to believe the leaked text messages were authentic. "I know my Jenna, and I read those texts and in my heart, I know it's her," Jordan told People.
Along with a black-and-white pic of himself (taken by photographer Vivian Arthur), the model began his Instagram post as follows:
"To think, to feel, to fall. These emotions interact with experiences and people, when you find a person you think about them, you feel when they feel and sometimes you fall. When you're in love with even the experiences you've had with them it's something to respect. Being careless with someone that you give your heart to and reach milestones with isn't sensible no matter what the terms may be. "
His emotional message continued:
"I have not had an easy life and having struggles allows me to grab onto tough times and discard them from my path. I deal with unreasonable circumstances reasonably and have come to terms with a decision to remove myself from the relationship, it breaks my heart to think, feel and fall for this. It's dropped me. Fumbling emotions and being understanding is not easy."
For context, on Tuesday afternoon, Reality Steve published a set of texts that were reportedly exchanged between Jenna and an unnamed man. According to the site, Jenna reportedly met the other guy before Paradise and kept seeing him after the show's filming was over, aka after she got engaged to Jordan. One of the text screenshots, which the man claimed was from Jenna, stated, "Me and Jordan aren't together for real. I don't even like him let alone love him."
Reality Steve reported the text messages are "confirmed from her phone number," though Jenna denied the affair in a statement to People:
"I am aware of the allegations being made against me and they are simply untrue. I am choosing to focus on my relationship right now. Thank you for respecting my privacy at this time."
While what actually happened here remains unclear, one thing is obvious: Jordan's heart was all-in on Jenna. He seemed smitten from the moment she walked onto the beach, and he defended her when he saw her crying after a conversation with Benoit. Plus, the model couldn't stop gushing during his solo interviews. Jordan and Jenna's relationship looked so genuine on TV, but this week's drama just goes to show that what makes it into each episode is only part of the story.
Jordan's Instagram statement doesn't criticize Jenna or even name her directly, but it does suggest he's calling off the engagement. In his post, he also thanked the people who've reached out to him, adding that he'll be spending some time alone in the coming days. He wrote:
"I'll be taking time to pursue my inner peace and she will always have me to talk to, if you've reached out to me, allow me time. Thank you to those that have."
A number of fellow Bachelor Nation members, including some who weren't on this Paradise season, also commented with support. Chelsea Roy left a heart emoji, and DeMario Jackson commented, "Love you bro! here for you," along with two heart emoji. Wells Adams, who served as one of the Paradise bartenders this season, also had a fitting comment, writing, "I've always got your back and if you need a drink, I got you."
Bekah Martinez — who appeared on the most recent Bachelor season, but didn't go to Paradise — also left a thoughtful message. "You are a shining star, Jordan!!! We all love you a ton. You are strong and brave and honest, and you deserve a woman who will see that," she wrote. Bibiana, Colton, Kevin, Christen, Nick, Shushanna, and Chris R., who appeared alongside Jordan on Paradise, also left words of support.
Getting over a breakup is never easy, especially not when your relationship has been broadcast on national television. Fortunately, it sounds like Jordan has tons of support within Bachelor Nation. Whatever the future holds for him and Jenna, Jordan's friends have his back.